Finger Food Pizza
Easy Crispy Chicken Pizza
5-Store Bought Ingredients to Feed An Army with A Super Low Budget

Finger food pizza is a super easy recipe that anybody can make to feed a crowd.  There is literally no work from your side, but some store-bought help and your oven.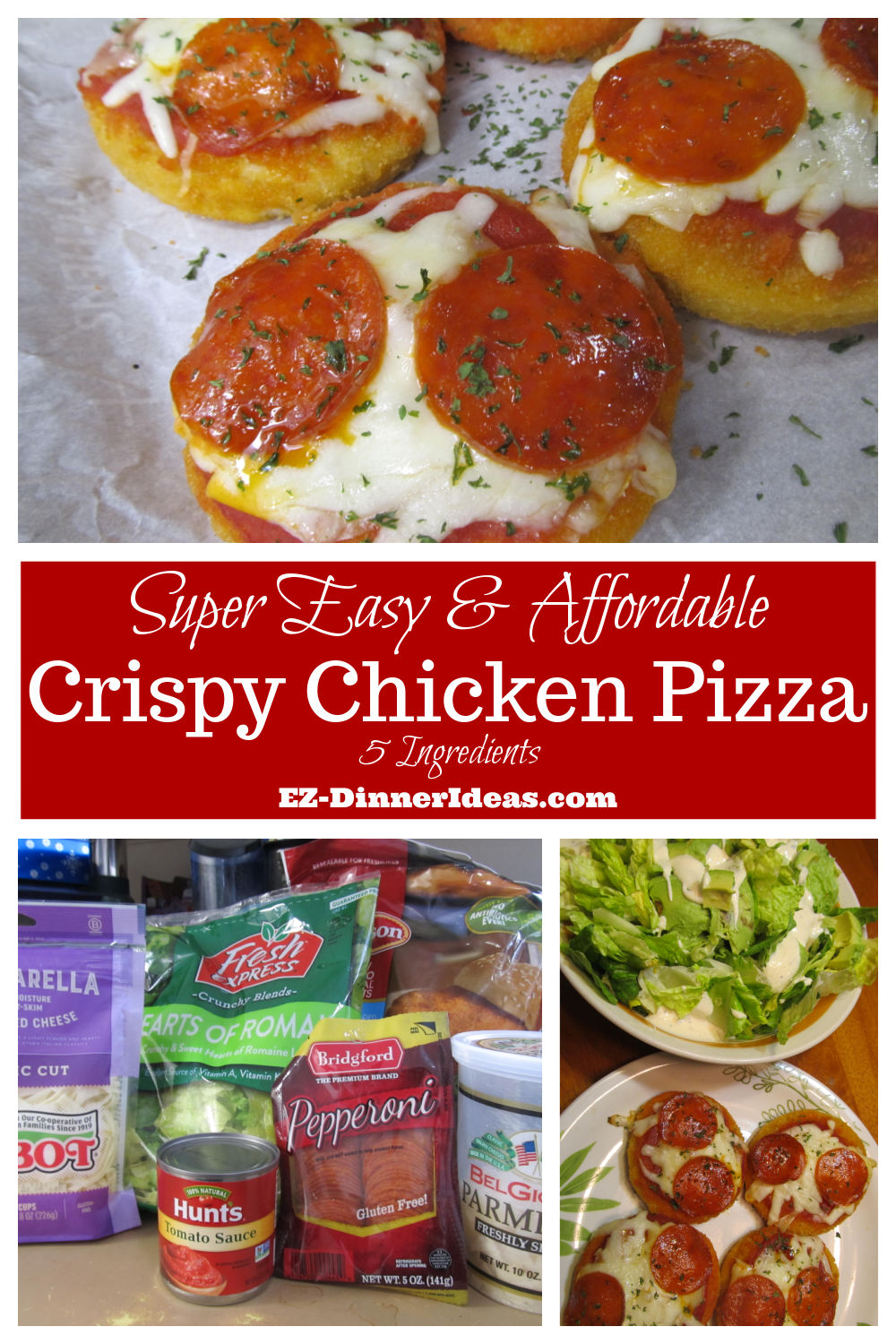 Total Time: 23 - 25 Minutes
Prep Time: 3-5 Minutes  
Inactive Cook Time: 20 Minutes  
Serving: 4-5


How to make a cheap, easy and creative pizza dinner that will not break your wallet?  Well, you came to the right place.

Did you realize that when you order a take-out or dine out, the price is getting crazier and crazier?  For a family of 4, you can easily spend a week of grocery money away in just one dinner like that.  If you have a hungry family filled with teenagers, well, I don't have to say much.  You know how expensive it is.

This dinner is super easy that you can even delegate one of your family members or a couple of them putting it together for you.  And it is super creative and cheap.  It is perfect for after school snack, too.

CHEF NOTES

Serve this with Keto green salad. This will certainly bump up the fiber in-take.

The 8-oz can of sauce can make up to 30 pieces of chicken finger food pizza.  But you may not need to make that many.  If there is sauce leftover, transfer it to an air-tight glass container and it is good up to a week in the fridge.  For both cheeses, you will need to double the amount for making such a large quantity.

If you really need to cook that big volume, separate the chicken pizzas into 2 baking sheets.  They can cook in the oven at the same time.

I personally love to enjoy this little pizza with hands.  For a bigger crowd or young children, cut them into small wedges for easy serving and pass around.
---

Recipe Ingredients and Tools

---
Finger Food Pizza Recipe and Instructions

Ingredients
1 bag Frozen Store-Bought Breaded Chicken Patties (about 10 patties)
1 can (8oz) Tomato Sauce
1 bag (8oz) Pre-shredded Mozzarella Cheese
1 cup freshly Pre-shredded Parmesan Cheese (in the produce aisle)
Pepperoni Slices (2-4 slices for each pizza per your preference)
Dried Oregano (optional)
Salt and pepper to taste
Dry Parsley Flakes (optional; for garnish only)

Preheat oven per package instructions.
Line a baking sheet with parchment paper and single layer chicken patties on baking sheet and bake per instructions to cook half way.
Turn chicken patties over the other side and spread tomato sauce on top (1 tbsp per patty).
Add oregano, salt and pepper to taste, then top with the following ingredients in this order: Parmesan cheese, mozzarella cheese and pepperoni slices.
Finish the rest of bake time in the oven per package instructions until cheese is melted and chicken pizzas reach desired doneness.
Garnish with parsley flakes and enjoy!
Finger Food Pizza Steps with Photos
---
Serve This With: 

---

You May Also Be Interested In:

---
Home > Chicken Recipes > Finger Food Pizza | Easy Crispy Chicken Pizza