Romaine Lettuce Salad Recipe
5 Minute Keto Salad with Ranch Dressing
Being On A Diet Is That Easy

5-minute romaine lettuce salad recipe is perfect for anyone in low-carb diet.  Quick, easy and, best of all, guilt-free.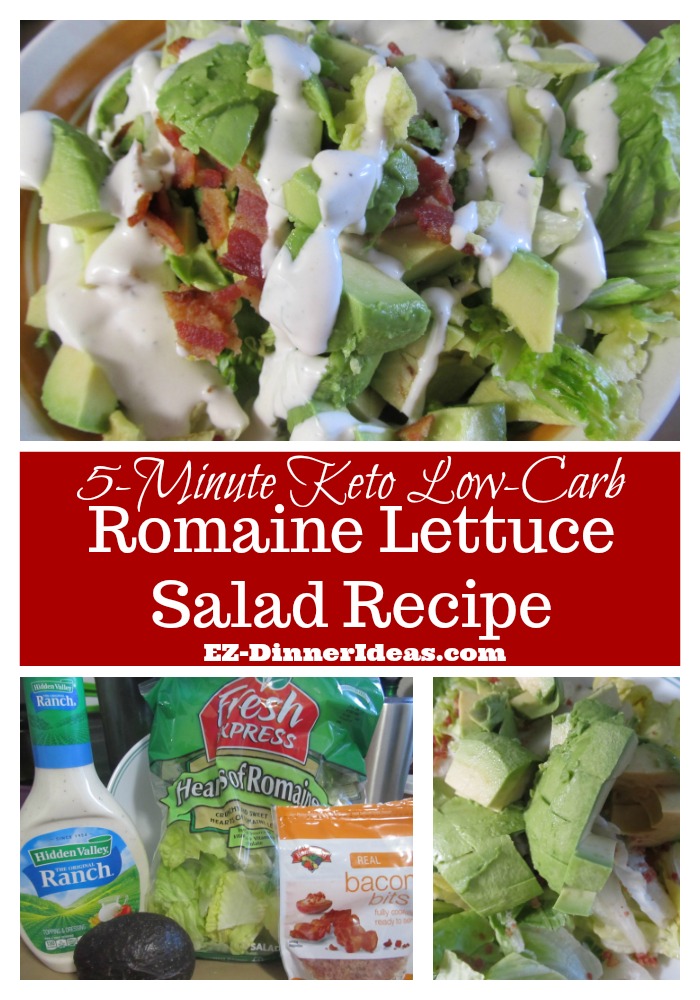 Total Time: 3-5 Minutes
Prep Time: 3-5 Minutes  
Active Cook Time: ZERO  
Serving: 1-2


I have been having this salad since I started the Keto diet.  It is one the easiest of the easy dinner ideas that I had ever posted.  What I love the most,  it makes me feel awesome and guilt-free.  Hope you enjoy this as much as I do.


CHEF NOTES
You can double or triple this salad and make it to serve a bigger crowd.

Using bacon bits is a short cut.  If you happen to cook bacon for a family breakfast, use 2-3 stripes for this salad.

Add more flavor?  You can add a couple  tablespoons of graded Parmesan cheese.


Romaine Lettuce Salad Recipe and Instructions

Ingredients
1 bag (9oz) pre-wash; pre-cut Romaine Lettuce
1 Avocado (pitted and diced)
1 tbsp Real Bacon Bits
2 tbsp Store-bought Ranch Dressing

Add ingredients in this order in a mixing bowl: lettuce, bacon bits, avocado and dressing.
Toss to combine and serve immediately.  ENJOY!

Romaine Lettuce Salad Recipe Steps with Photos
---

Recipe Ingredients and Tools

---

You May Also Be Interested In:

---
Home > Easy Side Dish Recipes > Romaine Lettuce Salad Recipe | 5-Minute Keto Salad with Ranch Dressing