Easy Chicken Dinner Recipe
Easy Chicken Dinner Recipe

Ultra Lazy One-Pan Chinese Broccoli Chicken
Super Economical Way
For A Big Family Dinner
This easy chicken dinner recipe uses 100% store-bought ingredients to put together a very affordable and delicious dinner to feed your hungry family.  That's why it is called Ultra Lazy One-Pan Chinese Broccoli Chicken.  How lazy can you be?  Well, a bag of each frozen broccoli and chicken nuggets, a jar of sauce and maybe some sesame seeds for garnish.  That's all you need for this "lazy" dinner.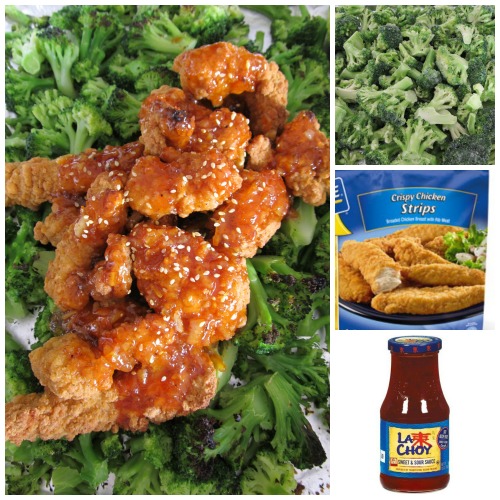 Total Time: 45-48 Minutes
Prep Time: 5-8  
Inactive Cook Time: 40 Minutes  
Serving: 6-8


Yes, you can turn 2 boring ingredients into a super cheap and low maintenance Chinese dinner.  Believe it or not, it's that easy.  So, check this recipe out.

You know how much I love to use my oven to do the work.  This recipe is super versatile.  You can control the vegetables, chicken and the sauce for a typical "Chinese take-out" dinner.  Once you try this, I know you will keep it on your pantry staple recipe list.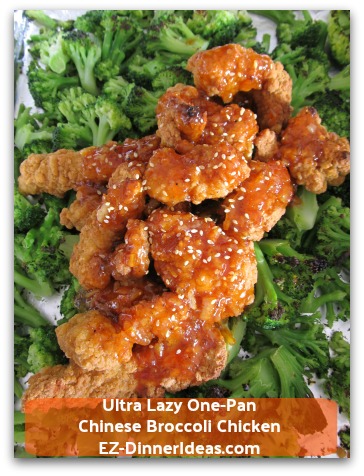 Why This Recipe?
You may ask why I go with this recipe instead of the one which has everything in one bag. Well, there are several reasons:

1) The quantity you get from this recipe is more than what you get from any pre-packed frozen Chinese dinner.  If you compare this with your regular take-out dinner, this is outrageously more in quantity and way, way, way cheaper per person.

2) You have plenty of options of what kind of sauce you want to add on top of the chicken.  There are Japanese, Thai, Indian and other sauces in the international aisle.  Keep your mind open.  You can switch up these sauces or serve them separately for your family to pick.  Here are a few suggestions:


CHEF NOTES

To double the quantity of this recipe, assemble another pan of same quantity of vegetables and chicken nuggets.  This will ensure that everything cooks with right amount of time.  No undercooked or overcooked food.

This recipe is perfect for the night when you just want to be a couch potato.  It is so simple that you can instruct anybody in the family to assemble the whole plate together.  Can you imagine that you can still put together a dinner for your family without walking into the kitchen or spend ridiculous amount for a take-out?

Easy Chicken Dinner Recipe and Instructions
2 lbs Frozen Broccoli Florets
1 lb Frozen Chicken Nuggets (any brand of your preference.  Be sure just original flavor)
Orange Sriracha Sauce (refer to Shrimp Cocktail with 4 Dipping Sauces Recipe)
White Sesame Seeds (optional, for garnish only)

Preheat oven at 400F.
Single layer broccoli at the bottom of the pan.
Line chicken nuggets on top of broccoli with at least 1" space from each other.
Bake for 40 minutes.
While waiting, mix orange Sriracha sauce (use any kind of sauce.  Preferably it is something very low maintenance)
Easy Chicken Dinner Recipe Steps with Photos


Recipe Ingredients and Tools

---
Serve This With: 

---

You May Also Be Interested In:

Home > Chicken Recipes > Easy Chicken Dinner Recipe | Ultra Lazy One-Pan Chinese Broccoli Chicken