Cake Mix Bar Cookies
Lazy Cookie Bars are Great for Almost Everything. Busy Family Entertainment, Snacks, Potluck and More. You Name It. They Fit In.
Cake mix bar cookies are your ultimate last-minute and impulsive craving fix. It is perfect for any occasion and a great ice-breaker.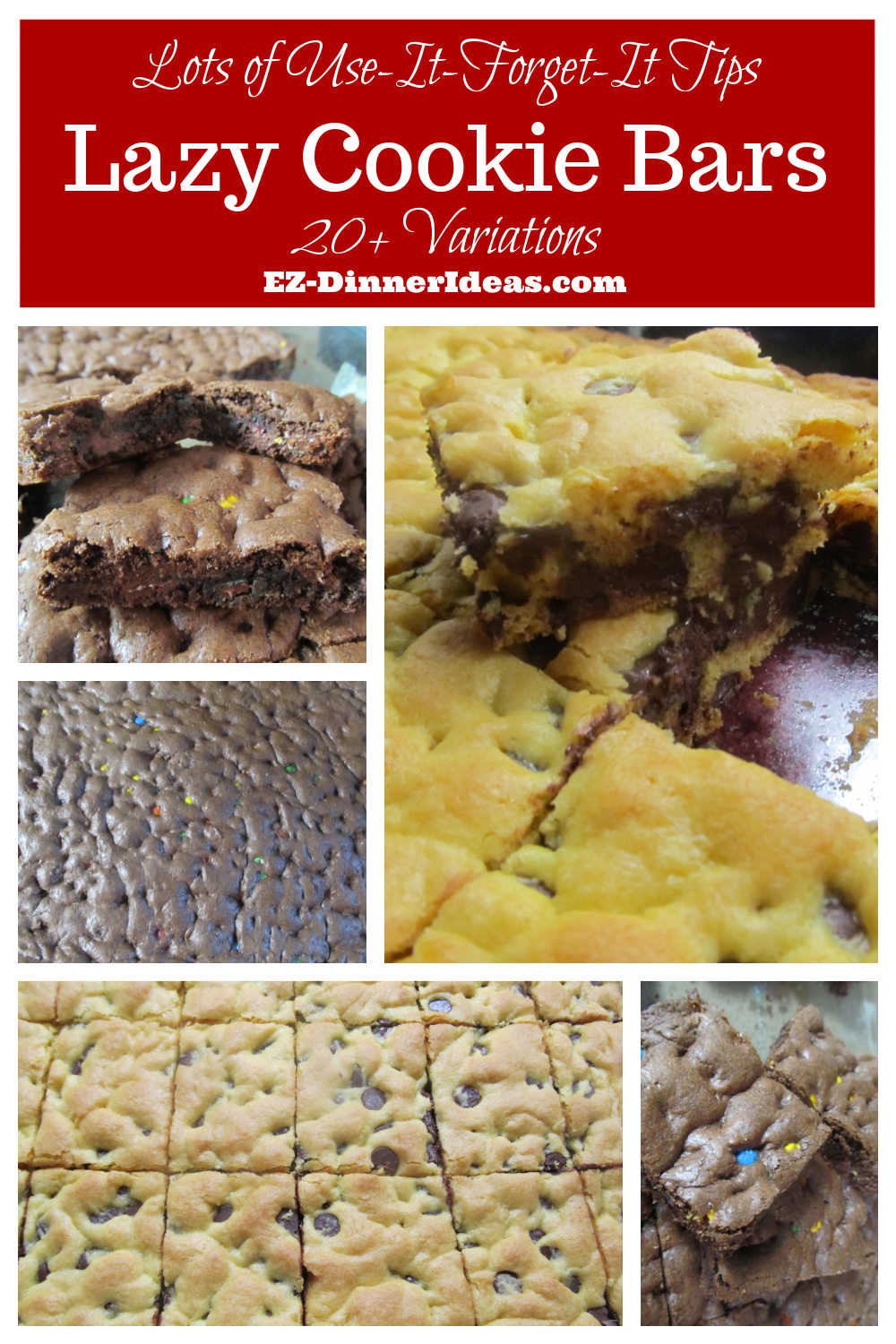 Total Time: 25-28 Minutes
Prep Time: 5-8 Minutes  
Inactive Cook Time: 20 Minutes  
Serving: 12


I learned this recipe on the internet. There are many versions. The baking methods and directions are very similar to each other. But when I first baked it, I stumbled on a mistake that not many pointed out.
Eventually, I found that there are several do-it-and-forget-it tips that you and other bakers can use and make it more enjoyable for preparing this delicious cookie recipe.
CHEF NOTES
Many recipes said that combine everything together in a baking dish and flatten the batter out and bake. Honestly, you will have quite a mess by doing it on a baking dish. Because the dish is very shallow, not to mention that the cake mix is everywhere on the kitchen counter. Even though it may be one more bowl to wash, a mixing bowl is a must to mix everything together before transferring the batter into the baking dish. Ultimately, washing an extra bowl will save you a lot of effort in cleaning the kitchen mess.
Mix chocolate chips into the dry ingredient first will make the pieces distribute more evenly throughout the batter.
Use a solid spoon made of wood or nylon will be easier to mix all ingredients once the melted butter is added in.
Many recipes you may find on the internet skip this step that I am going to share. When I first tried the recipe found on the internet, the bottom of the cake mix bar cookies was super crumbly. There are 2 easy ways to fix this. A greased baking dish works the best. Simply spray the bottom of the dish with non-stick cooking spray. Or line it with parchment paper, it works, too.
Vanilla extract is an optional ingredient. I added this in the second time when I made this recipe again. It turned out the fragrant and taste is very close to regular chocolate chip cookies.
You may be super anxious to dig into the yummy goodies as soon as it gets out of the oven. Let it sit for at least 10 minutes in room temperature first before cutting. The best tool to cut up the warm cookie bar is to use a plastic knife. It comes out very clean without having the chocolate sticking to it.
---

Recipe Ingredients and Tools

---
Cake Mix Bar Cookies Recipe Variations

What I am going to share here is the classic and the most popular version of this cake mix bar cookies recipe. There are plenty of variations that I recommend you to try. Directions are the same. Cake mix may be replaced by a different flavored one. Chocolate chips are substituted by other ingredients in very similar fashion.
So, let's check out the variations first before diving into the recipe.
Carrot Cake Mix with White Chocolate Chips Look Like the Traditional Carrot Cake with Cream Cheese Icing
Cherry Cake Mix with Chocolate Chips Inspired by Chocolate Covered Maraschino Cherry
Chocolate Cake Mix with Regular M&M (refer to pictures and video shared in this page)
Chocolate Cake Mix with Butterscotch Chips
Chocolate Cake Mix with Small Caramel Candies
Chocolate Cake Mix with Reese or Peanut Butter Chips/Morsel
Chocolate Cake Mix with Bite-Size Truffle
Chocolate Cake Mix with Bite-Size Chocolate Mint Like Girl Scout Cookies
Chocolate or Yellow Cake Mix with Butterfingers Bits
Devil Food Cake Mix with Chocolate and White Chocolate Chips for Chocolate Lovers
Devil Food Cake Mix with Chocolate Chips and Chocolate Chunks like Triple Chocolate Cookies
Orange Cake Mix with Chocolate Chips Just Like the Classic Orange Chocolate
Red Velvet Cake Mix with White Chocolate Chips
Spice Cake Mix with Chocolate Chips
Strawberry Cake Mix with White Chocolate Chips for Potluck
Strawberry Cake Mix with Chocolate Chips like Chocolate Covered Strawberries
White Cake Mix with Valentine's Day Theme M&M for School Valentine's Day Class Party
White Cake Mix with Christmas Theme M&M for Gifts during the Holiday Seasons
Yellow Cake Mix with Chocolate Covered Raisins
Yellow Cake Mix with English Toffee Bits
---
Cake Mix Bar Cookies Recipe and Directions

Ingredients
1 box (15.25oz / 432g) Yellow Cake Mix
1 stick or 1/2 cup (4oz / 101g) Butter (melted)
2 Large Eggs (beaten)
2 cup or (12oz / 340g) Chocolate Chips (I use semi-sweet chocolate chips)
1 tsp Vanilla Extract (optional)
No-stick Cooking Spray
Directions

Preheat oven at 350F (177C).
Melt butter in a small sauce pan at medium low to low heat.
Whisk eggs in a separate bowl and then slowly whisk in melted butter and vanilla extract.
In another bowl, add ingredients in this order: cake mix and chocolate chips (quick stir before adding the rest), lastly, butter and egg mixture. (Once dry and wet ingredients are combined together, you will need a utensil more sturdy to help mixing everything together. It is the perfect time to switch from the whisk to solid spoon.)
Coat 9"x13" (23x33cm) pan with cooking spray and transfer cookie batter into the pan, use the same spoon flattening out the batter in even layer and bake for 20 minutes.
Let it cool in room temperature for at least 10 minutes before cutting it and enjoy.
When it is completely cooled down, store cookie bars in glass air tight container. They will be good up to 2 weeks.
---
Cake Mix Bar Cookies Steps with Photos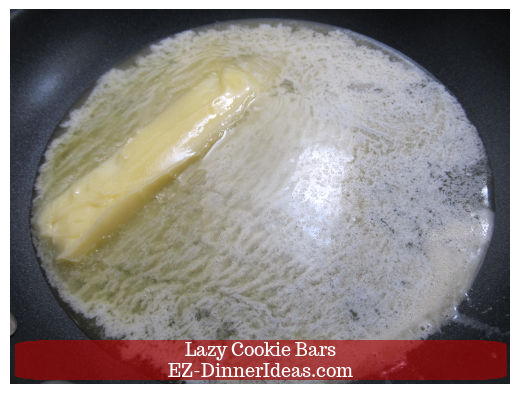 Melt 1 stick of butter at medium low to low heat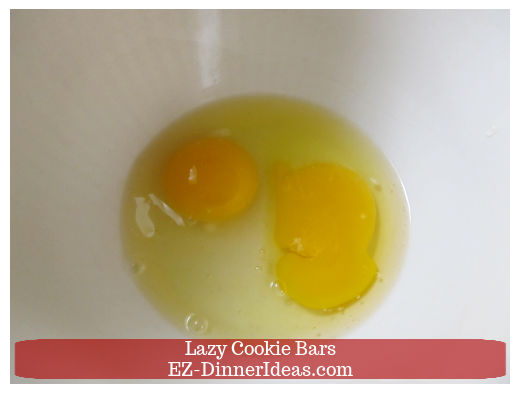 Beat 2 large eggs in a mixing bowl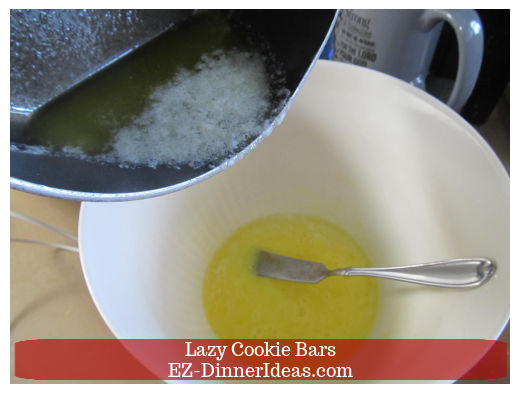 Slowly whisk in melted butter into beaten eggs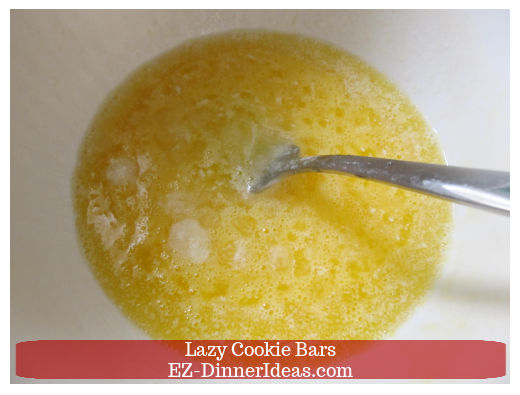 Melted butter and beaten egg mixture
Add cake mix in a separate mixing bowl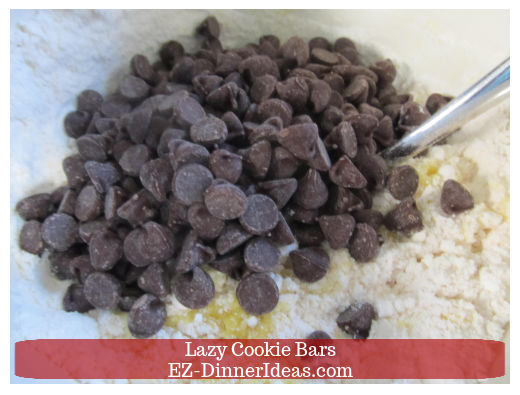 Stir in chocolate chips with cake mix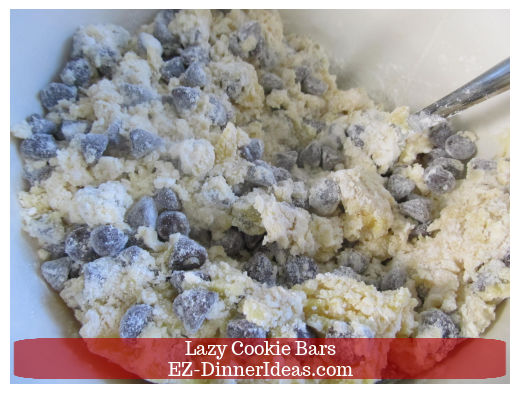 Coat chocolate chips with dry cake mix before adding in the wet ingredients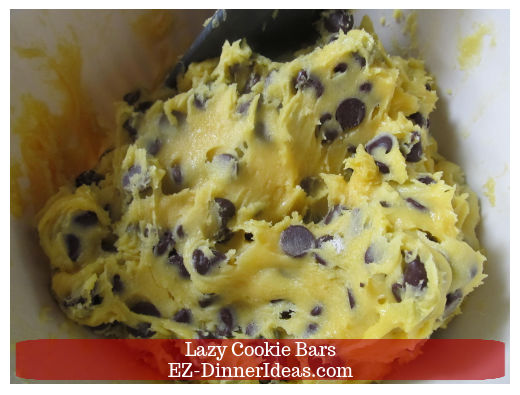 Combine both wet and dry ingredients together to make batter
Transfer batter to a baking dish and flatten it out evenly; then bake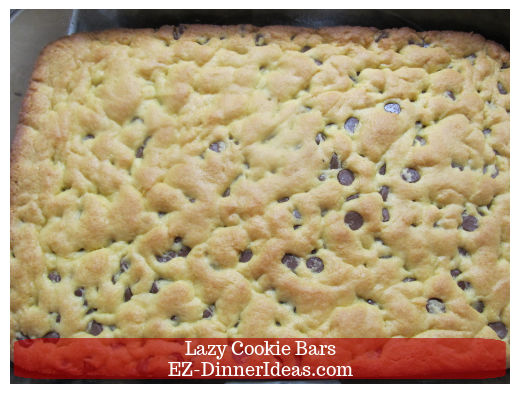 Cookie bar after baking in 350F (177C) oven for 20 minutes
Cookie bars are cut. Plastic knife will give the best result
Here are the Classic Chocolate Chip Lazy Cookie Bars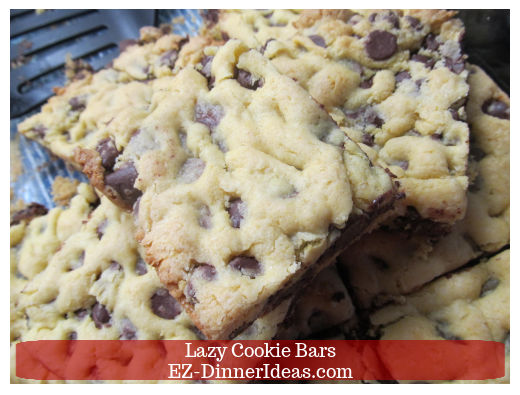 Store any leftover into an air-tight glass container
Making Different Flavor of Cake Mix Bar Cookies and Steps
Same steps to prepare the wet ingredients with beaten eggs and butter.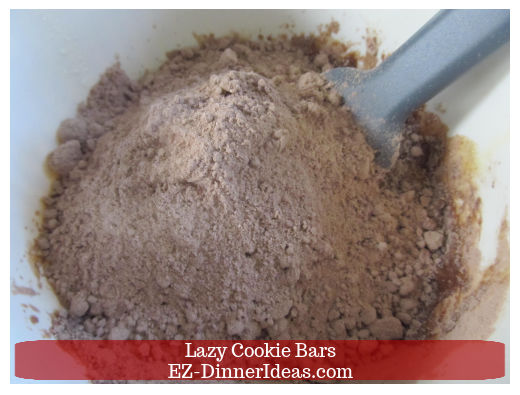 In a separate bowl, add in chocolate cake mix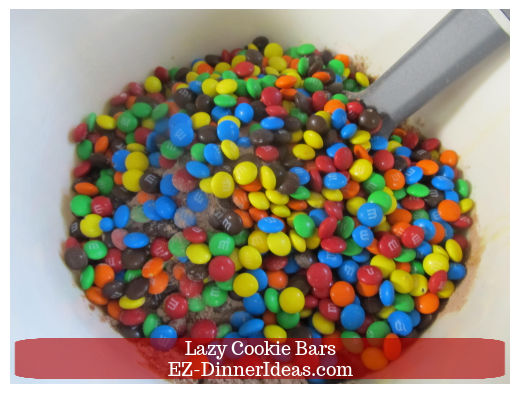 Stir in M&Ms into the dry cake mix before adding wet ingredients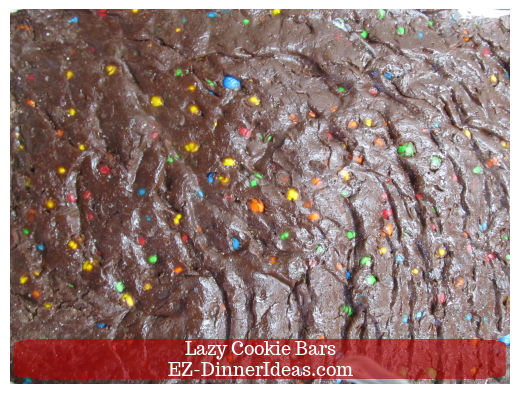 Transfer chocolate M&M cookie bar batter into a baking dish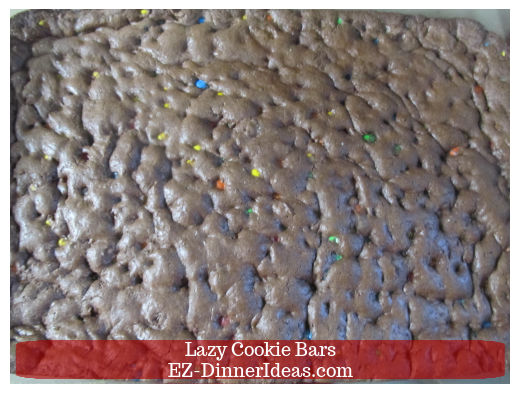 Chocolate M&M cookie bar after baking in 350F (177C) oven for 20 minutes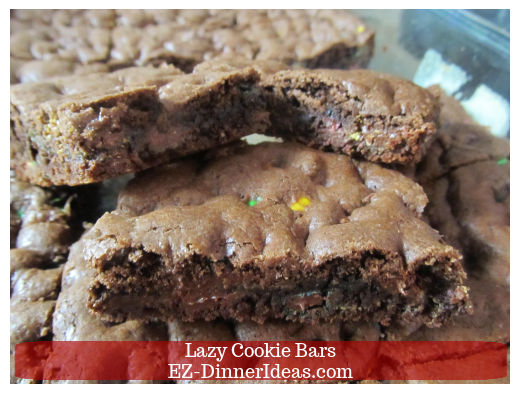 Here are the Chocolate M&M Lazy Cookie Bars
---

You May Also Be Interested In:

---
Home > Dinner Party Ideas > Cake Mix Bar Cookies | The Famous Lazy Cookie Bars