Chinese Chicken Stir Fry with Broccoli or Green Beans
Both Vegetables Sound Great. Which One Are You Going to Choose to Pair with the Chicken?
Chinese chicken stir fry with broccoli is an authentic recipe that you can easily order from any restaurant all around the world. This homemade version will help you to make it more affordable to feed your family who is always hungry. Way to go to save money, huh?

Total Time: 30 Minutes
Prep Time: 10 Minutes  
Active Cook Time: 20 Minutes  
Serving: 4-6


Even after living here in the States for more than 20 years, I still have craving for authentic Chinese food. Broccoli chicken is one of those dishes that I always can't get enough. Just like many parents, I always try to think of a new way to save time, money and make it healthy. Sometimes, it is difficult to accomplish them all. But believe me, when you find a way to make them all happen at the same time, you just want to have someone to pat on your back saying, "Job well done." Here is one of the recipes. I am going to show you to make this Chinese chicken stir fry recipes in 2 ways. It gives you more options. A slight change is another dish for your family. 2 yummy and healthy dishes for everyone. Why not, right?

FREE Bonus Recipe
Sign up my monthly newsletter and you will get an instant access to a bonus recipe, Chinese Chicken Stir-Fry with Broccoli Noodles.  You don't want to miss it.

CHEF NOTES
The traditional recipe always has that pale looking chicken meat. But to many American, including my hubby, that means the chicken is still "raw", even though the meat is thoroughly cooked through. So, I "brown" it with dark soy sauce before it is cooked. If you are that conscious when it comes to the meat color, traditional Chinese dark soy sauce is a MUST in the marinade.
If you plan to serve this with white rice, start that process before prepping the chicken. It is because the rice will take a while to be cooked.
This can be a low-carb dinner by skipping the white rice. To make it Keto-friendly, skip the following from the list of your marinade, i.e. cooking wine, corn starch and sugar.
The cooking method I use in this Chinese chicken stir fry recipe is a very traditional Chinese way of cooking. Yes, there is more oil used. The reason of doing that is to speed up the cook time. The Chinese called this method as "zou you". Word to word explanation means "running on oil". In fact, it uses super hot oil to cook the meat in very high temperature for sealing the juice inside and taking less time to cook the meat through. It is like semi-deep-fry the chicken. However, if you want to have less oil, that's perfectly fine, too. It is all about flexibility. You will preheat the deep skillet with about 2 tablespoons of canola oil and brown the chicken. Make sure the meat is single layer on the skillet. It may need to separate 2-3 batches to brown them all.

Dark Meat (Chicken Thighs) or White Meat (Chicken Breasts)?
The first time when I made this authentic Chinese chicken stir-fry, I used white meat because of my American husband's meat preference. Then, I used dark meat for experiment the next time. It is a huge lesson for me to learn that I want to share with you the differences between using boneless skinless chicken thighs vs chicken breasts.
Being a busy mom, time is an essence. Boneless skinless chicken thighs from any grocery store comes with a lot of fat. I ended up spending at least 10 minutes of trimming fat. Not to mention of the discarded fat that you paid for it. Besides, if you want to cook it on that same night, you must double the amount of your marinade. Otherwise, the meat will be "tasteless". However, I do love the fact that chicken thighs are much juicier compared to white meat. And using dark meat is the authentic way to do it.
When it comes to boneless skinless chicken breasts, it is pretty much everything opposite of what I shared about the dark meat. In my opinion, the only setback of the white meat is the texture. It is not as smooth as dark meat. This is purely from my Chinese perspective because I grew up with having almost everything with dark meat. So, it is up to you to determine what is more important to you. Is your deciding factor based on your time used to trim fat, money used to pay for the discarded fat or texture of the meat in your ultimate dish? Or all of the above?

Broccoli or Green Beans?
This recipe did say that it is Chinese chicken stir-fry 2 ways. The biggest difference is the vegetable used in each version. Authentic Chinese way uses fresh broccoli. I like to make meal prep much easier. As a result, frozen broccoli florets is my choice. As we all know, both fresh and frozen broccoli soften and wilt a little bit once it is cooked. As much as I love this vegetable, I also want to think of an economic, healthy and hearty version which is frozen cut green beans. I must admit that I incorporate plenty of green beans in my weekly diet due to the reasons mentioned earlier. It will take a little bit longer to cook and need more seasoning. In the end, it is still a great alternative for broccoli. So, I encouage you to give it a try.
---

Recipe Ingredients and Tools

---

Chinese Chicken Stir Fry 2 Ways Recipe and Directions
Ingredients
1.5-2 lbs (680-907g) Boneless Skinless Chicken Breasts or Thighs (thinly sliced against the grain)
2 lbs (907g) Frozen Broccoli Florets or Cut Green Beans
3/4-1 cup (5-7oz / 151-202g) Canola oil
Marinade
1 tsp Salt
1/2 tsp White Pepper
1/2 tsp Garlic Powder
1/4 tsp Ginger Powder
1/2 tsp Sichuan pepper (optional; can substitute with red pepper flakes)
1 splash Light Soy Sauce
1 tsp Dark Soy Sauce
1 splash Cooking Wine
1 pinch of Sugar
1 tsp Corn Starch
1 tsp Oyster Sauce
2 tbsp Extra Virgin Olive Oil
Directions
Combine chicken and all ingredients from the marinade, except extra virgin olive oil. Once everything is mixed; then add oil and mix again.

Let it sit in room temperature for about 20 minutes.
Preheat 1 cup of canola oil in a big, deep skillet.
Separate chicken to cook into 2 batches if needed. Single layer meat into the hot oil. Turn it over with tongs. Total cook time for each batch is about 5 minutes. Transfer meat to a plate.
Repeat the last step for the rest of the chicken.
There should be enough oil in your skillet. Add in frozen broccoli or cut green beans. Cover with lid until moisture formed on the inside of the lid. Stir and cook at medium high heat until vegetables are crisp tender.
Transfer chicken back into the skillet and stir to combine with broccoli or cut green beans and enjoy immediately.
Want More Keto/Low-Carb Recipes?!
This ebook will teach you to cook authentic Chinese food in a healthy way. It will also show you how to get the beautiful colors, texture and taste you get from your favorite Chinese restaurants.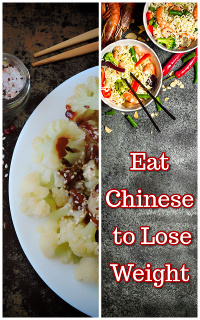 ---
Chinese Chicken Stir Fry 2 Ways Steps with Photos
Thinly slice boneless skinless chicken breasts/thighs against the grain.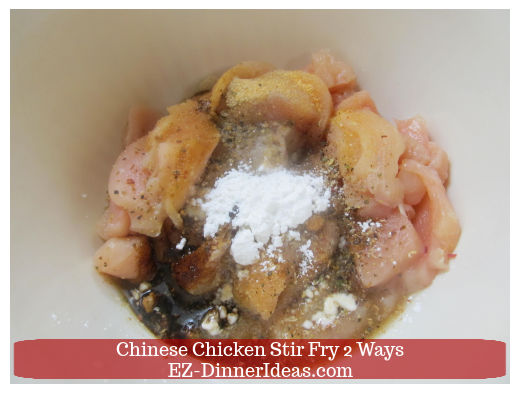 Add all marinade ingredients, except oil, to chicken.
Mix to coat chicken well with marinade.
Add oil and mix again to seal the meat.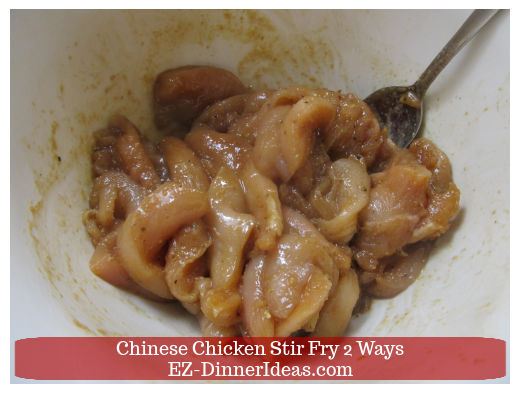 Put chicken aside for about 20 minutes or overnight.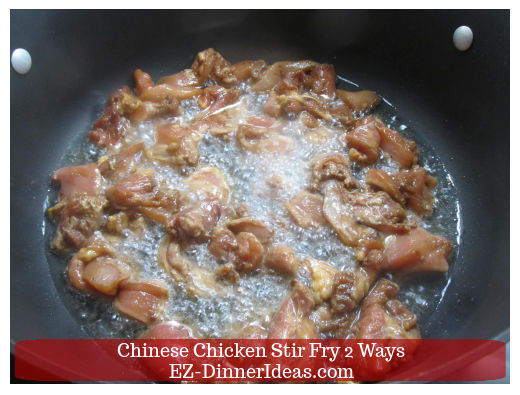 The traditional way of Chinese cooking likes semi-deep-fry the meat.
Stir around and turn meat over to brown both sides.
Or, you can brown meat with less oil.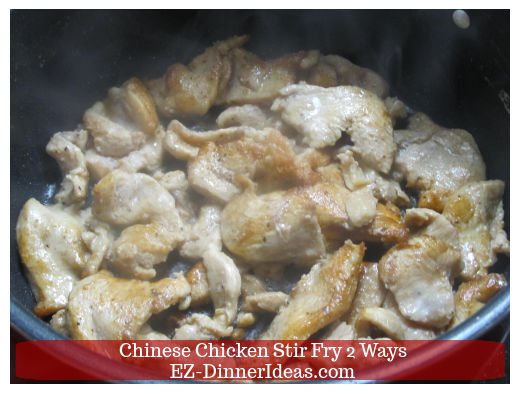 Turn meat over to brown the other side and transfer to plate.
Add frozen broccoli into the same pot and cook.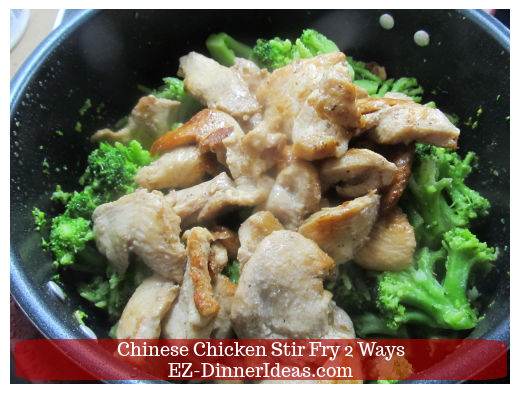 Stir in chicken with broccoli.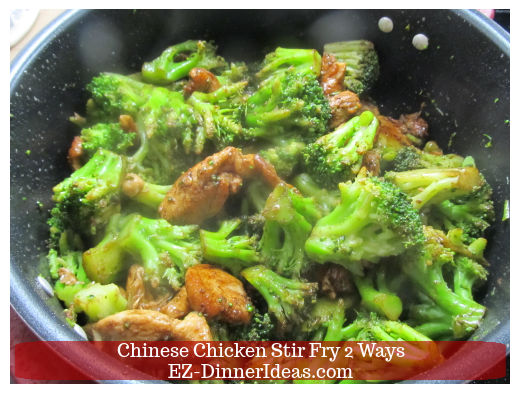 Stir-fried chicken breasts with broccoli.
Stir-fried chicken thighs (dark meat) with broccoli.
Or use frozen green beans instead of broccoli after taking chicken out of the pot.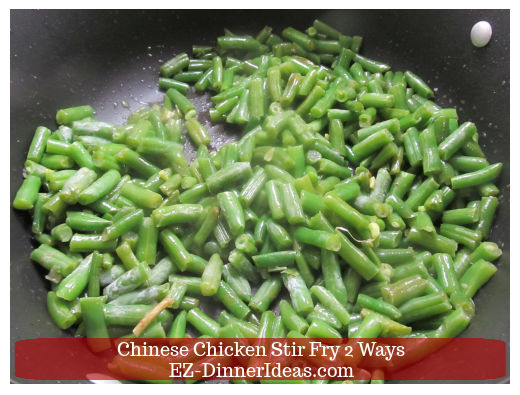 Cook to crisp tender.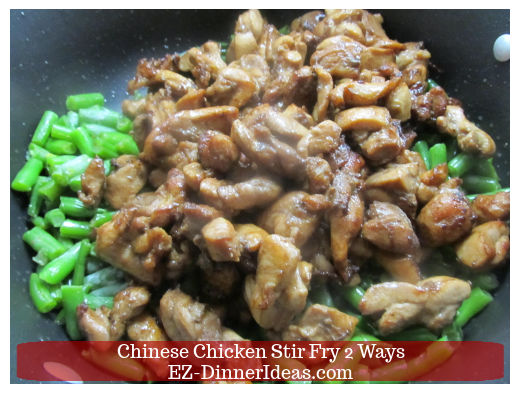 Stir in chicken with green beans.
Stir-fried chicken with green beans and ENJOY!
---

Get Your FREE Bonus Recipe Now
This Chinese chicken stir fry recipe has a third way to make it.  Sign up the monthly newsletter and get instant access of this bonus recipe.
---
Serve This With: 

---

You May Also Be Interested In:

---
Home > Asian Recipes > Chinese Chicken Stir Fry 2 Ways with Broccoli or Green Beans