Authentic Chinese Hot and Sour Soup
Authentic Chinese Hot and Sour Soup
Customize The Way Your Family Like
Side Dish Or One-Pot Cozy Meal
Authentic Chinese hot and sour soup....how often would you ask if it is authentic or not?  I know you heard of Hot and Sour Soup.  Do you like it?  "Yes."  "No."  Do you think that it's another American-Chinese food?  "Ah….Yes?!"  "No?!"  "I don't know."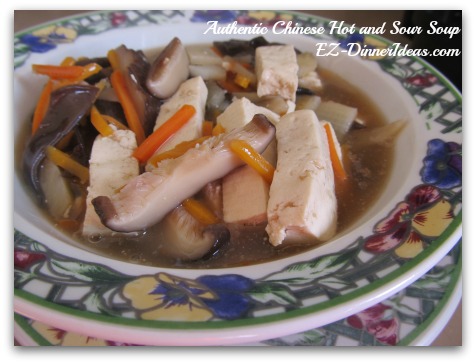 Prep Time: 10 Minutes   Cook Time: 20 Minutes   Serving: 4
If you had tried Chinese hot and sour soup in different restaurants in the past, I can guarantee you that you tried all the ingredients here in this recipe. You might not know it at the time.  To some people, having a bowl of hot and sour soup in a Chinese restaurant is a must. 

Throughout all these years, I cook my hot and sour soup in many different ways.  That's right, even though it is not 100% authentic sometimes.  I did learn a very big lesson though.....

There is always an ingredient in this soup that someone would totally reject it, no matter what it is.

I highly encourage you to cook this soup as this recipe shows.  But do make some adjustments of what ingredients you want to include in the soup based on the preference of your family.

No matter which restaurant you step into around the world, there is always more liquid in the soup than the rest of the ingredients combined.  I purposefully  make this soup more hearty so that it can be a one-pot meal instead of a side dish.  If you prefer it to be a side dish, please feel free to do so.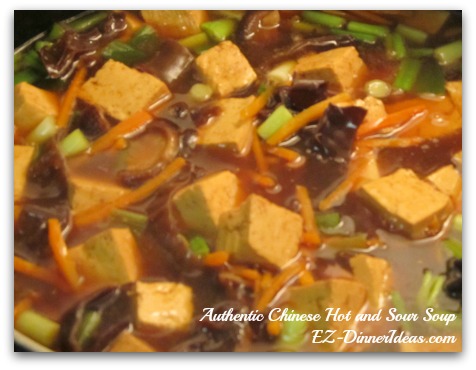 I sometimes may skip 1 or 2 ingredients to make the Chinese hot and sour soup. So, feel free to customize it the way you and your family want
Cultural Background of the Soup
Before diving into this delicious soup, I want to share with you some cultural background of this soup and info about some special ingredients.  Hopefully, with more knowledge, it will help you to overcome the unknown and mysteries of the ingredients bring.

Hot and sour soup is a Shanghai (located in northeastern China.  It is literally in the middle between Beijing and Guangzhou)  dish.  Thai also have their own hot & sour soup.  But theirs is much different from the Chinese one.  I like both.  The main difference between these 2 soups is the color.  Chinese hot and sour soup is almost black in color.  Thai hot and sour soup is white.

When we have this soup, we always serve with the Shanghai style bread. (Coming soon). You can pick either the steamed or deep-fried one.  Inside of the bread is very special.  It is oblong.  When you cut it open to peel off the outer layer of the bread, the inside is soft and can be torn into pieces.  Just like eating string cheese that you peel a string off one by one.  We always like to dip the bread into the soup and eat it.

Now, let's take a look of several major ingredients.
"Wood Ear"
I bet you are curious and want to ask, "What is this?"  To some of you, this sounds scary? 

I bet you tried this before but never noticed that.  The Hot and Sour Soup you had in your Chinese restaurant add this ingredient.  They may not put a lot into the soup because, comparatively, this is a pretty expensive ingredient.

Now, let me tell you more about this.  This is a kind of fungi (growing from the same kind of areas like mushrooms) which is black in color.  They are mostly sold in dried form which makes it very easy to store.



Chinese Dried Woodear Mushroom
In its same family, there are "Cloud Ears" and "Snow Ears".  "Snow Ear" is the kind that the Chinese cook it mostly in dessert.  Even it is cooked, it is crunchy.
Since it is dry, you must soak it in water before cooking.  When it's dry, it looks very small.  Once it is soaked, it expands up to 5 times of its original size.

Fridge is the best place to store this dried ingredient if you open the package.
Bean Vermicelli/Bean Threads/"Cellophane" Threads
Talking about noodles, one kind is called Bean Vermicelli.  Some call it as "cellophane" threads because of its appearance. 

Some local stores carry them and name it as "bean threads".  They are the same.  It is in dried form.  It is made of mung bean startch and transparent after it is cooked.  It is a little bit chewy and having less carb compared with other Chinese noodles you can think of.



Pagoda Lungkow Bean Thread Vermicelli (Glass Noodles) 9 X 200 gram
Bean Vermicelli is always packed in bundles.  I would recommend you to buy from the Chinese stores which carry the brands with 6-8 individually packed bean threads weighted 1-2 ounces each.  This will allow you to preserve it longer in time.

The way how to cook bean vermicelli is pretty similar to the way of cooking other noodles.  Due to its special texture, it doesn't get soggy easily like any noodles or pasta.

In fact, there are many different shapes and thickness of cellophane noodles out there now.  If you are the noodles-lover and on low-carb diet, enjoy the pleasure of what bean vermicelli or its similar kinds brings to you.
This ebook will teach you to cook authentic Chinese food in a healthy way. It will also show you how to get the beautiful colors, texture and taste you get from your favorite Chinese restaurants.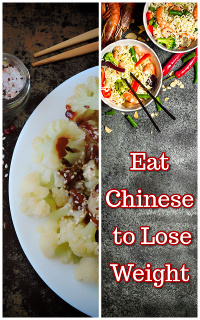 Shiitake Mushrooms
The western world embraces fresh shiitake mushrooms and other mushrooms which are very popular in Asia. 

Asian love dried shiitake mushrooms, especially those originated from Japan.  Great quality dried shiitake mushrooms have a special fragrance.  You can spell it as soon as you open the bag.  When you cook it, it intensifies.

You must soak the dried mushrooms in cold water.  The mushroom water is one of the main ingredients of this soup which bring out a very special flavor.  I encourage you to stay away from the fresh ones.



Dried Shiitake Mushroom, 1 pound
Tofu
Tofu came a long way.  Although there is a relatively small population in the western world accepting this Asian-beloved ingredient, it is way more popular than a decade ago.

In Asia, tofu is very cheap.  When you go to the market, we use "brick" as a measuring unit for tofu.  That's right.  You will buy so many "bricks" of tofu.  The size is about the same as what you buy in a supermarket which is about a pound.  The fragrance and taste of soy bean is much stronger with fresh tofu.

We use the extra firm tofu in this recipe.  I know, you are going to ask me, "How to cut it?"
How to Cut Tofu?
Assume you bought the tofu in package. 


Cut the cover open and replace it with your hand.  Do the next few steps above the sink to avoid clean up later.
Turn the package upside down so that the tofu will be on your palm.  Slice tofu into halves height wise. 
Then, cut from top to bottom lengthwise and crosswise.
Authentic Chinese Hot and Sour Soup Recipe

Ingredients
1 Box / 4 cups (29oz / 807g) Chicken Broth (feel free to use vegetable broth to make it purely vegetarian version)
2 Cups  (17oz / 474g) Shredded Carrots
1 Egg (Beaten)
2oz (57g) Dried Shiitake Mushrooms (soaked in water and sliced)
3 pieces Dried Wood Ears (soaked in water and sliced)
1 Pack (16oz / 454g) Tofu (drained and cut into cubes)
2 pieces Small Dried Chilli Pepper (crushed)
1 Can (4oz / 114g) Bamboo Shoots (drained and cut to the similar size and length like shredded carrots)
1 Bundle (2oz / 57g) Dried Bean Threads
2-3 Scallion (optional; for garnish)
Seasonings
1 teaspoon Salt
1/8 Cup (1oz / 26g) Superior Dark Soy Sauce (This is the major ingredient to give that dark color of the soup)
1/8 Cup (1oz / 26g) Rice Vinegar
3 tablespoons Corn Starch
3 ¼ Cups (24oz / 656g) Water (divided)

Fill 3 separate bowls with 1 cup (8oz / 202g) of water each, soak wood ear, bean vermicelli and shiitake mushrooms separately for an hour (make sure to save the cup of mushroom water)
Slice mushrooms and wood ears
Use kitchen scissors to cut up the bean threads aggressively
Combine 1 cup (8oz / 202g) of mushroom water (which you saved earlier) and 4 cups (29oz / 807g) of chicken broth into a soup pot
Bring it to a boil
Add the rest of the ingredients and seasonings in, except eggs, 1/4 cup (2oz / 51g) of water and corn starch
Stir to combine
When it boils again, taste to adjust flavor  (You have the total control of how sour and hot the soup is.)
Combine corn starch and 1/4 cup (2oz / 51g) of water into a mixing bowl
Drizzle corn starch slurry into soup and keep stirring until thick
When soup is boiling again, slowly stream in the egg and keep stirring to make egg drops and serve immediately
---

Recipe Ingredients and Tools


Natural Rice Vinegar
---

You May Also Be Interested In:

Return from Authentic Chinese Hot and Sour Soup Recipe page to Soup Recipes page

Return to Easy Dinner Ideas Homepage