Chinese Recipes for Family Dinner
30+ Easy Chinese Recipes for Family Dinner That Are Better Than Take-Out
Does serving Chinese recipes for family dinner sound too challenging for you?  It's easier than you think! In fact, if you know the basics and have the commonly used condiments, you can cook Chinese every night.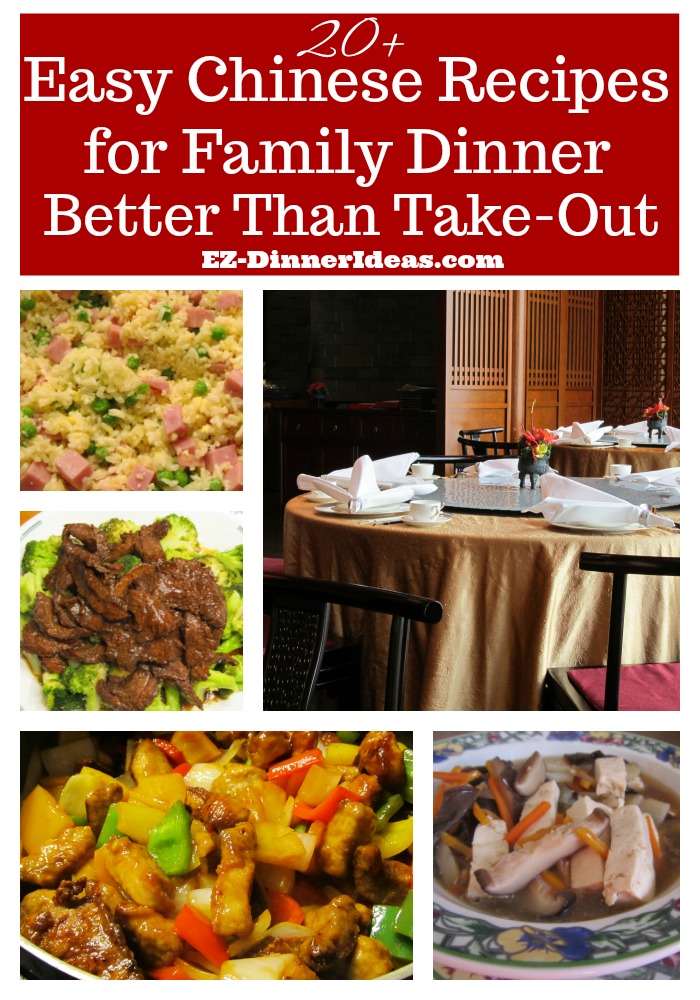 To many people, they usually have Chinese by having take-out or buffet.  It is always something greasy and fatty. 

I must admit the Chinese food prepared in the western world is usually because of the culiniary expectation which result to have greasy and very unhealthy version.

Some traditional Chinese food does have some unhealthy elements, such as using some fatty meat.  Otherwise, most Chinese dishes, especially those served on family dinner table, are very healthy.



Always Family Style
Although I love an authentic Chinese dinner, I realize that I am not as young as I used to.  All the fatty stuff put into my body, I can't walk it off as I used to when I lived in Hong Kong, China.  And I don't live in a city where there is a lot of walking either.  So, you can imagine the rest.  How this greasy dishes affect the body?

So, all the Chinese recipes I put on EZ-DinnerIdeas.com follow the principles below:
Healthier Ingredients
If I can replace white steamed rice with wild rice, I would do so.  Sometimes, I purposefully add more vegetables into the Chinese recipes that they originally call for.
More Economical for Money Saving

Authentic Chinese noodles are only cheap if you can step into a Chinese grocery store to buy them.  Otherwise, you need to pay 3-7 times more than a box of pasta which has the same quantity. 
To feed a family, I go for a similar kind of ingredients for a more reasonable price.

If you feed a family of more than 4, you will definitely know the big difference.
Healthier Cooking Method
Instead of deep-fry, I may sear on the stove top or  cook it in the oven to get the same effect and/or result.  It works out very well.
I will explain below how some of the 3 principles applied to the following recipes.  Remember, there got to be at least 1 or 2 great Chinese recipes for family dinner here for you.  Don't let them scare you because they are Chinese recipes.  I know you will do it great.  Enjoy!
More Fun with Chinese Recipes for Family Dinner
How about sharing some Chinese food fun facts with your family while you are all enjoying dinner together.  Every month you will learn something new.  Fill out the form below and sign up my monthly newsletter. 

Appetizers

Chinese Pickles
Stepping into any Chinese restaurant around the world, it is very typical to have a dish or 2 of these pickles on your table.  You get charged for them even though you didn't ask for any.
But it is supposed to help you to get more appetite.  Yep, that means to eat MORE....
When my mom made these pickles, we also ate them as snack, too.  (Well, when she made these pickles, they never lasted.  As soon as she allowed us to dig in, the plate was mopped clean in a few minutes.) 
So, whichever way works for you, just do it.  There is no limitation here. (Get Recipes)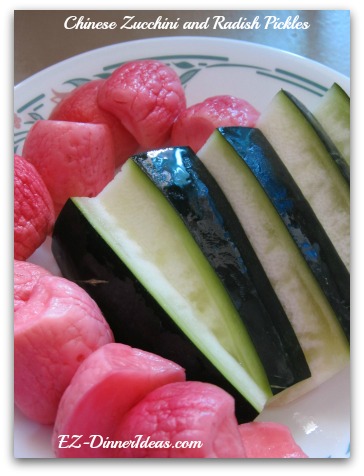 Soup
Believe it or not, traditional Chinese dinner always has soup.  It can be at the beginning or at the end of the meal.  It is a MUST. 
A good bowl of Chinese soup should be clear in color and has been cooked for an entire day.  All Chinese believe that it has the best nutrients in it. 

My family Tomato Potato Carrot Soup
This soup is my mom's recipe that she has been telling us that it clears out all our toxic in our bodies.  True or not, it is super easy, healthy and very low maintenance.
But you and I know very well that time is very limited in our busy schedule.  Instead of serving this soup in a meal, I mashed up all the ingredients into chunks.  So, you can turn it into a very filling and healthy meal.  (Get Recipe)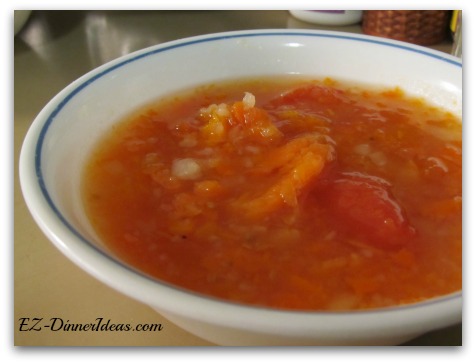 Authentic Chinese Hot and Sour Soup
This soup is not only authentic, but also very versatile.  I provided all the information of the major ingredients to you.  You can either add more or skip those that you are not a big fan on.  You can make it as an appetizer or a hearty meal.  (Get Recipe)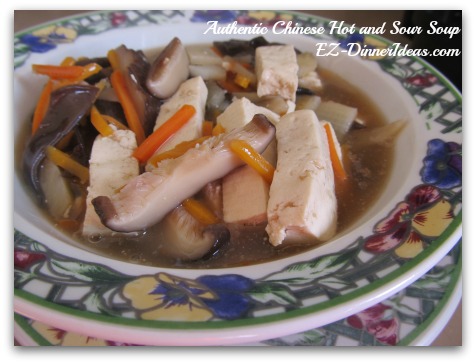 Chinese Corn Egg Drop Soup
Chinese always love to have a bowl of soup as appetizer.  This soup uses pantry staples and only takes 20 minutes to put together.  You can even bump it up to make it a light one-pot dinner.  (Get Recipe)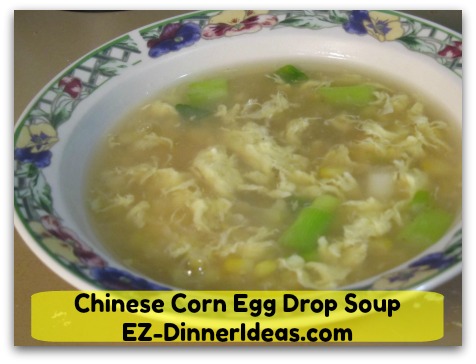 This ebook will teach you to cook authentic Chinese food in a healthy way. It will also show you how to get the beautiful colors, texture and taste you get from your favorite Chinese restaurants.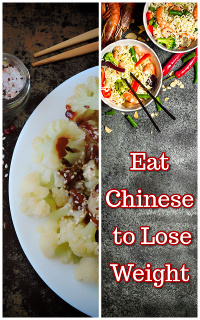 Chinese Entree

No matter where you go, traditional Chinese dinner always serves in family style.  What does that mean? 
It means there are always 3-4 "side" dishes and serve along with steamed white rice or congee (It has the texture very similar to grit.  It is rice cooked with a lot of water which is supposed to be very good for you in many different ways). 
Everything is in the middle of the dining table.  Everybody takes however much he/she needs throughout the dinner.  Every time, it is a bite or bite size.

Yep, throughout the dinner.  No one takes a portion from each plate at the beginning of the dinner.  If you do so, it is considered being rude. 
So, if time is manageable, please feel free to serve these Chinese recipes for family dinner in the traditional Chinese way.
Otherwise, you still can serve one of these Chinese recipes with rice or noodles to make a delicious family dinner.


1-2-3-4-5 Spare Ribs

Chinese always love to show their emotions in a very reserved way.  This dish is a perfect example.  Feel the love of a family communicating through food.
(Get Recipe)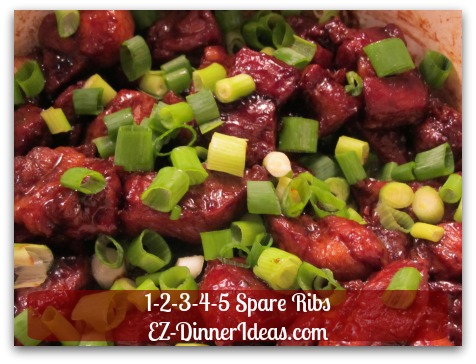 Asian Pasta Salad with Chicken
This pasta salad recipe is super versatile.  It's great for busy family and you can make ahead of time for on-the-go.  Perfect for a summer night. (Get Recipe)

Asian Sweet and Savory Brussels Sprouts
This fusion recipe combined with American and some Korean flavor sounds like something adventurous and fun.  The flavor is out of this world. (Get Recipe)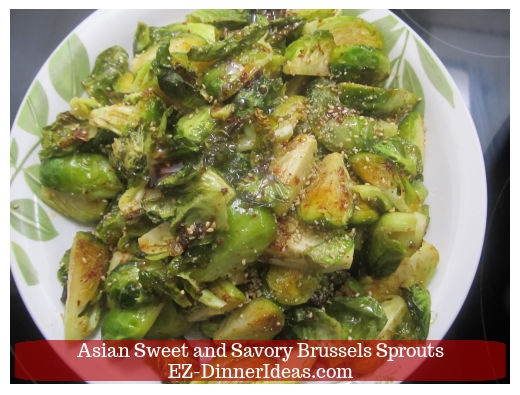 Asian Vegetables Stir-Fry
I must say that Chinese are very health conscious.  Regardless how the family meal plan is, a plate of vegetables is always a must. (Get Recipe)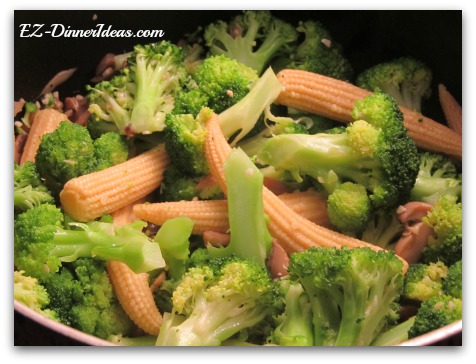 Baked Honey Garlic Chicken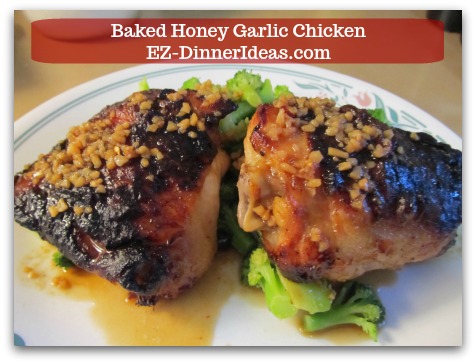 This recipe for baked chicken is yummy and super amazing.  Chinese family dinner is unbelievably easy.  You are going to crave for this over and over again. (Get Recipe)


Broccoli and Shrimp
Instead of stir-fry, I make this as a one-pan or one-pot meal.  All you need to do is to shell, devine the shrimps and pop everything into the oven. (Get Recipe)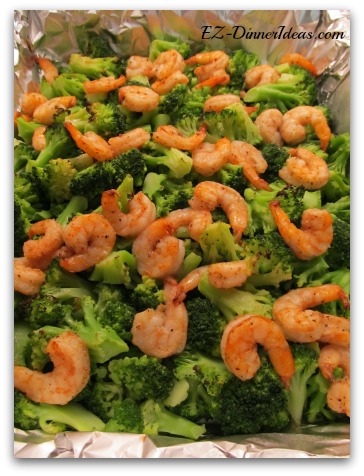 Chinese Beef Fried Eggs

A crazily easy Chinese family style dish you can make in 20 minutes.  (Get Recipe)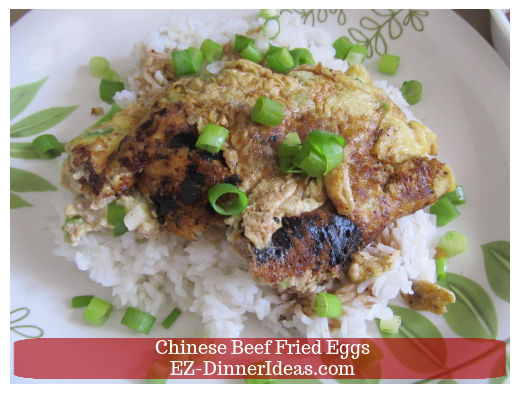 Chinese Beef Mushrooms with Oyster Sauce
This heirloom recipe is great for pairing with steamed white rice and/or lettuce wraps.  Meat eaters would love this. (Get Recipe)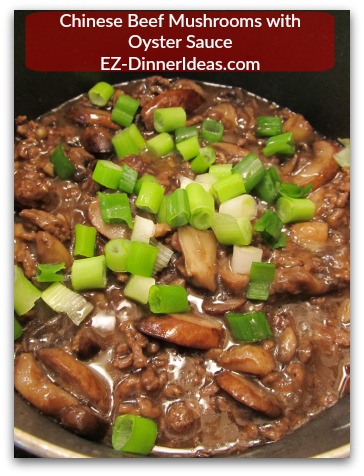 Chinese Black Pepper Chicken

Chinese black pepper chicken is a family-friendly dish for chicken lovers with a mild heat.  This low-carb version is great for anyone keeping their weight in check. (Get Recipe)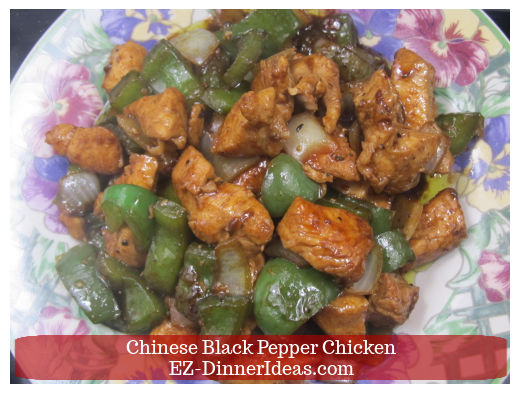 Chinese Chicken Stir Fry 2 Ways

A typical Chinese restaurant chicken recipe.  But you can switch up to pair it with 2 different vegetables.  2 versions to choose from to enjoy this delicious Chinese dish. (Get Recipe)

Chinese Chicken and Vegetable Stir-Fry

Chicken stir-fry recipe with a lot of vegetables is perfect for a low carb diet.  It is also great to serve as a one-pot family meal with rice.  YUMMY!  A typical Chinese family usually serves this along with white rice and wrap up the dinner with oranges. (Get Recipe)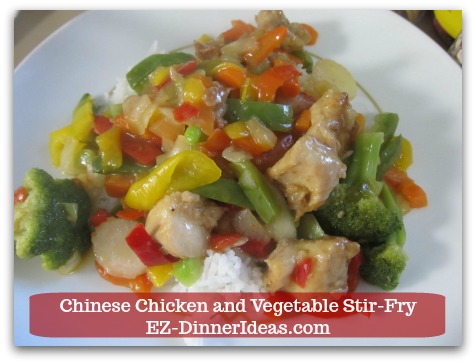 Chinese Traditional Brisket
This is a slow cooker recipe.  From the ingredients and the cooking method, everything is traditional.  It is also very common to serve it with rice or noodles. 
If you still think having Chinese recipes for family dinner still too difficult, maybe start from this dish first.  (Get Recipe)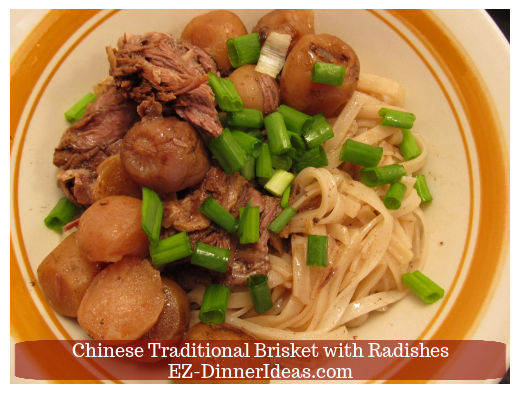 Easy Broccoli Beef Stir-Fry
This is a dish that you can find in any restaurant.  But I will show you how to cook it so that you can serve it for meat eaters and vegetarians even though they are on the same table. (Get Recipe)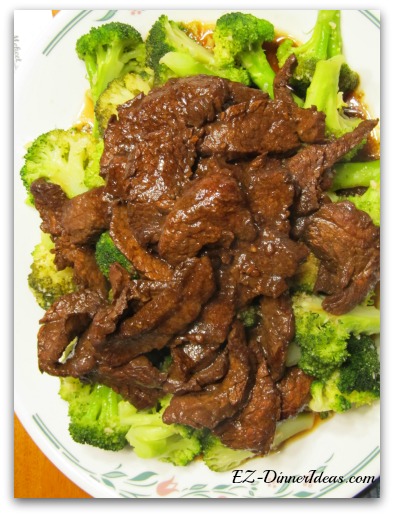 Easy Chinese Sweet and Sour Shrimp

Using store-bought help, this Chinese recipe is more affordable and bigger in serving size.  Dinner will be ready in less than 30 minutes.  (Get Recipe)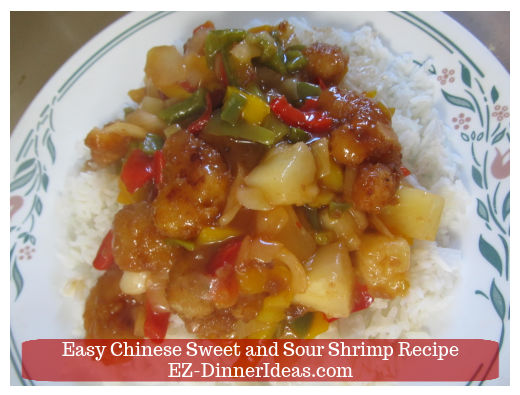 One-Pan Sichuan Chicken with Broccoli
Traditional Chinese chicken dish cooked in one pan.  Perfect for a busy family or anyone in low-carb diet.  (Get Recipe)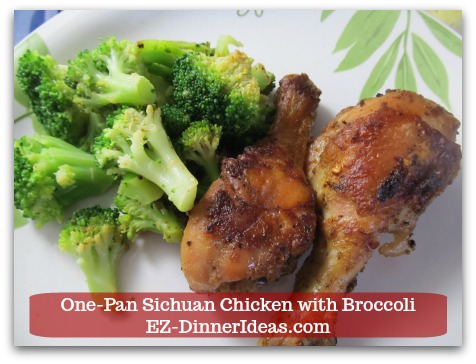 Sweet and Sour Pork
No matter which Chinese restaurant you order this dish from, the pork is deep-fried.
I will show you the way how to cook this Chinese dish without deep fry, but still have the crispiness of the pork. (Get Recipe)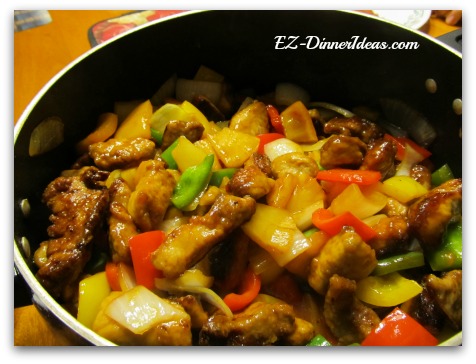 Sweet and Sour Meatballs
This recipe is certainly one of the quickest of the quick, easiest of the easy recipes to get an instant fix of your Chinese food craving. (Get Recipe)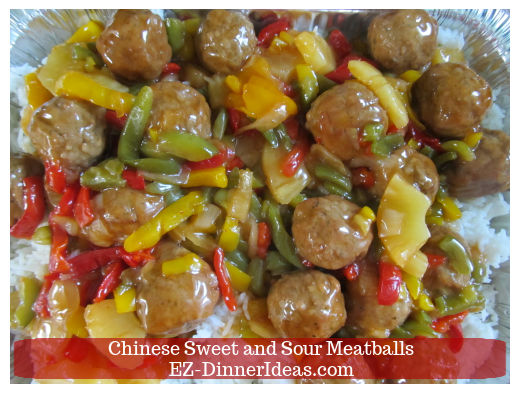 Rice and Fried Rice Recipes

Chinese do eat a lot of rice.  In fact, you literally can see rice on every meal, except breakfast.
However, there are different combination or pairing of rice.  Steamed white rice is very typical.  There are dishes mixed with the rice and give the flavor to the rice to go along with the rest of the ingredients.  The Chinese call this kind of dishes as "Flavored Rice".

And, of course, there are fried rice dishes that, basically, is a creative way to use up the leftover.  Why do they do that?  There is this well-known philosophy, "Every grain (of rice) is a fruit of hard work."  (There is a Chinese children song praising about the hard work of the farmers.)  So, you rarely see people throw their food away.  They will find a way to finish the leftover one way or the other.

Check out more info on the page of Importance of Family Dinner.

5 Spice Beef Rice with Broccoli
You may have never heard of 5 Spice powder.  It is the mixture of ground star anise, cloves, Chinese cinnamon, Sichuan pepper and fennel seeds.  Still skeptical about it.  Wait till you try this dish.  You will be addicted.  The fragrance and flavor are different, but great.

Feel free to replace ground beef with ground chicken, pork or turkey.
(Get Recipe)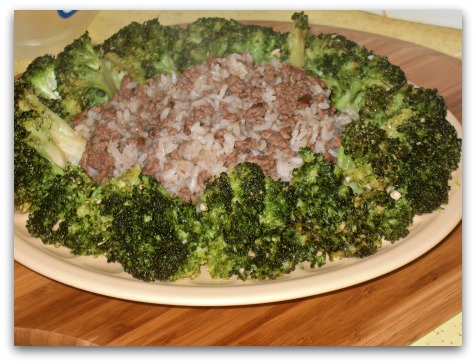 Chinese Chicken and Rice
I must say that I blended in some American culinary philosophy in this dish.  Traditional Chinese dishes usually look pale in color.  If you see a traditional Chinese chicken and rice, you will know what I meant.
American and many westerners like everything to be brown and crispy.  So, I use the dark soy sauce to give the color of the chicken.  Instead of steamed white rice, I choose a healthier option, the wild rice.   Chinese loves dark meat.  But if you prefer to have chicken breast, please feel free to do so.  (Get Recipe)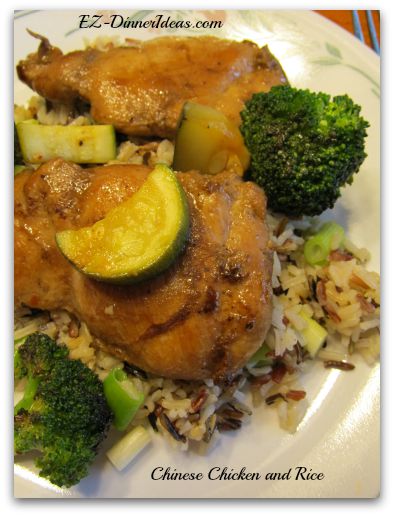 Chinese Family-Style Vegetable Fried Rice

This mixed vegetable fried rice is a very traditional and popular Chinese family dish.  Yes, it is still very common today.  It is super easy, one-pot, colorful and having almost every important nutrient in it.  It is too good to not to make this dish at home. (Get Recipe)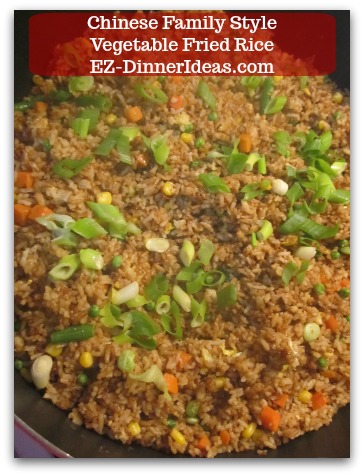 Sriracha Chicken Lettuce Wrap
There are many Chinese dishes use lettuce wrap.  This recipe was inspired by those.  It is tasty, healthy (because of the wild rice) and filling.  (Get Recipe)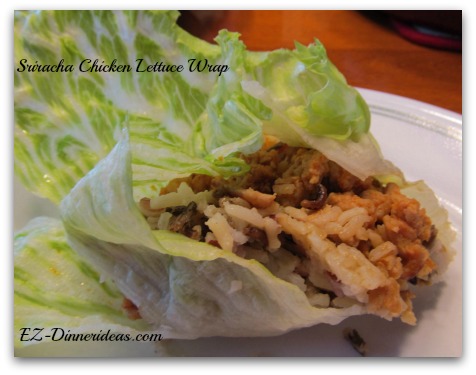 Ham Fried Rice
If you had ham dinner with plenty of leftover, this is a perfect Chinese recipe for you.  If not, any diced ham would work, too. (Get Recipe)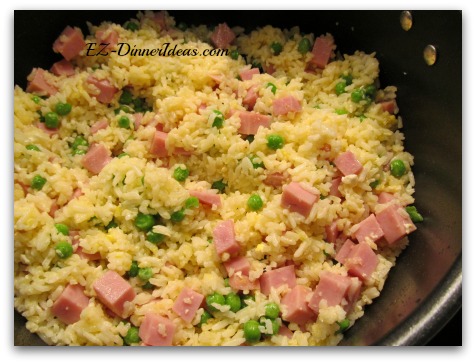 Roast Pork Fried Rice
Roast pork fried rice is on the menu of every Chinese restaurant around the world, including the traditional ones.  Here is a suggestion for you.  You can replace Chinese roast pork with any kind of BBQ pork in this recipe.  (Get Recipe)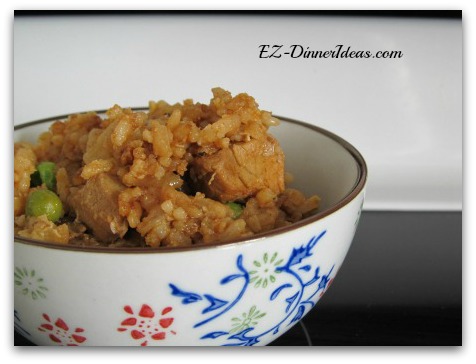 Spaghetti Sauce with Rice 2 Ways
Spaghetti sauce is Italian, not Chinese.  Well, little do you expect to see these 2 yummy meals on the menus of Hong Kong cafes, fast food shops and mom-and-pop diners.  You will be hooked in no time. (Get Recipe)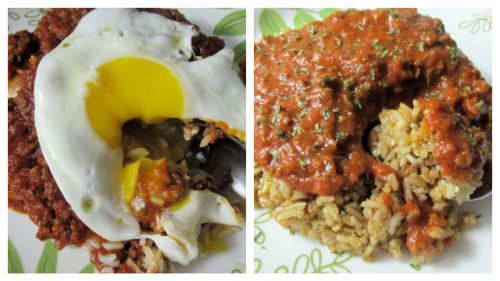 Traditional Cauliflower Fried Rice

If you are watching your carbs consumption, this would be an awesome alternative for you.  Everything in this recipe is traditional, including the cooking methods, but the rice.  It could be your forever go-to fried-rice recipe.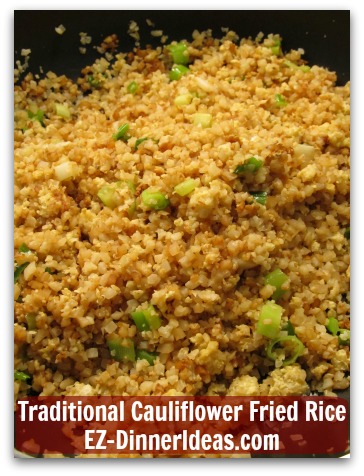 Turkey Pot Pie Fried Rice
This is an east-meets-west recipe.  Don't be surprised to see some new Chinese fried rice recipes similar to this one.
It is also another perfect example to use up the leftover to make another delicious meal.  So, if you had a turkey dinner, think about using your leftover in this way.

The thick sauce of the pot pie creates a great flavor to the fried rice which is one of the ways how Chinese serve some fried rice dishes.  (Get Recipe)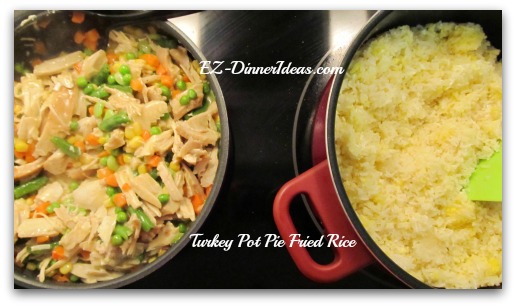 Chinese Noodles

Noodles is another important staple on a Chinese dining table.  It is second next to rice. 
There are many different kinds, colors and shapes of noodles.  You mostly see the kind like a long string.  In my mom's generation, noodles is a must on one's birthday dinner because it symbolizes longevity. 
In fact, in the previous generations, people would love to receive noodles as gift.  It used to have several dried noodle nests packed in a circular and tall gift box with the color of green, purple and gold.
Here are the Chinese noodle recipes which you can easily find the ingredients in any local store:

Asian Pepper Onion Noodles
Traditionally, Chinese rice noodles can either serve in soup or stir-fry.  The noodles are wider.  But they must be fresh.  Nobody has ever sold them in dried form like pasta or other noodles that you can find in the supermarkets. 
Due to that reason, even in Hong Kong or China, buying fresh wide rice noodles is difficult.  Once they are sold out, you need to come back again next day.  I use the Thai dried rice noodles for this recipe to overcome that challenge.  (Get Recipe)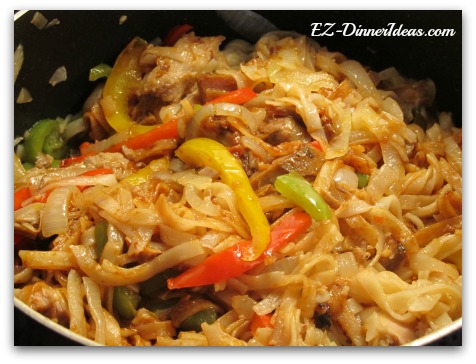 Cabbage And Carrot Chow Mein
You can easily order a take-out of this recipe in any Chinese joint.  But cooking at home, you have a lot of control on its quality, sodium level and even budget.  This noodle dish must be one of the Chinese recipes for family dinner.  I can guarantee you that people will ask you to make this over and over again.  (Get Recipe)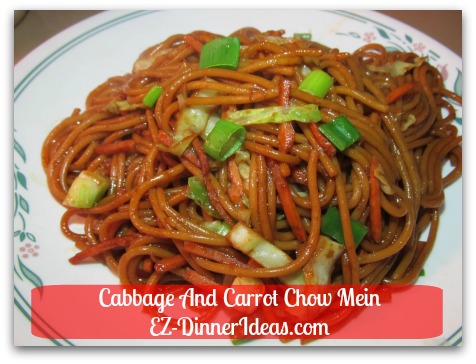 Hong Kong Spam Spaghetti Bowl
Before the word, fusion" was created, this recipe existed already.  Stepping into any Hong Kong style cafe, you can easily spot this Hong Kong Spam Spaghetti Bowl on the menu.
If somebody challenges you, "Are you sure if this should be one of the Chinese recipes for family dinner?"  Well, you can share your story learning from this site.

I love it, especially if my mom cooks it at home.  It is definitely a comfort food. 
(Get Recipe)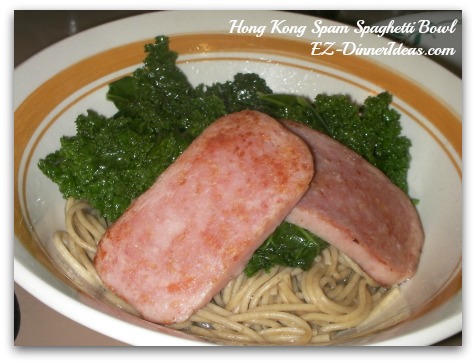 Hong Kong Style Beef Stir-Fry Spaghetti
If you ever thought that this is an American, fusion or western dish, you are very wrong.  This is purely an original recipe from Hong Kong.  I still remember when I was a kid, my dad ordered this for lunch literally every day from a mom and pop store.
Yes, every day.  Sounds very crazy.  But I must admit that this dish is addicting.  My dad loved to put a lot of Sriracha sauce into it.  Will you do that?  (Get Recipe)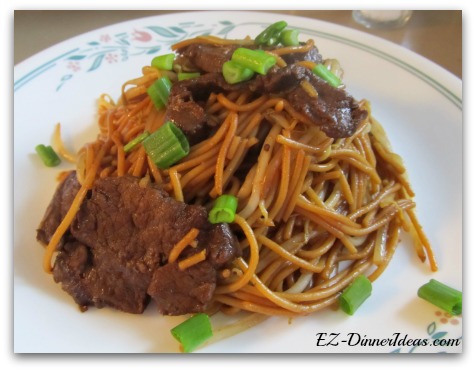 Low Carb Keto Chinese Chicken Noodle Bowl
This quick and easy chicken meal is perfect for anybody who loves noodles, but have to watch the carbs intake.  It sure will satisfy your craving. 
(Get Recipe)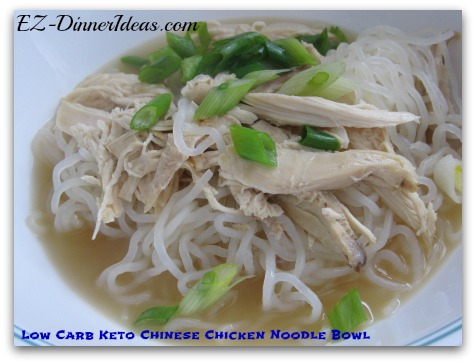 Low Carb Keto Unstuffed Chinese Spring Roll
This Chinese pork recipe is not only delicious, but also make you feel GOOD.  (Get Recipe)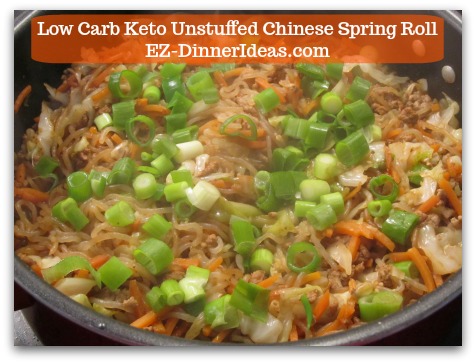 No-Prep Stir-Fry Vegetables Noodles
Stepping into any Chinese restaurant around the world, it is very easy to spot something "delight" on the menu, such as "vegetables delight".  Sounds familiar? 
This recipe was basically created because of that.  You can add any kind of vegetables or other ingredients into this Chinese noodle recipe to make your own version.  (Get Recipe)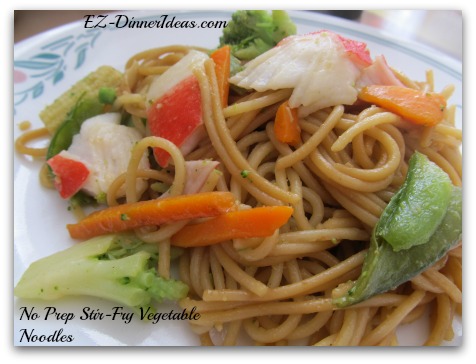 Onion Bell Pepper Ham Spaghetti Stir-Fry
Inspired by several recipes, this dish originally would add traditional Chinese Black Bean Sauce.  I personally love the flavor of that sauce, but the texture.  So, this is a little twist of using other condiments and sauces to make it tastes like with the Black Bean Sauce. (Get Recipe)


Fun, Fun, Fun

You can kick up a notch with these Chinese recipes for family dinner.  Share with your loved ones on the dining table with some Chinese food fun fact.  Fill out the form below and sign up my monthly newsletter for these fun facts exclusively.


My Amazon Picks

These recipes have some common ingredients and/or gadgets which are, sometimes, difficult to find in the regular stores.

Chinese Dinner Party Favors

Not long after I moved to the United States, we invited many people to have dinner at our house.  It was more like a get-to-know-each-other kind of dinner.  At the end of the dinner, each guest received a party favor.  You will not believe how ecstatic all my guests were.
In fact, after all these years, some told me that they still use the coaster and chopsticks.  How wonderful, isn't it?

Here is how I assembled each favor together for my guests.  Inside each pouch bag, I put in:

A pair of chopsticks
A Coaster
At least 2 gold coin chocolate in a red envelope first before putting an entire envelope into the pouch bag.  (A side note...Chinese red pocket can be used any time during the year.  It is not only limited during Chinese New Year.)



Neon Colored Canvas Pouch Bags
Sacks with Drawstring Closure
---

You May Also Be Interested In:

---
Home > Busy Family Meal Planning > Chinese Recipes for Family Dinner