Chicken Dinner Recipe
Chinese Soy Chicken And Rice
NO Take-Out; A Very Healthy Dinner Recipe

This chicken dinner recipe is a simplified version of Chinese soy chicken.  Traditionally, you need to marinade the entire chicken and cook it. 
But this recipe only uses one chicken part which is boneless skinless chicken thighs.  (Of course, you can substitute thighs with boneless skinless chicken breasts.)  The reason of doing so will save you from all the carving and other challenges of cooking the entire chicken.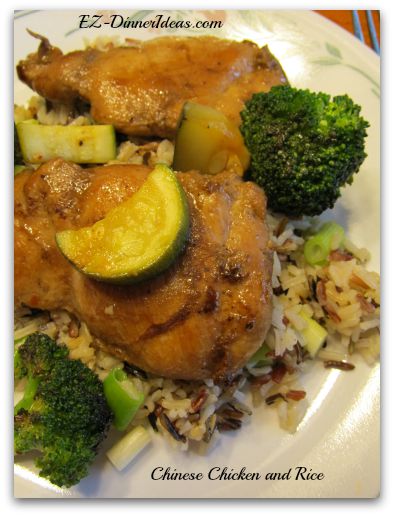 Total Time: 50-55 Minutes  Prep Time: 15 Minutes
Cook Time: 35-40 Minutes   Serving: 4

Another big twist is using the wild rice instead of traditional steamed white rice. On top of that, there is broccoli.  In short, this whole dinner is loaded with fiber.  So, you won't feel guilty after filling up your belly.  If you are watching your carb intake, you can completely skip the rice part.  And this chicken dinner recipe is still amazingly delicious.

On the day of serving this delicious recipe, I had some sautéed zucchini leftover.  So, I stirred it in when the broccoli was done to warm up the zucchini.

This gave you another idea, didn't I?  Yes, if you don't have broccoli, feel free to replace it with zucchini.  Having either one of these vegetables soaking up the delicious juice and dripping from the chicken is out of this world. 
(A side note...the way how you cook the broccoli for this chicken dinner recipe is very similar to the way how you cook the "Simply Sauteed Broccoli"  The only difference is that this recipe will use the same pot in which you will cook the chicken first, and then the vegetables.  So, all the brown bits from the meat will blend in with other ingredients and give a perfect touch.)

Yes, you can double this recipe.  Just bear in mind that your cook time will be longer because you need more time to brown all the meat.

Once you get the grip of preparing this chicken dinner recipe, you can put many twists to it and create many different themes of chicken and rice dinner ideas.  Here are just some few suggestions, such as Thai, Indian, Vietnamese, Italian and so forth.  The list is endless.  

Anyway, if my little picky eater is so addicted to this recipe (my son asked me to cook it again the next day and he ate 4 pieces of chicken thighs when I first served this dinner), I am sure that you will cook this Chinese chicken and rice dish over and over again.

This ebook will teach you to cook authentic Chinese food in a healthy way. It will also show you how to get the beautiful colors, texture and taste you get from your favorite Chinese restaurants.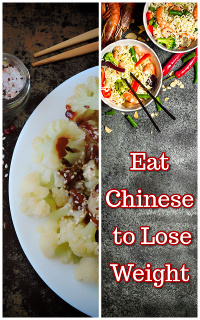 Chicken Dinner Recipe Ingredients and Directions

Ingredient
8 pieces Boneless Skinless Chicken Thigh (4-6oz / 113-170g each)
2 small Broccoli crown (cut into florets; about 1lb / 454g)
1/4-1/3 cup (1.7-2.3oz / 50-67g)water

Marinade only
2 tablespoon Canola Oil
1 pinch crushed red pepper
1 teaspoon of each of the following:
Ground ginger powder
Garlic powder
Salt
Superior light soy sauce
Superior dark soy sauce

Rice only
2 cups (14oz / 403g) par-boiled Wild rice mix
3 cups (21oz / 605g) Chicken broth
2 teaspoon Extra Virgin Olive Oil
4 Scallion (diced)

Directions
Combine all seasonings of the marinade in a mixing bowl and toss in chicken
Use your hands to mix and coat everything together
Let meat marinade at least 4 hours or overnight
Take meat out in room temperature for 15-20 minutes before cooking
Combine all the rice ingredients, except scallion, into a big sauce pan
Bring it to a boil; stir once
Cover with lid and simmer for 15 minutes
Turn off heat and sit for 5-10 minutes
Stir in scallion before serving
While rice is cooking, preheat a Dutch oven at high heat
Single layer the chicken in the pan and brown (about 2-3 minutes per side)
Transfer to a plate and repeat last step again until all chicken is browned (It may need to cook chicken in 2-3 batches)
After turning the meat over (for the first batch), you may need to turn heat down to medium high
Transfer all chicken back into the Dutch oven and cook in medium to medium low heat under cover for 8-10 minutes
Transfer meat to plate and cover under foil and rest
Leave all dripping in the pan and cook broccoli under cover at medium high heat
Stir regularly and add 1/4-1/3 cup (1.7-2.3oz / 50-67g) of water if needed until crisp tender
Serve chicken, rice and broccoli immediately
---

Recipe Ingredients and Tools

---
Serve This With: 

---

You May Also Be Interested In:

---
Home > Asian Recipes > Chicken Dinner Recipe