Easy One Skillet Meal
One-Pot Sausage Raisins Wild Rice
Versatile Pantry Recipe
Interchangeable Ingredients
This easy one skillet meal is surely a pantry recipe to me.  All ingredients listed here are always in my pantry, fridge and/or freezer.  It contains almost every category from the food pyramid in this one-pot dinner.  Delicious, healthy and filling.  But wait, you got to see how you can switch up the ingredients to make it versatile for you.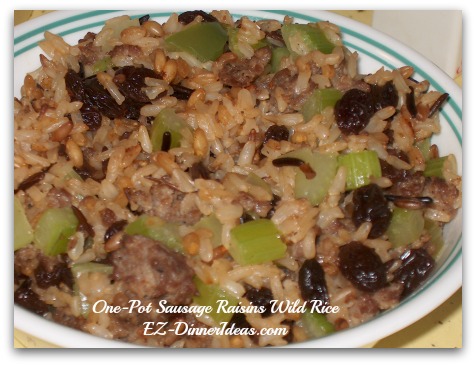 Total Time: 1 Hour
Prep Time: ZERO Minutes  
Active Cook Time: 8-10 Minutes  
Inactive Cook Time: 50 Minutes  
Serving: 2-4


CHEF NOTES
As I said, this is a pantry recipe, you can switch different ingredients to replace those listed here.  Let's check them out:


Sausage vs Spam (1 can of spam and cut it into 1/2" dice) vs Diced hot dogs
Raisins /Crasins vs any dried berries or dried fruit
Celery vs Shredded carrots, diced bell peppers or frozen green peas
Talking about easy, huh?


Par-Boiled or Regular Wild Rice

Regular Wild Rice Mix I use in this recipe
When I created this recipe, there was no par-boiled wild rice in the market yet.  But many years later, I I found that there is par-boiled kind under my same favorite brand.  I like both.  Each offers its own benefits.  You can interchanging them.  But, I am going to stick to the original recipe here.

There is a difference between these 2 kinds of wild rice other than just the cooking time.
Regular wild rice is definitely heartier in texture.  The volume you will get out of either one of them by following the package instructions is about the same.   Par-boiled wild rice cooking time is half of the regular one.

So, which one should you choose?  Here is how I look at it:  There is always give or take in our daily lives.  It depends on your lifestyle to make the best choices for yourselves.


Easy One Skillet Meal Recipe and Instructions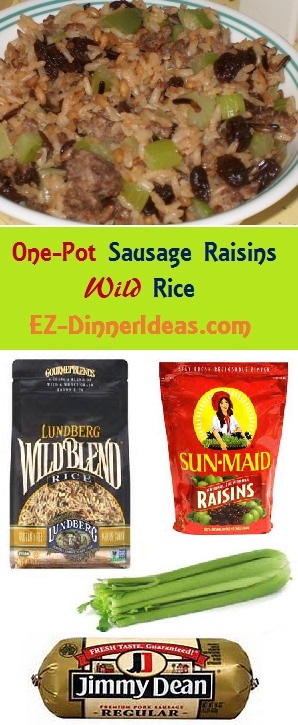 Ingredients
1pound Italian Sweet Sausage (bulk)
2 Cup Regular Wild Rice
1/4 Cup Raisins /Crasins
3-4 Ribs Celery (diced)
3 1/2 Cup Water
1/2 teaspoon Salt
1/4 teaspoon Black Pepper
1 tablespoon Extra Virgin Olive Oil

Preheat a Dutch oven or a big pot at medium high heat
Add oil and sausage
Use spatula to break sausage into bite size and brown (about 8-10 minutes; don't worry about cooking through the meat at this time.  It will continue cooking with the rice)
Add rice, water, salt and pepper
Stir to combine and let the mixture come to a boil
Turn down the heat to medium low to low and simmer for 40 minutes covered with lid
Stir in celery and raisins and cook for another 5 minutes and serve
---

Recipe Ingredients and Tools

---

You May Also Be Interested In:

---
Home > Pork Recipes > Easy One Skillet Meal | One-Pot Sausage Raisins Wild Rice