One-Pot Swedish Meatballs Fettuccine
Cheap, Quick and Easy
Way Better Than Any Frozen Dinner
This one-pot Swedish meatballs Fettuccine was inspired by a trip in the grocery store.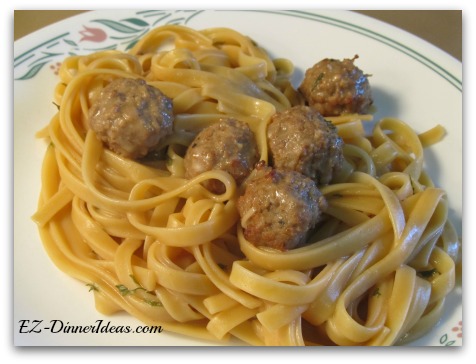 Prep Time: 5 Minutes   Cook Time: 20 Minutes   Serving: 4
I rarely buy any frozen ready-to-serve meal. Not only because it is expensive, but also it takes about the same amount of time to heat it up while you can use the same time to make it from scratch. So why bother, right?

I saw this frozen Swedish meatballs fettuccini in one of our weekly grocery shopping trips. The price shocked me. It was only for one serving.  And that one serving is nowhere as big as the size of a serving from this recipe.
Right away, I was thinking that I could pay a few dollars more to make a meal to feed at least 4 people.  So, at the end, the average cost per serving is way much lower than buying this frozen meal.
In this economy, everybody tries to save a penny here and there, including my family. But it doesn't mean that you should sacrifice some of the joy in your daily life. Hope you will enjoy this tasty, easy and quick dinner recipe.
Why Frozen Meatballs?


However, instead of making everything from scratch, I use some store-bought help.  There are 2 reasons behind it. 

1) It makes this recipe much flexible.  You can double, triple or even quadruple it to feed a enormous crowd without spending more time in the kitchen. 

2) I don't know about you.  We always have surprised guests showing up at our house less than 24 hours notice.  Sometimes, you have your dinner planned.  All of a sudden, somebody shows up and you need to serve more food.  What do you do?   Make a special trip to the grocery store?  I always likes to look into my pantry or freezer for help.  If you have the frozen Swedish meatballs in the freezer, tada.....you can serve this one pot Swedish meatballs fettuccine on top of what you have already planned.  How easy is that, huh?

Ingredients

1 pound Fettuccine
6 cup Beef Broth
20 store-bought frozen Swedish meatballs
1/2 cup water
1 tablespoon Worcestershire sauce
1/2 teaspoon salt
1 pinch of black pepper
1/4 cup Sour cream
1 teaspoon dried parsley (I use Litehouse brand because of its vibrant color)
2 tablespoon butter


Combine 6 cups of beef broth, 1/2 cup water,

Worcestershire sauce,

salt and butter in a Dutch oven or soup pot
Bring it to a boil
Add Fettuccine and stir for 2 minutes (so that the pasta doesn't stick together)
Add meatballs
Turn down the heat to medium low to low and cover the lid
Low boil for 14 minutes

Turn off heat
Add black pepper, parsley and sour cream and stir to combine and serve



Tips
Feel free to add more or less meatballs as you want. Just to make sure that it is still boiling at the time you cover the lid.
For a delicious, easy and healthy side dish, try adding our Outback Steakhouse asparagus.
---
Serve This With: 

---

You May Also Be Interested In:

Return from One-Pot Swedish Meatballs Fettuccine Recipe page to Pasta Recipes page

Return to Easy Dinner Ideas Homepage