Versatile Everyday Meatballs
Subs, Spaghetti, Soup for Dinner
Finger food for Parties
Endless Meal Ideas
Why everyday meatballs?  Because you can continue cooking them in the spaghetti sauce after coming out of the oven.  They are also great for serving in Alfredo sauce or other pasta sauce.  You can even serve them plain like my son loves to do. 
Or even better, serve these meatballs with other dipping sauce in the party.  No matter how you want to serve them and when you serve them, the ideas are endless.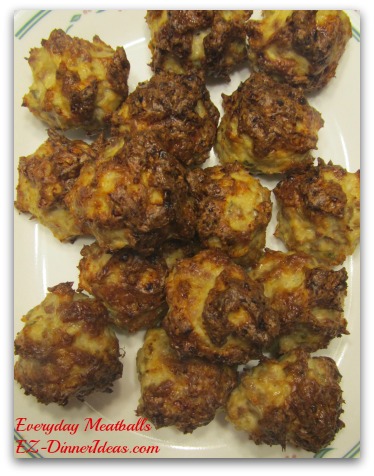 Prep Time: 15-20 Minutes   Inactive Cook Time: 40-50 Minutes   Active Cook Time: 20 Minutes  Serving: 4-6

I made a lot of meatballs with my mom before moving to the States.  We used to make from all kinds of ground meat, such as fish, shrimp, octopus, chicken, beef, pork and so forth.  They were all in Chinese style.

Coming to the States, I tried to do it the ways like the American or Italian do.  Funny that my American husband doesn't make the meatballs like anybody else nor likes I used to do. 
In my opinion, they are too meaty and not flavorful enough.  My little one loves bold flavors.  Of course, making him to eat the meatballs my husband makes like having a battle with him.

In order to make both my hubby and son happy when it comes to spaghetti and meatball dinner, I made these everyday meatballs.  You can continue cooking in
the spaghetti sauce, soup, subs, serve them plain or serve as finger food in a party.
Served Everyday Meatballs With Subs

While the meatballs are cooking in the oven, heat up your favorite marinara sauce (or refer to my marinara sauce recipe at the bottom of this page) on the stove top.  Serve a veggie platter and some cheese on the side.  This allows everybody to make their own subs the way they like.
Served In Sauce or Soup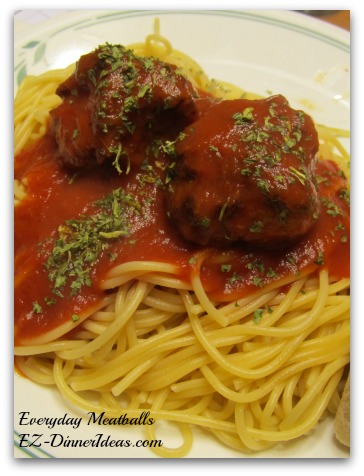 Once the meatballs cooked for the first 40 minutes in the oven, they can go directly into the sauce or soup together with the dripping.  They will continue to cook.  I highly recommend to cook them for another 20 minutes max. at simmer. 
We sealed the juice inside the meatballs in the oven with high temperature. You don't want to cook them and dry out all the inside juice at low heat. 

A great way to serve these everyday meatballs are in the quick cooking soup, such as Italian wedding soup.
Served Them Plain or Finger Food
If you serve them in either way, they must thoroughly cook through.  Then, you just need to follow the recipe below.  Enjoy!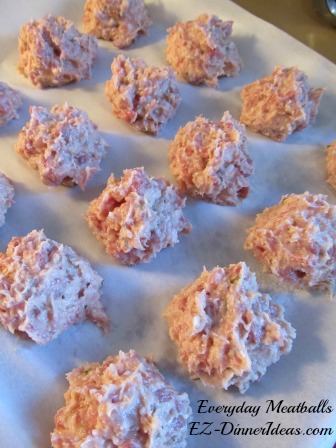 Ingredients
1 pound ground chicken
12-16 ounces Italian sweet sausage (sausage could be a bit harder to break apart. You can use a potato masher to break it into smaller pieces first before mixing together with the ground chicken)
1 egg
1/3 cup plain bread crumb
1/3 cup milk
Salt and pepper
2 tablespoons Extra Virgin Olive Oil
1 tablespoon Dried parsley (optional; I use the Litehouse brand because of its vibrant color)

Preheat oven at 400F
Line a baking sheet with parchment paper if you serve them plain. (Or line with foil and coat with no-stick cooking spray.  This allows you to add the dripping and meatballs into the spaghetti sauce)
Combine everything together and make meatballs and line on the prepared baking sheet (about a golf ball size for each or about 1-1.5" in diameter, makes about 24 of them).  Make sure there is about 1/2" space around each meatballs.
Bake for 40-50 minutes
You can transfer to the sauce at this time and continue cooking in the sauce. Or lower the oven heat to 300F and continue to cook another 20 minutes and serve with other dipping sauce and enjoy
Marinara Sauce Recipe

This marinara sauce is very different from my other spaghetti with meat sauce recipe.  This one is super simple and cook on the stove top.  Please feel free to use your favorite brand of spaghetti sauce in the jar.  Or, simply follow the recipe
below.

Ingredients
2-28 ounces Tomato sauce
1 tablespoon Tomato Paste (I use the one in the tube.  Amore brand is always in my fridge.)
1 teaspoon sugar
A pinch of dried oregano
Salt and pepper to taste

Combine everything in a medium sauce pan and cook at low heat.  Stir occasionally.  Cook this sauce at the same time while the everyday meatballs are in the oven. (Feel free to add more herbs into the sauce.  But due to the sweet Italian sausage in the meatballs, this sauce is the perfect complement.  I like to add 1/2 teaspoon butter in each serving.  It makes a nice touch, too.)


You May Also Be Interested In:

Return from Everyday Meatballs Recipe page to Pasta Recipes page

Return to Easy Dinner Ideas Homepage