Spaghetti Sauce Vegetable Soup
Spaghetti Sauce Vegetable Soup
Easy, Healthy, Cheap and Delicious
All In One Pot
This spaghetti sauce vegetable soup was inspired by my mother's teaching. She always says, "Treasure all the food you have. There are a lot of people in this world suffering from hunger."

As a result, throwing food away is always the last option on my book of rule.

Total Time: 8 Hours 10 Minutes
Prep Time: 10 Minutes  
Inactive Cook Time: 8 Hours  
Serving: 6-8


The sweet thing about this recipe is that...you just used the slow cooker that you just used for cooking the spaghetti with meat sauce recipe. 

You do NOT need to clean the insert of that slow cooker, but dump everything in it and cook another simple family meal for the night after.

While the soup is cooking, it eases the cleaning of the slow cooker later.

Also, even if you buy all the ingredients at regular price, it only costs you as little as $10.  Right, this dinner is not only healthy and delicious, but also a very cheap and easy meal.  Amazing, huh?

CHEF NOTES
I don't recommend to cook this soup in high heat because the carrots do not cook through.
You can choose different combination of vegetables.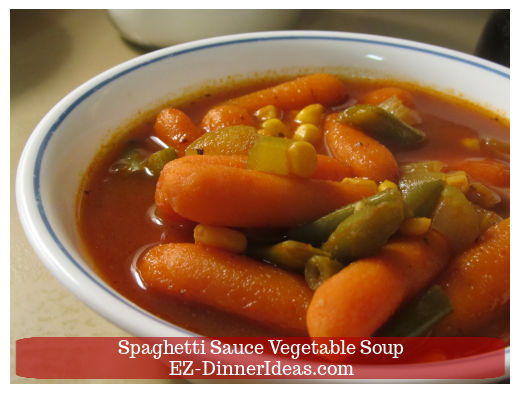 Spaghetti Sauce Vegetable Soup Recipe and Instructions

Ingredients
2 Cups Spaghetti with Meat Sauce leftover (or 1-24 ounces Store Bought Spaghetti Sauce)
2 pounds Baby Carrots
1 pound Frozen Cut Green Beans
1/2 pound Frozen Corn Kernels
6 stalks of Celery Ribs (cut in 1/2" size)
1 Onion (sliced)
2 Bay Leaves
1 pinch of Crushed Red Pepper
1 teaspoon Italian Seasoning
8 Cups of Water
Salt and Pepper to taste (hold the salt before serving)

Combine everything in the slow cooker

Quick stir and cook in low heat for 8 hours.
Before serving, add salt and pepper if needed.  (The spaghetti sauce is very flavorful.  You may not need to add any more salt.  That's why you want to hold it until the last minute)

---

Recipe Ingredients and Tools

---

You May Also Be Interested In:

---
Home > Soup Recipes > Spaghetti Sauce Vegetable Soup