Recipe for Leftover Spaghetti Sauce
Recipe for Leftover Spaghetti Sauce
Righter After Your Spaghetti Dinner and Start Cooking the Meal for Tomorrow Night and Make Delicious Spaghetti Sauce Vegetable Soup
This recipe for leftover spaghetti sauce was inspired by my mother's teaching. She always says, "Treasure all the food you have. There are a lot of people in this world suffering from hunger."
Last updated on Dec 16, 2022

Total Time: 8 Hours 10 Minutes
Prep Time: 10 Minutes  
Inactive Cook Time: 8 Hours  
Serving: 6-8


As a result, throwing food away is always the last option on my book of rule.
The sweet thing about this recipe is that...you just used the slow cooker that you finished cooking the spaghetti with meat sauce recipe. 

You do NOT need to clean the insert of that slow cooker, but dump everything in it and cook another simple family meal for the night after.

While the soup is cooking, it eases the cleaning of the slow cooker later.

Also, even if you buy all the ingredients at regular price, it only costs you as little as $10.  Right, this dinner is not only healthy and delicious, but also a very cheap and easy meal.  Amazing, huh?

CHEF NOTES
There is no specific order of which ingredients go into the pot first or after. Once you add the water, everything will mix up easily. It's the matter of time to get everything cooked.
What I always like to do is to use the pot that I just finished cooking spaghetti sauce that same night. Immediately right after that dinner with the leftover sauce and the tough cleaning pot, I start to add all my vegetables and start cooking. It will save some cook time for the next night dinner.

Since most vegetables are frozen, it takes a while to cook through. Even we use fresh carrots here, they still take some time to cook. So, it must be cooked at low heat in the slow cooker.  Cooking on the stove top is also an option. It will take about 30 minutes to simmer to have all vegetables cooked.
Yes, you can definitely use store-bought spaghetti sauce. It is much thinner than homemade one. Depending on the brand you use, you may need to consider having 4 cups of spaghetti sauce and 4 cups of broth.
You can choose different combination of vegetables.  I had tried the following:
1) Green beans with onion and pepper mix
2) Green beans with fresh baby carrots and mixed vegetables
3) Green beans, celery chunks and frozen meatballs
As you can tell that I love to add green beans as one of my main ingredients. You can switch it out and be creative. Hearty vegetables are the best in this recipe for leftover spaghetti sauce.
---

Recipe Ingredients and Tools

---

Recipe for Leftover Spaghetti Sauce and Directions

Ingredients
2 Cups Spaghetti with Meat Sauce leftover (or 2-24 ounces Store Bought Spaghetti Sauce)
2 pounds Baby Carrots
1 pound Frozen Cut Green Beans
1/2 pound Frozen Corn Kernels
6 stalks of Celery Ribs (cut in 1/2" size)
1 Onion (sliced)
2 Bay Leaves
1 pinch of Crushed Red Pepper
1 teaspoon Italian Seasoning
8 Cups of Water
Salt and Pepper to taste (hold the salt before serving)

Directions
Combine everything in the slow cooker.

Quick stir and cook in low heat for 8 hours.
Before serving, add salt and pepper if needed.  (The spaghetti sauce is very flavorful.  You may not need to add any more salt.  That's why you want to hold it until the last minute)
---

Recipe for Leftover Spaghetti Sauce Steps with Photos
Leftover spaghetti sauce and looks like a pot needs a lot of muscle work to clean up. I always dump in the frozen vegetables and make soup and start "cleaning".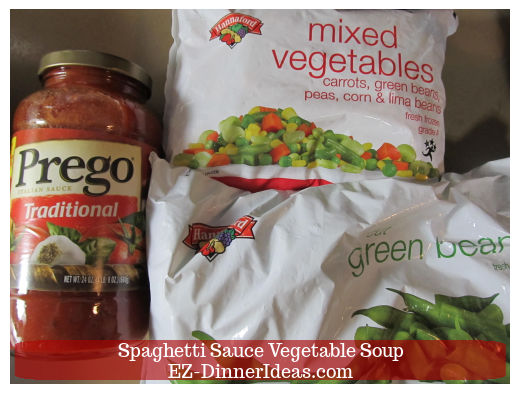 Yes, you can replace leftover spaghetti sauce with store-bought one.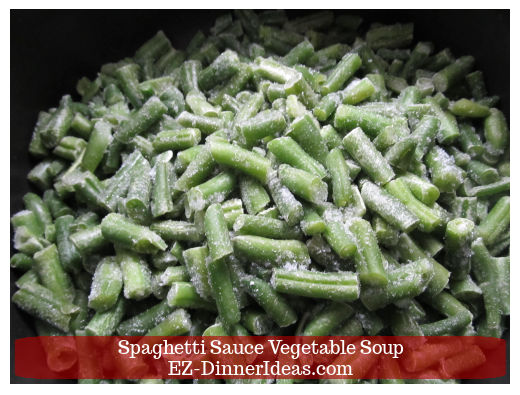 Frozen green beans are always one of my go-to ingredients in this soup recipe.
Frozen mixed vegetables can bring plenty of colors into the soup. Be creative, you can use other combination of frozen vegetables.
All ingredients of this soup recipe can go in any order. All you need is to dump everything in.
Once the water goes into the soup pot, everything will mix in well. It's just the matter of time to cook up the vegetables.
I always like to cook with the slow cooker. You can cook it on the stove top, too.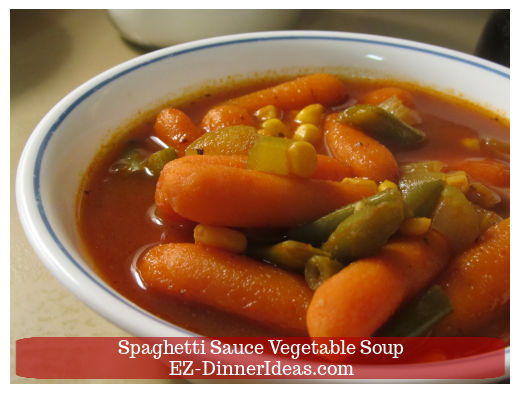 No one knows you use spaghetti sauce to make this delicious dinner. ENJOY!
---
Serve This With: 

---

You May Also Be Interested In:

---
Home > One Pot Dinner Recipes > Recipe for Leftover Spaghetti Sauce | Spaghetti Sauce Vegetable Soup