Frozen Meatball Appetizer
"Fireballs" - Meatballs with Spicy Marinara Sauce Bring Traditional Meatball Recipe to A New Level

Frozen meatball appetizer is a stress-free way of entertaining.  Add a side dish and turn this easy recipe to a dinner idea.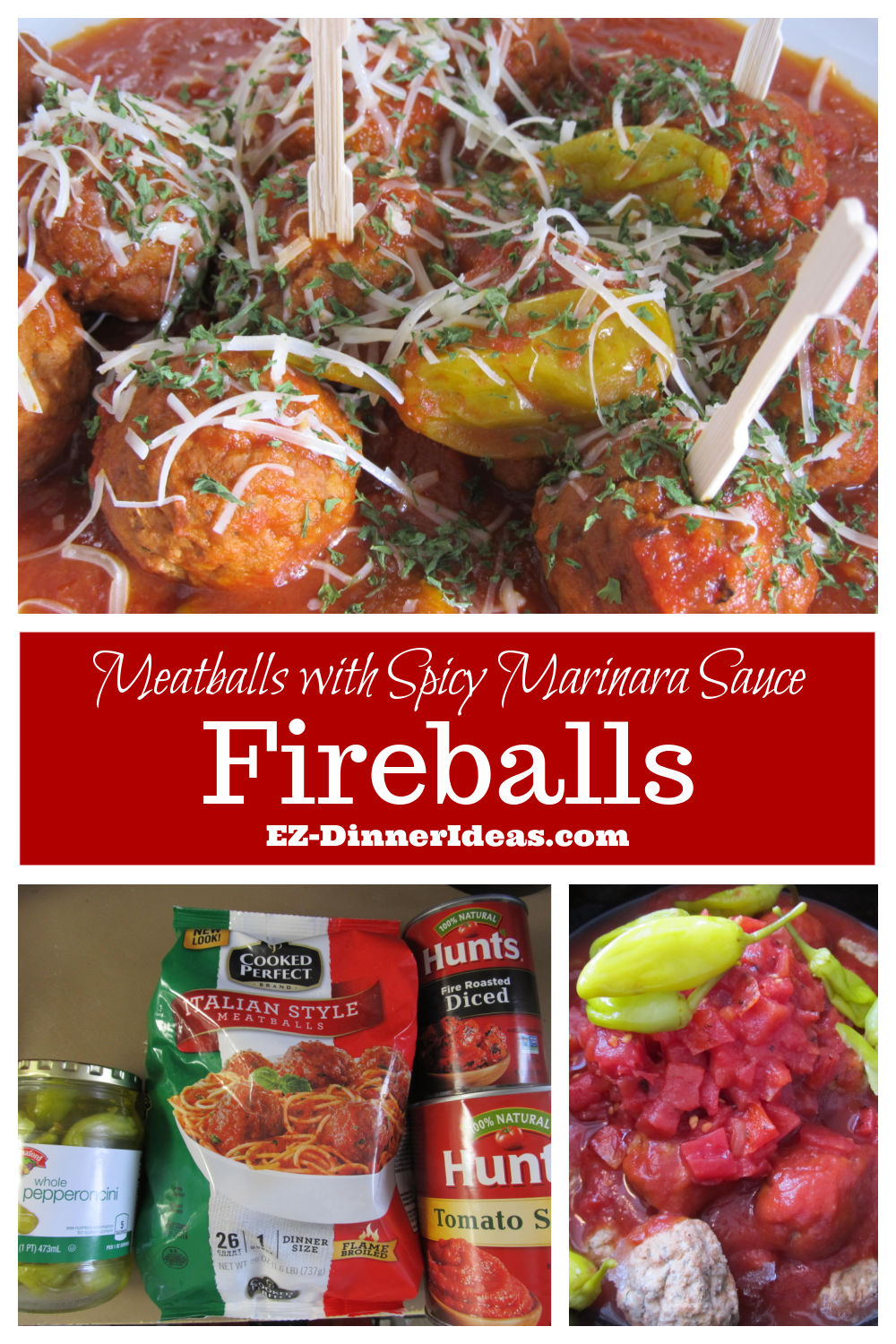 Total Time: 4 Hours
Prep Time: ZERO  
Inactive Cook Time: 4 Hours  
Serving: 6-8


Meatballs in marinara sauce is classic.  But I always like to make some twists and make everything interesting.  This recipe still has the class of the traditional recipe, but some bite to it.  I called them the "fireballs".



CHEF NOTES
The recipe may be called "fireballs".  But no worry.  Feel free to adjust the number of pepperoncini peppers to meet your spicy expectations.

If you plan to make this a quick dinner, there are many options.  You can use pre-cooked pasta which will only take a couple minutes.  If you want to go on the traditional spaghetti dinner route, absolutely.  Just make sure you plan ahead of time because you will need tomato paste and/or more sauce.

---

Recipe Ingredients and Tools

---
Frozen Meatball Appetizer Recipe and Instructions

Ingredients
1 can (28oz) Tomato Sauce
1 can (14oz) Fire Roasted Dice Tomatoes with juice
1 bag (26oz) Frozen Meatballs
8-10 Whole Pepperoncini Peppers
Dry Parsley Flakes (optional for garnish only)
Grated Parmesan cheese (optional for garnish only)
No-stick Cooking Spray
Salt and pepper to taste

Coat no-stick cooking spray on the insert of a slow cooker.
Add ingredients into the slow cooker in this order: meatballs, tomato sauce, diced tomatoes with juice and pepperoncini peppers.
Stir well and cook on high heat for 4 hours or low heat for 6-8 hours.
Salt and pepper to taste.
Garnish with Parmesan cheese and parsley flakes (optional).
Serve meatballs as finger food, with pasta, sub or even mashed potatoes.
---
Frozen Meatball Appetizer Steps with Photos
4 store-bought ingredients are all you need.
Combine all ingredients in a slow cooker.
Stir well and cook on high heat for 4 hours.
Meatballs and sauce are ready.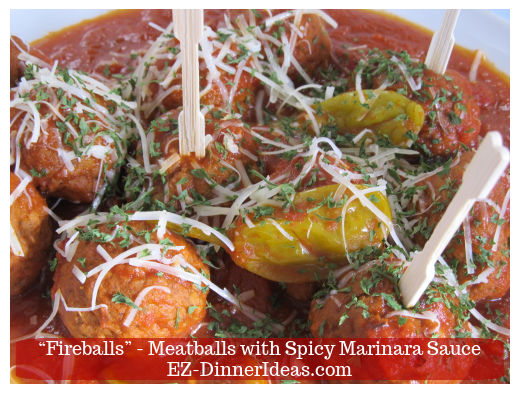 ENJOY!
---

You May Also Be Interested In:

---
Home > Holiday Recipes > Frozen Meatball Appetizer