California Blend Vegetable Soup
No Thawing Or Cutting
Everything Is In Your Freezer
Slow Cooker California Blend Vegetable Soup
This slow cooking California blend vegetable soup is definitely a keeper. Why? It uses the staples in your pantry and freezer. So, no need to have another special trip to the
store.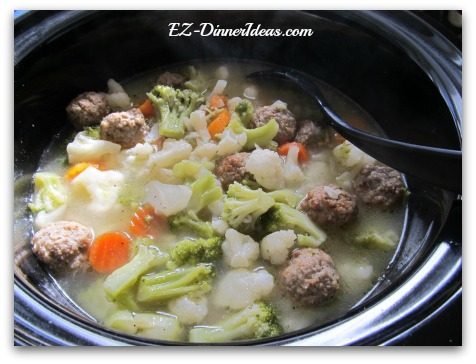 Prep Time: ZERO   Inactive Cook Time: 3.5-4 Hours  Serving: 4-6
Many of my friends and relatives, like you, love to use slow cooker. Thought this would be a kind of soup that you can cook during the weekend while you are doing other chores.

All you need to do is to add all the ingredients into a slow cooker. No preparation, no thawing and no cutting at all.

Just beware that don't cook it more than 4 hours. Otherwise, it will get mushy, except you like mushy.

If you have leftover, transfer it to the container as soon as you can instead of leaving it in the slow cooker to cool down. Because it will continue the cooking process while
the soup is in the crock pot which will make it...mushy.

What Is Pearl Barley (a.k.a. Pearled Barley)?

I want to introduce you a new ingredient in this recipe, pearl barley or pearled barley.
Wikipedia has a perfect description of pearl barley "(it) has the hull and bran removed. It has the same caloric, protein, vitamin and mineral content as wheat."

I came across this ingredient very, very early in my life. If it was not when I was a baby, it would definitely be when I was a little kid. Back then, parents believed that
barley water was good to the children although it was just discovered lately about the nutritious value this ingredient offers. So, it literally every baby had barley water.

Think about it, no salt, sugar nor any other flavoring, it tasted terrible. Back then, I hated it. I still can remember how it smelled and tasted like. When I got to my teen,
there was a health beverage in Hong Kong with lemon and orange flavored barley water. It definitely tastes 100 times better than the one we had. I personally like the lemon one.

Anyway, that was the story of my encounter of barley. Coming to the States, barley is used in many different ways that I accepted and like what pearl barley offers. (I know) It felt like I made peace with my past.

The reason why I add pearl barley in this slow cooking California blend vegetable soup because I want it to be filling.  On top of that, more fiber is always great, right?
Ingredients

3lbs (1.3kg) Frozen California Blend Vegetables
24 frozen Swedish meatballs (or any kind per your preference; add the multiple of 2, 4 and 6, for instance, 12, 24, 36, 48 and so forth. This will guarantee that everybody has the equal number of meatballs. Check out the One-pot Swedish meatball Fettuccine to use up the rest of the frozen meatballs)
1/2 cup (4oz / 101g) pearl barley (lightly rinsed)
1 tablespoon Garlic Powder
1 teaspoon Onion Powder
6 cups (42oz / 1210g) Water
Salt and pepper to taste


Add the ingredients and seasonings in this order into the slow cooker: California blend vegetables, barley, garlic powder, onion powder, meatballs and water (The water doesn't cover everything. But as the vegetables cooked, they will shrink which gives you enough water as soup.)
Cook on high heat for 3.5-4 hours (again, if you want the vegetables and barley to be intact, don't cook the soup more than 4 hours)
Add salt and pepper to taste and serve immediately (Some may even think the seasonings from the meatballs is enough)



California Blend Vegetable Soup
Purely Vegetarian Version

Oh, yes. You definitely can make this soup purely in vegetarian version.  Just follow the steps below:

Replace the water with 6 cups (42oz / 1210g) of vegetarian broth
Add another pound of California blend vegetables and additional 1/4 cup (2oz / 50g) pearl barley

You May Also Be Interested In:

Return from Slow Cooking California Blend Vegetable Soup Recipe page to Soup Recipes page

Return to Easy Dinner Ideas Homepage