Healthy Cooking

My Family Everyday Soup Tomato Carrot Potato Soup All Natural Ingredients In One Pot

Healthy cooking could be something easy and delicious.  This is my mom's recipe.  I call it Everyday Soup because my mom literally cooked it on a daily basis.  It is a 100% natural body cleanser, but yummy.  The best part is that it is super easy to make.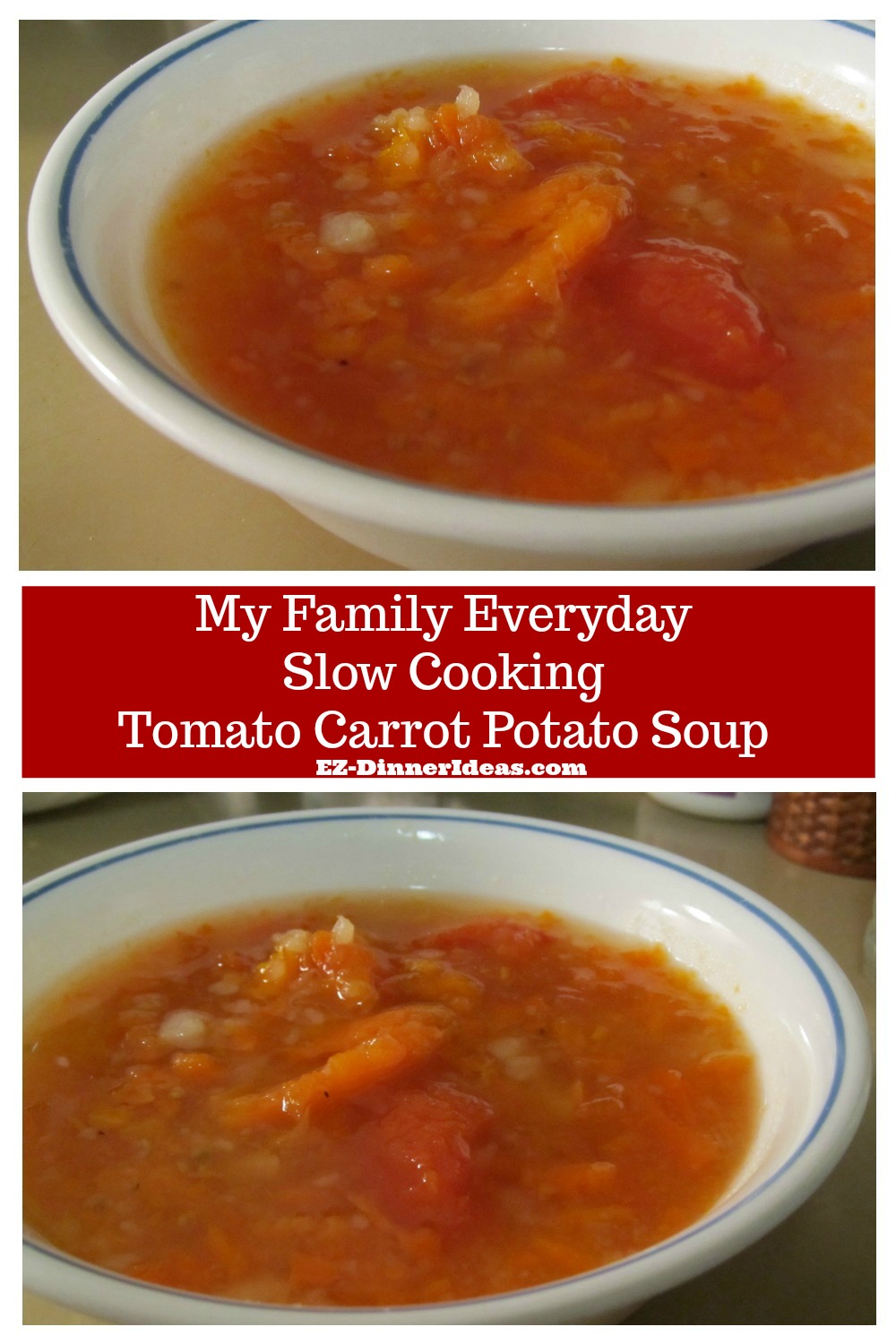 Total Time: 8 Hours 15 Minutes
Prep Time: 15 Minutes  
Inactive Cook Time: 8 Hours  
Serving: 6-8


I call this slow cooking tomato carrot potato soup as "My family everyday soup". It may sound too exaggerating.  But my mom used to cook this soup at least once a week.  Sometimes, she put chicken into it.  But this is purely her vegetarian version.
We live in the city where air pollution has been very serious.  She says that this soup cleans out all the toxins from our bodies. My mom always serves it as clear broth. She always makes us to finish a huge bowl. I mean HUGE.

Instead of serving it just an appetizer or a side dish, I decided to mash the vegetables to make it a one-pot dinner.  The thickening agent is the potato in the soup.  Nothing is more natural than that, right?

This is exactly the way how she cooks it. There is only one ingredient that I didn't add, i.e. green carrots.


What is Green Carrot?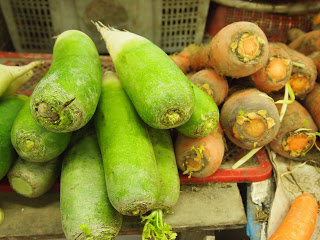 Green carrots (photo source: http://food852.blogspot.com)
Green carrot is a very common soup ingredient in Asian cooking. But it is very difficult to find in any regular grocery stores here in the US. This seasonal ingredient is only available in Chinese store.

Just a brief description of this mysterious ingredient... It looks like a regular carrot. It also has similar size and texture of a regular carrot.  The taste is a little bit grassy though.

If you happen to see it, don't hesitate to add one into this healthy cooking recipe.
CHEF NOTES

Feel free to cut the quantity of the ingredients into halves, especially if your slow cooker is relatively small.

Serve with crusty bread to make this easy healthy dinner more filling.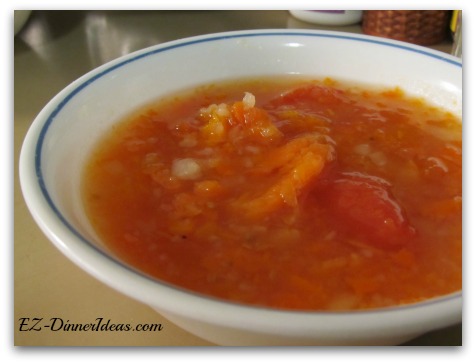 Healthy Cooking Recipe and Ingredients

Ingredients
3 pounds Tomatoes (cut into quarters)
2 pounds Baby Carrots
2 pounds Russets potatoes (peeled and cut to about the same size as the carrots)
8 Cups water
Salt and pepper to taste

Put all ingredients into a slow cooker in this order: potatoes, carrots, tomatoes and water.
Cook it at low heat for 8 hours.
Use a slotted spoon to take out the vegetables and mash them with a potato masher in a mixing bowl (You can also use a food processor or immersed blender).
May take a few minutes to mashed all the vegetables.
Doesn't have to be consistent in the size of the mashed vegetables. It will give the rustic look and feel of this soup.
Put all mashed vegetables back into the soup.
Add salt and pepper to taste and serve immediately.
---

Recipe Ingredients and Tools

---

You May Also Be Interested In:

---
Home > Soup Recipes > Healthy Cooking |My Family Everyday Tomato Carrot Potato Soup