No-Towel Pumpkin Roll
Throw Away That Stinking Towel
Easy-Peasy Way to Make Cake Rolls
This no-towel pumpkin roll is very easy-peasy in that you don't need a towel or cloth to make a pumpkin roll. No kidding.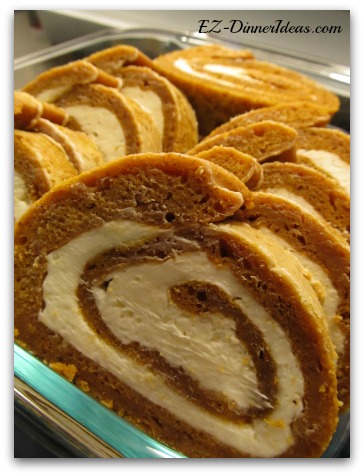 Total Time: 45-47 Minutes
Prep Time: 30 Minutes  
Inactive Cook Time: 15-17 Minutes  
Serving: 6-8


When I first read about the recipe of making pumpkin roll with a towel, my first reaction was, "Really?  Are you kidding?"

Then, I watched the cooking channel. A celebrity chef did the same thing.  So, the first pumpkin roll I made followed the steps by using a towel. It bothered me. Seriously! It bugs me since I heard about it. I just felt so gross about the idea.  Even with a brand-new towel, I still can't get over it.

In fact, I have relatives that hate the idea so much that they would rather not make it. So, I guess I am not the only one.

Then, all of a sudden, I remember making a Swiss roll in the 8th grade that didn't require a towel, and it worked perfectly.  DING, DING, DING, DING.  So, I thought, why didn't I give it a try with the jelly roll recipe.

There you go. Tada...I did it in the first trial. I am so thrilled to share this success with you. Once you did it, it will just ingrain in your brain. It is a skill that you do it and forget it. When you do it again the next time, you will just automatically do it as a part of the preparation process.  No instructions needed.

The first time may take you a while to roll it.  Just remember, practice makes perfect.  Once you learn this skill, you can apply it to any jelly roll and cake roll recipes.

I know everybody may have their favorite pumpkin roll recipe.  Please feel free to use your own and share it in the comment section below.

If you use your own recipe, skip all the directions involving the towel or cloth and follow the steps below to make your no-towel pumpkin roll.

Before moving on, I want to introduce you to some essential ingredients and tools that will affect the outcome.

All-Purpose Flour vs. Cake Flour

Cake flour is milled into a finer, more gentle texture that has a lower protein count between 6 % and 8%. It generally results in a better rise and texture when making a cake. While normally bleached, companies like King Arthur sell an unbleached wheat flour that contains cornstarch.  All-purpose flour that contains cornstarch is often used when consumers are unable to buy cake flour. The all-purpose blend, however, is denser than cake flour because of the glutinous difference between cake and all-purpose flour.
 
I did try using all-purpose flour and cake flour on this recipe at different times.

All-purpose flour is pretty much a staple in your pantry and convenient.  Cake flour is like a specialty.  It is definitely lighter. 


CHEF NOTES
If I use cake flour for this no-towel pumpkin roll, I add 1 1/3 cups (269g) instead of 1 cup (202g) all purpose flour.  Still, the batter and the cake come out lighter in weight and softer and airier in texture.

For the rolling part, I would recommend using all-purpose flour if you are a beginner.  Once you perfect the rolling technique, you can switch to the cake flour.  The cake is softer to roll and easier to form in a nicer shape.
---

Recipe Ingredients and Tools

---

Roll It Lengthwise vs. Width-wise

My husband's family loves pumpkin roll. So, I make it all the time, even if it is not during the holiday season.

Whenever I make it, I try something different. I hope I can share all of my findings, experiences, and tips in order to save you the time and frustrations I encounter.

I have been telling you to do this no-towel pumpkin roll lengthwise, but I found that there are lots of professional pastry chefs and bakeries that roll it width-wise. You might wonder which way is better, right? Well, does it really make any difference?

Yes, it does make a BIG difference. So, let's find out.

First of all, let's get this straight.
Lengthwise - the width faces you. You will roll the pumpkin roll along its length.


Taste - rolling width-wise, you have more cake versus filling for every serving. If I had to guess the difference, I would say that the filling is between 1/8 and 1/4 of a slice of cake.

If you have been rolling this no-towel pumpkin roll lengthwise, you would realize that each bite of cake has enough filling to give that burst of flavor.

In my opinion, I am all about doing this lengthwise for the sake of flavor.


Look - we know that we eat with our eyes. If you are a beginner, rolling lengthwise gives you the advantage of covering your flaws.

The bigger the circle (a.k.a. the outer layer of the roll) as you roll the pumpkin roll, the less pressure the cake gets. That means it doesn't split, crumble, or break easily. The more layer, the higher the possibility for it to hide any rolling mishaps.

However, rolling it width-wise will literally only make 2 layers at the most. The cake splits most of the time.


Ease of Rolling - If this is your first time attempting a pumpkin roll, I highly recommend you try it lengthwise.

It is because both of your hands stay close enough to manage the rolling process. If you do it the other way around, you will risk breaking the cake into half during the process.

Width-wise - the length faces you and you will roll it along its width.


Serving - I have been rolling the pumpkin roll lengthwise. When I tried to do it width-wise, I was shocked at how much of a difference it made. With everything the same, rolling the pumpkin roll width-wise gives you almost double quantity of servings.

If you need to feed a big crowd, go for it.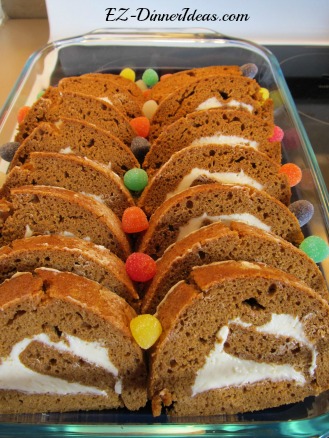 This is the Gingerbread Roll I made by rolling it width-wise. Compare the picture on top of the page; you can see the difference.
Overall, I still love to roll this no-towel pumpkin roll lengthwise mainly because of its taste. Please feel free to pick the best way to fulfill your needs.

I would love to hear from you which method you prefer to roll your pumpkin roll and the reasons behind it. Please share below in the comments section so other readers will get a chance to learn from your rolling experience.

Wax Paper vs. Parchment Paper

I have been using wax paper to make this no-towel pumpkin roll since I gave up that "stinking" towel.  One day, I decided to make another one and realized I was out of wax paper.

Instead of going to the supermarket late in the evening, I decided to use parchment paper.  Here is what I found in their differences.
Wax Paper


Very flexible. As soon as you pour the batter, it forms the shape of the baking sheet.


When you open the oven door to get the cake out, you can smell the wax, which is not a pleasant one either.


After the cake is cooked, the paper feels much softer.  If you are not careful enough, you can break the paper and mess up the whole rolling process.


Lower in price


Parchment Paper


Very sturdy, so a stubborn corner could mold your sheet cake into a different shape.  To lessen the issue, fold the edges of the parchment paper once you figure out the position of it on the baking sheet.  Another solution....since it usually happens on the edges anyway, you can trim them off after rolling the no-towel pumpkin roll.


Unlike wax paper, there is no smell at all.


Since it is very sturdy, it gives you a big advantage when rolling the cake.  The pressure leverage from the parchment paper is incredible.


If you are going to roll this cake width-wise, you definitely need parchment paper to leverage its sturdiness.

In conclusion, you can either use wax paper or parchment paper.  It depends on your comfort level.  Each has its own pros and cons.

Now, we covered the flour and the baking paper.  Are you ready to start?


Line Baking Sheet with Wax / Parchment Paper For No-Towel Pumpkin Roll

Line half of a baking sheet widthwise with a piece of wax or parchment paper
Overlapping another piece of wax or parchment paper on the other half of the baking sheet widthwise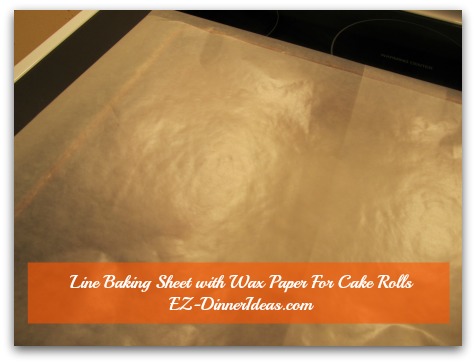 Line the 3rd piece of wax or parchment paper lengthwise on the baking sheet which is on top of the previous 2 pieces of paper
Make sure there is at least 2" (5cm) extra overhang on either side of the wax or parchment paper lengthwise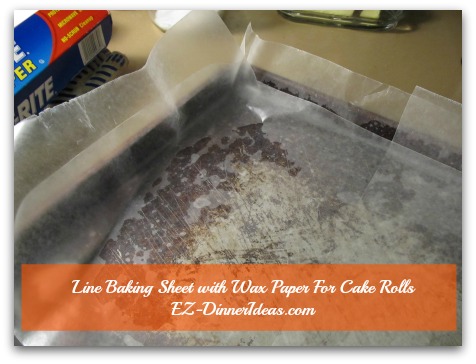 When you coat the cooking spray on top of the wax paper, it will form the shape of the baking sheet (Parchment paper needs a bit of finger tugging though)

No-Towel Pumpkin Roll Steps with Photos

Line wax paper or parchment paper on 15 x 10" (38 x 25cm) baking sheet (I use the 17 x 12" / 43 x 30cm).

Line 2 wax paper on the baking sheet widthwise overlapping with each other.  Allow about 1 to 1 1/2" (3 to 4 cm) extra on the edges.
Line another piece of wax paper on top lengthwise. Allow about 2" (5cm) on either end.
Line the wax or parchment paper
Coat the paper with cooking spray and lightly dust it with flour.
Pour the pumpkin roll batter onto the paper-lined baking sheet and spread it evenly with a butter knife.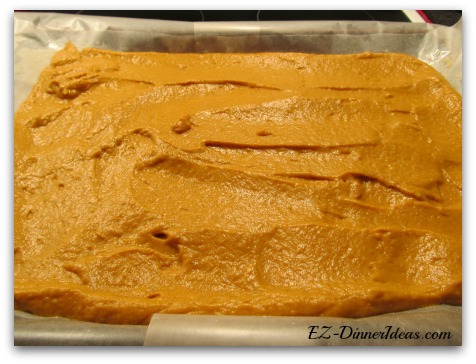 Pour the batter into the paper lined baking sheet
Bake the cake as instructed in the recipe.
After the cake comes out of the oven, leave it cool at room temperature. Do NOT do anything other than prepare the filling.
After the cake completely cools (about 30-60 minutes), spread the filling evenly on the cake with a butter knife.

Make sure to leave about half an inch around the cake without filling.
How to Roll A Cake Roll?
Put the sheet of cake with the filling in front of you lengthwise.  Remove anything around the baking sheet that will block your movement when rolling this no-towel pumpkin roll.

Put a kitchen towel, a wet paper towel, or a couple of pot holders under the baking sheet to stop it from sliding on the counter while you are rolling the pumpkin roll.
Hold the edge of the wax paper in front of you.
Before doing anything, get a good grasp on how to hold the paper so you won't slip.
As you roll, the paper will start peeling off. So, don't worry about peeling it off at this time.

When you start rolling up the first 2" (5cm) or so, use the paper to help you apply pressure on the roll to fold it.

This is the most IMPORTANT step as it makes the pumpkin roll forms.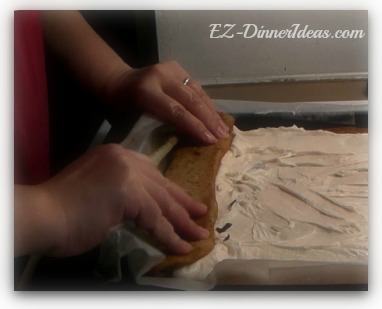 The first 2" (5cm) roll-up is the most important step. Press it hard to make it stick.
Once that little section of the roll folds and sticks together, hold on to the edge of the paper and keep rolling by using your hand movement to push the cake roll forward.
Hold on to the paper and start rolling this no-towel pumpkin roll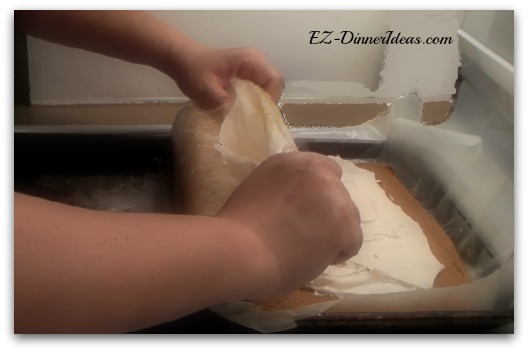 The paper will continue to peel off with the forward movement
The paper will continue to peel off with the forward movement.
Your hands' forward motion also helps the rolling process
As the cake roll gets to the end, the paper will completely peel off
Once the pumpkin roll is formed, apply pressure by squeezing the roll lightly to help create its shape.

Once the pumpkin roll is formed, apply a little bit of pressure and squeeze the roll lightly to help its shape forming
Trim both ends where there is no filling.
Cover the roll with plastic wrap and chill in the fridge for 4 hours.

Dust with powdered sugar (optional) and serve.
Once you get a good grasp of these steps, you will be able to discard the towel as it will become an instinct when making pumpkin roll or other cake rolls.

The recipe below is a twisted one similar to Libby's pumpkin roll. Unlike the original recipe, you will use a whole can of pumpkin. You don't need to worry about what you are going to do with the leftover.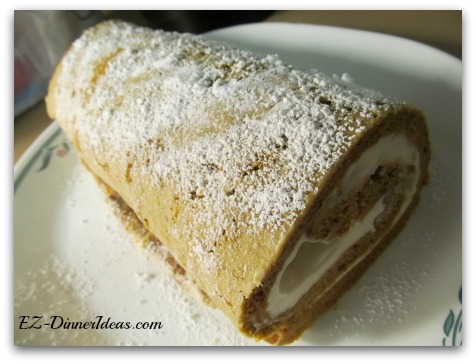 Dusting powdered sugar on top can hide the flaw

No-Towel Pumpkin Roll
Recipe and Instructions

For Cake Only

1 Cup (201g) All-Purpose Flour or 1 1/3 Cups (269g) Cake Flour
1/2 teaspoon baking powder
1/2 teaspoon baking soda
1/2 teaspoon ground cinnamon
1/2 teaspoon ground cloves
1/4 teaspoon salt
3 large eggs
1 Cup (201g) granulated sugar
1 can 15-ounce (425g) pumpkin purée

For Filling Only

1 block 8-ounce (227g) cream cheese in room temperature
1 cup (201g) sifted powdered sugar
6 tablespoons (85g) butter at room temperature
1 teaspoon vanilla extract
Powdered sugar (for dusting; optional)
Preheat oven at 375F (191C).
Line wax paper on 15 x 10" (38 x 25cm) (baking sheet (I use the 17 x 12" / 43 x 30cm) as above.
Grease and flour the wax paper.
Combine flour, baking soda, baking powder, cinnamon, cloves and salt in a small bowl.
Beat eggs and sugar in a large mixing bowl until thick.
Beat in pumpkin.
Stir in flour mixture.
Spread evenly into a prepared baking pan lined with wax paper or parchment paper.
Bake for 15-17 minutes or until top of cake springs back when touched.
Let it cool completely in room temperature before putting the filling on top.
For the filling, beat cream cheese, powdered sugar, butter and vanilla extract in a small mixing bowl until smooth.
Spread evenly on the cake and leave about 1/2" (1cm) around the edge without the filling.
Follow the instructions to roll the no-towel pumpkin roll.
Wrap in plastics wrap and refrigerate at least one hour.
Sprinkle with powdered sugar, if desired, before serving.

3 Mains Reasons Why Your Pumpkin Roll Cracks
These are the main 3 reasons why your pumpkin roll cracks.


Inner Roll Foundation Is Missing

When you first roll the cake, press it a little bit harder to let the very first section of the cake and filling stick together tightly.  That's your foundation as you keep rolling.  The tighter the core, the better the shape your pumpkin roll will come out which lowers the probability that it splits or cracks on you.


Cake Was Too Dry To Roll

I don't roll my cake when it is warm.  I tried that method like many recipes out there, and it never worked.  The cake cracked.  When I unrolled it, it kept rolling back on me when I tried to put the filling on the cake.

I only roll my cake after it cools down.  I leave it at room temperature for about an hour after coming out of the oven.  Room temperature inside my house is around 68F (20C).  Adjust the time accordingly, but remember that  leaving it too long will make it too dry to roll.


Baking Soda and/or Baking Powder Expired

Are both your baking soda and baking powder expired?  These 2 play a very significant role in your pumpkin roll.  While you might not expect these 2 ingredients to affect a cake's texture, they result in your success of a perfect cake roll.
---

You May Also Be Interested In:

Home > Holiday Recipes > No-Towel Pumpkin Roll