One-Pot Linguine with White Clam Sauce
A Pasta Pot and A Pair of Tongs
Are All You Need
This one-pot linguine with white clam sauce meal was inspired by a recipe posted and went viral on Facebook. What I love about it is that it skips the steps to drain pasta and cook the sauce separately. On top of that, it is a one-pot meal.
Compared to the time I used for cooking the same pasta recipe in a traditional way, it actually cuts it down into half. The starch from the pasta will thicken up the
liquid and, at the same time, you have enough sauce to keep the pasta moist.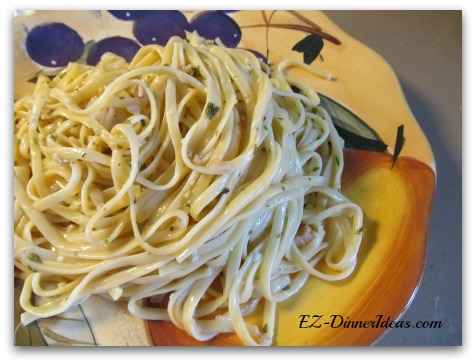 Prep Time: 5 Minutes   Cook Time:15 Minutes   Serving: 4
I always love to save the juice from steaming clams in a pot.  It is just perfect to make this one-pot linguine with white clam sauce recipe. 
But you may not have fresh clam juice on hand.  Or it is too expensive to buy the clam juice.  You can combine chicken broth and clam juice together.  The trick is 6 cups of liquid with one pound of pasta.  I hope you will enjoy this quick and easy family meal as much as I do.
Ingredients
1 pound Linguine
2 cans (6.5oz each) Chopped Clams (separate the juice from the clams)
6 cups Clam juice (I usually save the juice left from steaming clams in the pot.  Check out the Perfectly Steamed Clams recipe) or 3 cups of chicken broth + 3 cups of clam juice
½ cup White Wine (optional; can replace this with either the chicken broth or clam juice)
1 tablespoon Minced garlic
2 teaspoon Dried Parsley Flakes
Seasonings
1 teaspoon Salt (only need it if you use natural clam juice; otherwise, skip it)
1 tablespoon Extra Virgin Olive Oil
1 tablespoon Butter
Combine all the (6 cups total) liquid, extra virgin olive oil, butter and garlic in a pasta pot and bring it to a boil
Add salt and linguine into the boiling liquid
Stir about 2 minutes to make sure the linguine will not stick together
Cover with lid
Turn down the heat to medium to medium low to simmer
Let it cook for 14 minutes until most of the liquid is absorbed in the pot
Turn off heat; it may still look watery
Stir in clams and dried parsley flakes
Serve immediately
Tips
Like ovens, different stove has different "personalities".  When cooking time reaches to 12 minutes, check and see if the pasta is too wet or too dry.  Then, make the adjustment of the heat.

You May Also Be Interested In:

My Amazon Picks

You only use a little bit of wine for cooking.  Then, you will enjoy the rest of it.  This is a perfect recipe to pair it with white wine.  Thanks to my Uncle Joe.  He taught us how to explore some real nice German Riesling.  Here are a few of my favorite choices:

Return from One-Pot Linguine with White Clam Sauce Recipe page to Pasta Recipes page

Return to Easy Dinner Ideas Homepage