What To Do With The Clam Juice?
One Pot Linguine with Red Clam Sauce
Another Great Pantry Recipe, Too
One Pot Linguine with Red Clam Sauce...well, I am not a big fan of red sauce.  Of all pasta recipes you have seen so far, you may have noticed it already.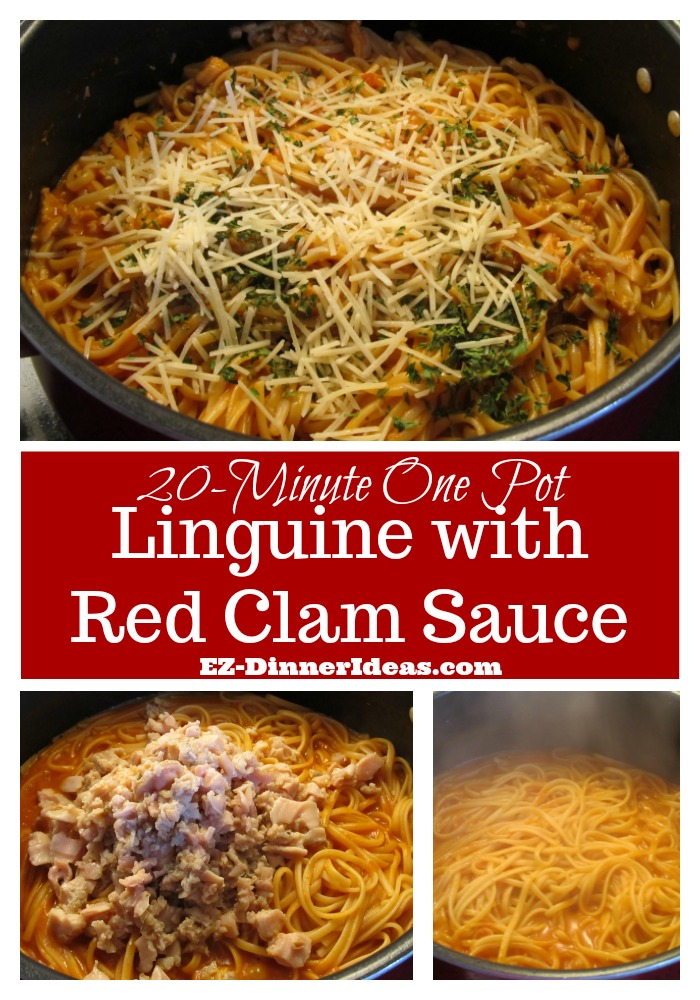 Total Time: 23 Minutes
Prep Time: 3 Minutes  
Active Cook Time: ZERO 
Inactive Cook Time: 20 Minutes  
Serving: 4



CHEF NOTES

How was this recipe created?  Well, we had spaghetti one night.  The sauce was from the jar instead of homemade.  As usual, we had a lot of leftover. 

You know me.  Seeing my food in the garbage is the last thing I want to see.  At the same time, I had 2 cups of fresh clam juice from the perfectly steamed clams and some chopped clams from the cans.  Viola!  I have everything ready for a pasta dish.  There goes the one-pot Linguine with red clam sauce.

Yes, you can use leftover spaghetti sauce in this recipe.  But I highly recommend that you only use vegetarian one.  Yes, no meat and no cheese.  You can adjust the flavor later.  Otherwise, use either tomato sauce or spaghetti sauce from a can/jar.  Obviously for this one, I use spaghetti sauce from the jar.

One Pot Linguine with Red Clam Sauce Recipe

Ingredients
14-16 oz Spaghetti Sauce (could be leftover.  Best use vegetarian version without meat or any cheese)
2 cups Fresh Clam Juice (from perfectly steamed clams) or Chicken Broth
4 (6.5 oz each) cans Chopped Clams (juice separated)
1 lb Linguine
1 tbsp Dried Parsley
A Handful Parmesan Cheese
1 tbsp Extra Virgin Olive Oil
Salt and Pepper to taste

Combine spaghetti sauce, clam juices (both fresh and canned ones) into a big pot and bring to a boil
Add Extra Virgin Olive Oil and Linguine; lower to simmer
Keep stirring the pasta for 2 minutes to prevent from sticking together
Cover and cook for 14 minutes until al dente
Stir in clams, salt and pepper to taste
Garnish with parsley flakes and Parmesan cheese and serve immediately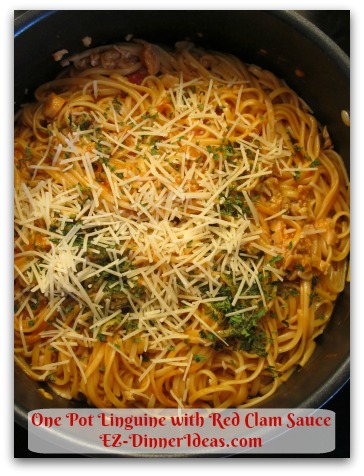 One Pot Linguine with Red Clam Sauce Steps with Photos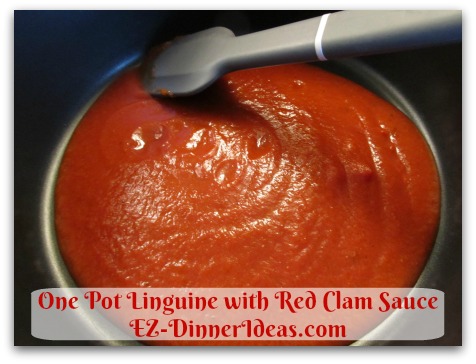 2 cups of spaghetti sauce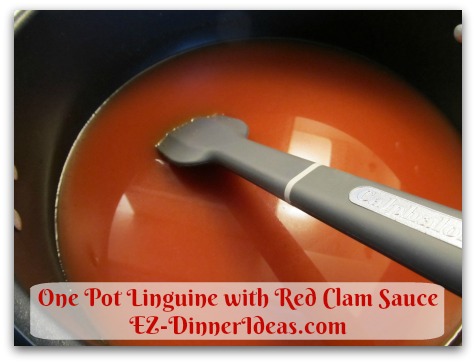 2 cups Fresh Clam Juice or Chicken Broth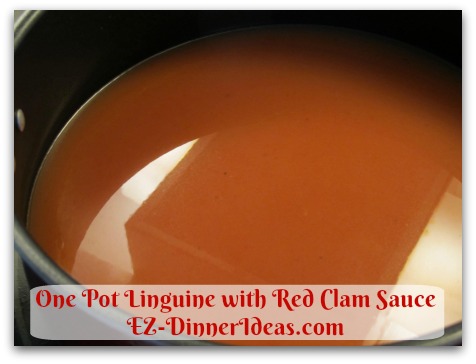 More clam juice separated from 4 cans of chopped clams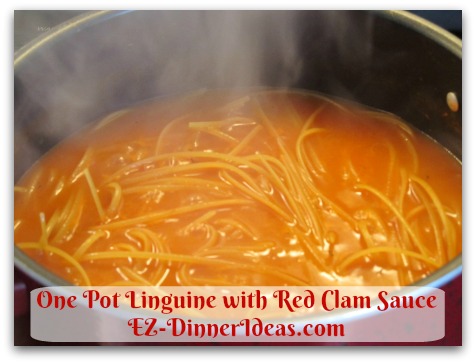 Stir in linguine and simmer for 14 minutes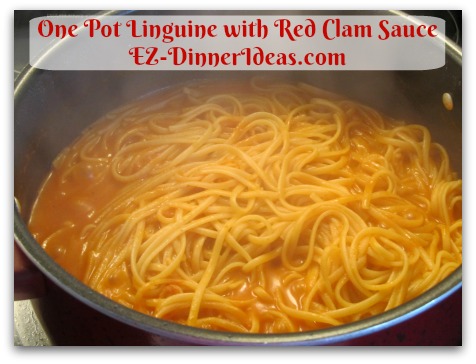 This is done. Looks like too much sauce, but it is perfect amount to finish it off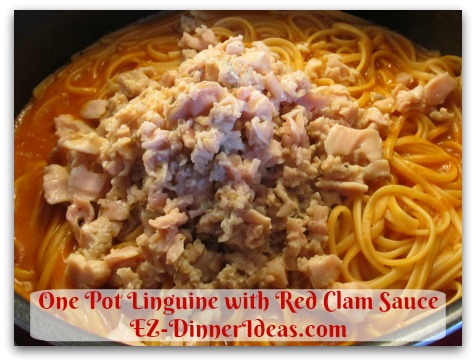 Stir in chopped clams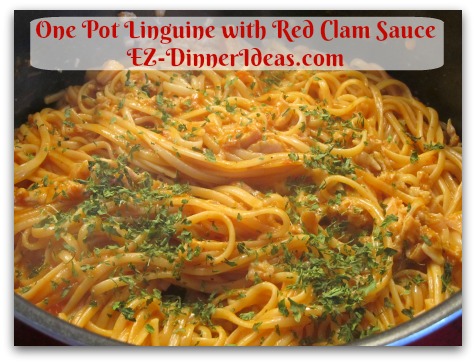 Add parsley to garnish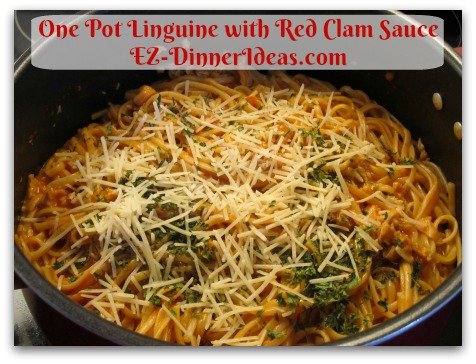 Add Parmesan cheese for final touch. Enjoy!
---

You May Also Be Interested In:

---
Return from One Pot Linguine with Red Clam Sauce Recipe page to
Pasta Recipes page

Return to Easy Dinner Ideas Homepage