Outback Steakhouse Asparagus
Outback Steakhouse Asparagus
Quickest and Easiest Side Dish You Had Ever Had.  It is a MUST-TRY.

You most probably figured this out.  This Outback Steakhouse asparagus recipe was inspired by the famous world-wide restaurant chain.  

Total Time: 10 Minutes
Prep Time: 5 Minutes  
Active Cook Time: 5 Minutes  
Serving: 2-4


My hubby always likes to dine at this restaurant, especially on his birthday. One year while we were there, they were promoting this new dish called the char grilled Tuscan rib eye. It came with 2 sides, the charred asparagus and mashed sweet potatoes. The asparagus was OUT OF THIS WORLD.
However, there were about 5-6 spears of them, which made me want more badly. So, after that dinner, I kept thinking of how to make this asparagus with bigger quantity to satisfy my craving for it. And I got it......

CHEF NOTES
The dry rub I used in this recipe has a relatively short shelf life.  To keep it longer, put the opened bag into an airtight container or mason jar and store the container at the back of the fridge.
This recipe can be doubled.


Outback Steakhouse Asparagus Recipe and Instructions

Ingredients
2 Bundles Asparagus (about 2 1/2 - 3LB total)
Seasonings
2 tablespoons Extra Virgin Olive Oil
1/2 teaspoon Salt
1/4 teaspoon Black Pepper
1 tablespoon Original Hickory Grilled Dry Rub Seasoning (I use the Char Crust brand.) 
Preheat broiler.
Line baking sheet with aluminum foil for easy clean up later.
Hold 2 ends of an asparagus spear and slightly bend it.
The tougher end will break apart from the spear.
Use it as a measurement unit to trim the rest of the asparagus.
Discard the ends.
Toss asparagus with all the seasonings in the baking sheet.
Broil the asparagus on the top rack of the oven for 5 minutes or until desired crisp and tenderness and serve.


Outback Steakhouse Asparagus Steps with Photos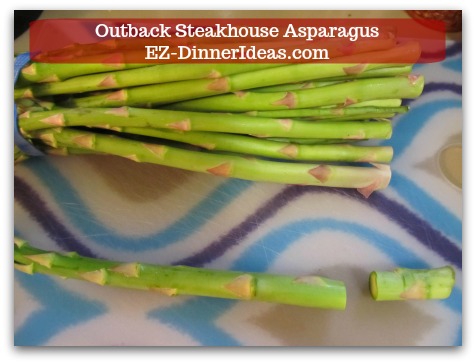 Hold a spear of asparagus on either end and snap off the toughest part of the stem and discard.
Use that spear as your measuring unit to trim off the rest of the asparagus.
Transfer asparagus to a foil lined baking sheet.
Toss to coat with grill seasoning, oil, salt and pepper to taste.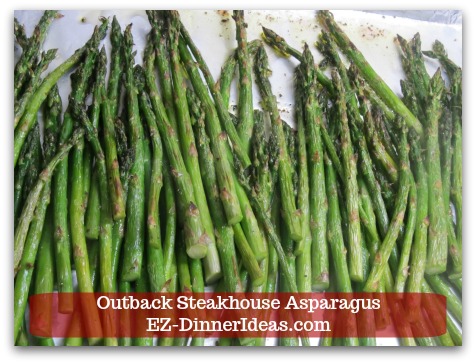 Single layer asparagus on the baking sheet and cook under the broiler for 5 minutes.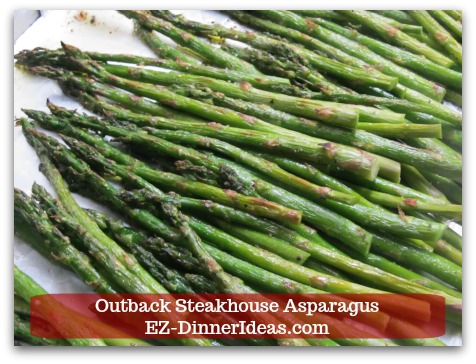 Serve asparagus immediately.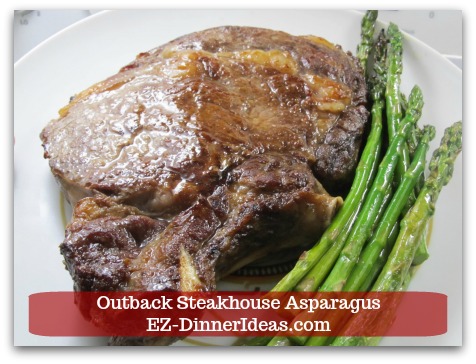 Or serve along with any steak dinner.
---

Recipe Ingredients and Tools

---
Serve This With: 

---

You May Also Be Interested In:

Home > Restaurant Remake Recipes > Outback Steakhouse Asparagus