Crispy Lobster Taco
Another Great Restaurant Remakes Recipe
You Will Be A Superstar
This crispy lobster taco is another restaurant remake recipes. Can you guess from which restaurant? If you say, "Outback Steakhouse", you are right.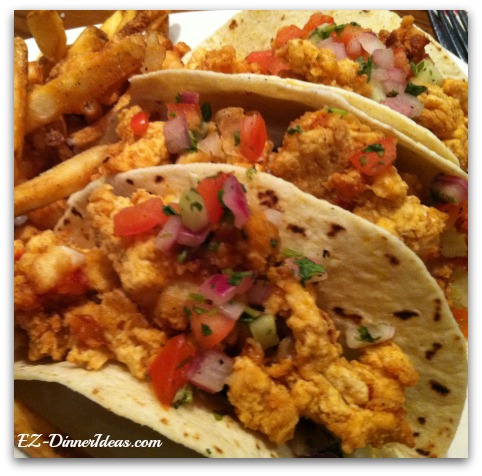 Prep Time: 45 Minutes   Cook Time: 30 Minutes
Total Time: 1 Hour 15 Minutes  Serving: 4
I got to say that this recipe could possibly be over your typical dinner budget and takes more time than usual to get dinner on the table.

However, if you compare to the amount you spend on this easy dinner, it is nowhere as expensive as it is in the restaurant.

A great time saving tip for you….ask your child(ren) or your family to help you to do most of the cutting.  This is a great way to spend some quality time with the people who are important in your life.

You will be a superstar in the next few weeks. People can't stop raving how good this dinner is.

For lobster only

4 lobster or 8 split lobster tails (about 15oz / 425g in total. I bought the frozen ones that have already done the cutting and cleaning for me. Follow the directions on the package to thaw the lobster before cooking)
1 big bowl of water with a lot of ice cubes
1 tablespoon water
1 egg (beaten)
1 cup (7oz / 202g) Flour
1 cup (7oz / 202g) Canola Oil
1/2 teaspoon Salt

If you want to serve the tortilla warm, wrap all of them as a stake with the aluminum foil and warm them in 170F (77C) oven now. Otherwise, skip this step.
Do all the cutting and chopping first before moving on to the cooking part
(To make cutting task quicker and easier, I used the Vadalia Onion Chopper to dice the veggies for me)
Fill about 1" deep of water in a big pot that can fit a steamer into it and bring it to a boil
Put the lobsters on the steamer and cover to steam about 5 minutes until opaque (this step helps you to separate the meat from the shell. Don't overcook the lobster. You will cook it again in the later steps)
Immediately transfer the lobster into a big bowl of ice water to cool down for 5 minutes or until cool enough to handle
Separate the meat from the shell and discard
Cut the meat into 1/2" (1cm) size
Dredge the lobster meat into a cup of flour
Whisk egg with 1 tablespoon water and salt together
Shake off the flour excess and transfer the lobster meat into the egg batter to coat
Transfer the lobster meat back to the flour and coat again
Shake off the flour excess and put the meat aside
Preheat a big skillet at medium high heat with 1 cup (7oz / 202g) of canola oil
Single layer the lobster meat on the skillet (may need to cook it in 2 batches)
Let it cook 5 minutes or until golden brown before turning over to the other side
Let it cook and brown for another 2-3 minutes
Transfer to a paper towel lined plate

If you need to cook more than one batch, turn down the heat for the second batch so that it won't burn
Repeat the last 4 steps until all the lobster meat is cooked
Served the crispy lobster taco with tortilla and/or taco shells, vegetables, lemon and sour cream 
Tips
Unlike other recipes, if you want to double the quantity, it definitely takes more time.

The original Outback Steakhouse crispy lobster taco recipe did not call for salsa. But feel free to add this on your ingredient list. There is no limit how to serve taco, right? Enjoy!
Turn Crispy Lobster Taco
To
Seafood Taco

If lobster is totally out of your budget and you still want to have a seafood taco, replace lobster with 1 lb (454g) frozen popcorn shrimps or fish fingers.

Also, do all the cutting and chopping first before start cooking the shrimp or fish in the oven.

You May Also Be Interested In:

Return from Outback Steakhouse Crispy Lobster Taco Recipe page to Restaurant Remakes Recipes page

Return to Easy Dinner Ideas Homepage