Simply Baked Tilapia Asparagus
So Easy That It's Even
Better Than Any One Dish Meals
This simply baked tilapia asparagus recipe is literally like a one dish meal.  You line the baking sheets with aluminum foil, toss the ingredients into them, bake and serve.  

In fact, this recipe is even better than any one dish meals.  Why?  If you cover the baking sheets all around with the aluminum foil, including the rims, all you need to do is to toss the foil into the garbage can after dinner.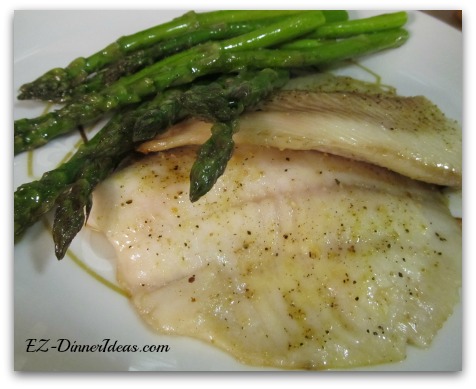 Prep Time: 5 Minutes   Cook Time: 15-20 Minutes   Serving: 4

CHEF NOTES
Feel free to adjust the number of servings of this simply baked tilapia asparagus recipe.  Cooking temperature and time always stays the same.

If you need to increase the quantity of fish, make sure that the filets are single layer on a baking sheet.  Divide them between 2 baking sheets if necessary.

For a 5-minute asparagus side dish, check out this Outback Steakhouse Asparagus recipe.

Simply Baked Tilapia Asparagus Recipe and Instructions

Ingredients
8 Tilapia filets, thawed if frozen (each serving has 2 filets)
1 or 2 bundles of Asparagus (depends on the size of a bundle; about 1 to 1 1/2 pounds)
½ teaspoon Salt
¼ teaspoon Black Pepper
1 ½ teaspoon Extra Virgin Olive Oil (divided)
Lemon Pepper (I prefer the McCormick freshly ground one)
Non-stick cooking spray
Preheat oven at 400F
Line 2 rimmed baking sheets with aluminum foil for easy clean up later
Single layer the tilapia filets on one baking sheet that is coated with non-stick cooking spray
Drizzle ½ teaspoon extra virgin olive oil on top of the fish
(You can skip the oil on the fish.  The edges will crisp up during the process.  I personally prefer my fish to be moist)
Sprinkle lemon pepper on both sides of the filets
(You can replace lemon pepper with any seasonings you have on hand.  If you only have salt and pepper, it is still ok.  The dinner will still come out delicious.)
Hold 2 ends of an asparagus spear and bend it slightly
The end will snap and discard
Use that spear as a measuring unit to trim the rest of the asparagus and discard the ends
Transfer the asparagus to another baking sheet

Add extra virgin olive oil, salt and pepper
Toss to coat and single layer
The baking sheet with asparagus on the top rack and the one with the fish in the middle rack of the oven
Bake for 15-20 minutes until fish is cooked through and asparagus is crisp tender and serve immediately 
---

Recipe Ingredients and Tools

---

You May Also Be Interested In:

---
Home > Seafood Recipes > Simply Baked Tilapia Asparagus