Dinner Healthy Quick Recipe

Tilapia with Lemon Garlic Butter Sauce
Beautiful, Easy And Healthy
A dinner healthy quick recipe can be as elegant and delicious as served in a high end restaurant.  The price you pay is surely much lower.
This tilapia with lemon garlic butter sauce recipe was inspired by a restaurant seafood entree. It was the seared sea bass at the Cornell's Italian Restaurant in Schenectady NY. 

Although sea bass is a more pricy choice, it is still much, much cheaper even if you serve that same kind of fish at home.  Plus, it is beautiful to watch.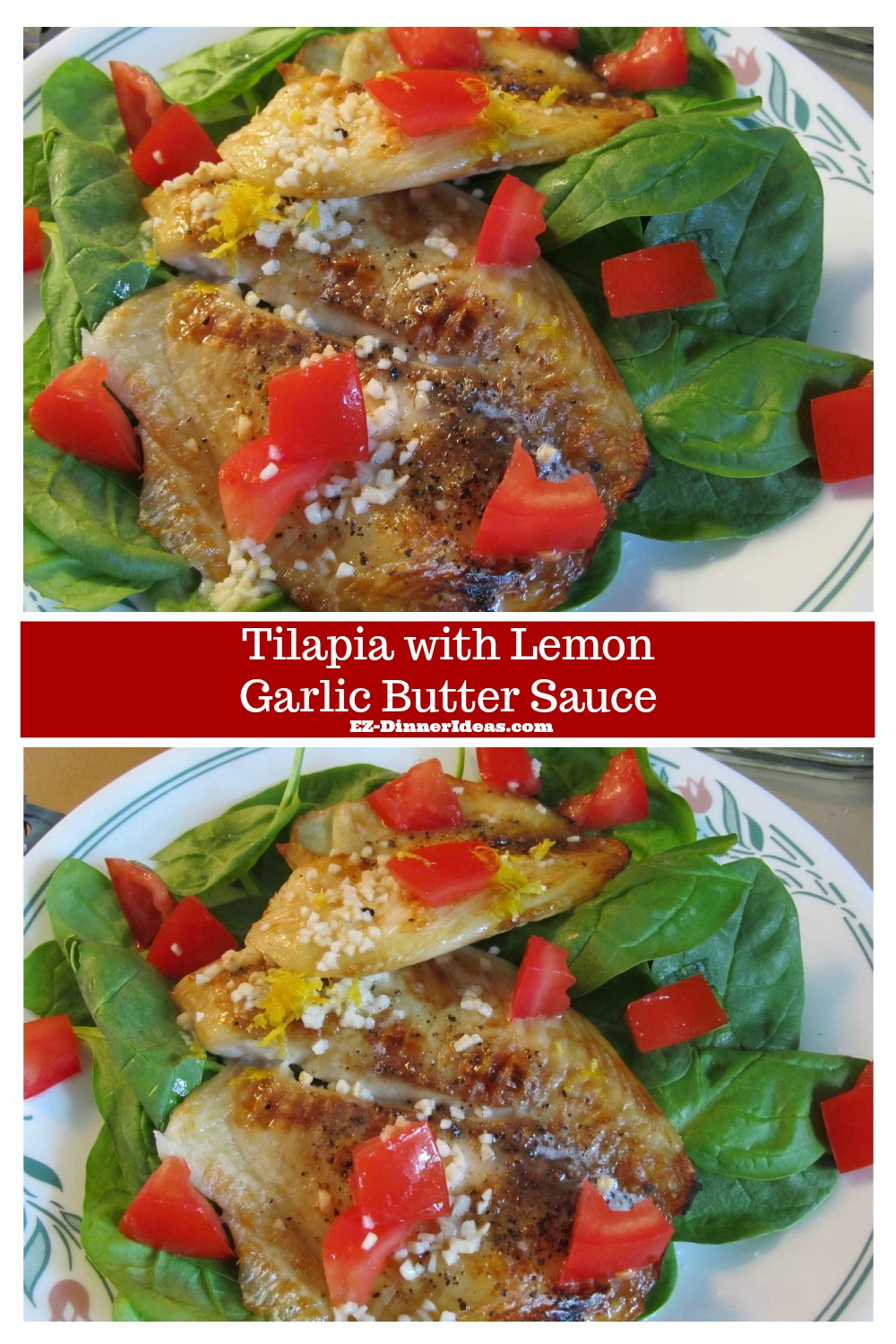 Total Time: 30 Minutes
Prep Time: 10 Minutes  
Active Cook Time: 10-12 Minutes  
Inactive Cook Time: 8 Minutes  
Serving: 4



CHEF NOTES
If you want to replace butter with something healthier for the sauce, you can do either one of the following:

a) All extra Virginia olive oil
b) Half butter and half extra virgin olive oil
I use frozen tilapia in this recipe.  The fish filet could come into different sizes and thickness.  I highly recommend to have all of them in similar size and thickness.  This will guarantee that they all cook through within the same time.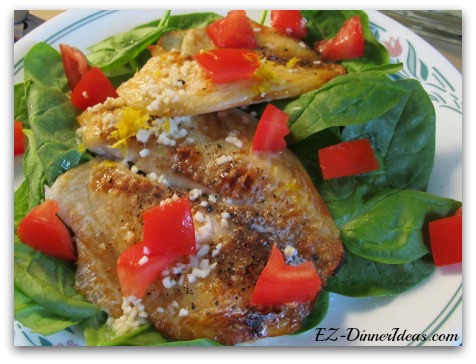 Dinner Healthy Quick Recipe and Instructions

Ingredients
8 Thinly Sliced Tilapia Filets
1 Box (5 ounces) Pre-washed Baby Spinach (divided)
2 Vine Tomatoes (seeded; diced and divided)
Non-stick Cooking Spray
Salt and Pepper
For Sauce Only
1 Lemon (zested and juiced)
6 tablespoons Butter
2 Cloves Garlic (minced)
Preheat broiler (be sure that the space between the heat source and the rack is about 6 inches apart so that you don't burn the fish)
Line a rimmed baking sheet with aluminum foil and coat it with non-stick cooking spray.
Single layer the fish on the lined baking sheet.
Add salt and pepper on top of the fish.
Cook the fish under the broiler for 10-12 minutes until cooked through.  (I did not turn it over in the middle of it in order to get a very nice crust on top.)
Equally divide the baby spinach among 4 serving plates.
Preheat a medium skillet at medium heat and melt the butter.
Add garlic and 1 tablespoons lemon juice into the melted butter (I realized that the juice of a whole lemon could be very sour. So, taste it before adding more.)
Transfer 2 filets of tilapia on the bed of spinach for each plate.

Add butter lemon garlic butter sauce on top of the fish.
Add diced tomatoes and garnish with lemon zest and serve.
---

You May Also Be Interested In:

---
Home > Seafood Recipes > Dinner Healthy Quick Recipe | Tilapia with Lemon Garlic Butter Sauce