Coffee Rub Tilapia Spinach Wild Rice
Quick, Easy and
Super Healthy Dinner Ideas
Coffee rub tilapia spinach wild rice is another light, healthy, quick and easy dinner idea.  Same cook time if you decide to double the quantity.  Guilty-free, worry-free.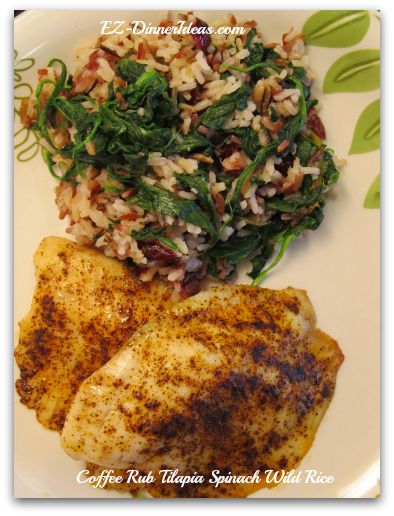 Prep Time: 10 Minutes  Cook Time: 15-20 Minutes  Serving: 4
Remember the coffee rub you got for the grilled shrimp?  It can't sit there forever.  Got to find some ways to use it up, right?
Par-boiled wild rice became one of my favorite kitchen staples.  Frozen spinach is one of the best deals you can find in the supermarket.  I highly recommend you to have 1-2 boxes in your freezer all the time.  Raisins and Crasins belong in the same categories as the wild rice and frozen spinach, too.

This wild rice side dish can serve with other side dish or entree.  So, bear this in mind.  Here are a few recommendations for you:

Outback Steakhouse Buffalo Shrimps
Roasted California Blend Vegetables
15-minute Broiled Lemon Chicken

A lot of my fans like clean eating.  Because of this reason, I purposefully stay away from chicken broth.  That means less preservatives and less sodium.  But please feel free to substitute water with the broth per your preference.
Spinach Wild Rice
Ingredients

2 Cups Wild Rice Mix (I highly recommend the Royal Blend, Rice Blend)
3 Cups Water
1 Box (10 ounces) Frozen Spinach (thawed and squeeze out all the excess liquid)
1/4 Cup Crasins
2 teaspoons Butter / Extra Virgin Olive Oil



Wild Rice Mix
Follow the package instruction to combine the ingredients, except spinach, together for the wild rice
Bring it to a boil; stir once
Lower the heat and simmer for 15 minutes
Stir in the spinach and let it sit for 5-10 minutes and serve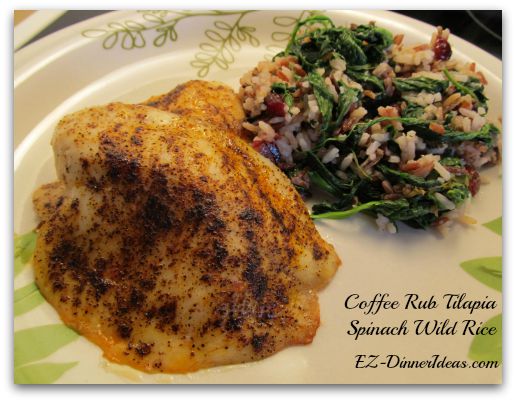 Coffee Rub Tilapia
Ingredients

8 thinly sliced filet of Tilapia
2 tablespoons Coffee Rub (divided)
2 tablespoons Extra Virgin Olive Oil (divided)
Salt and pepper
No-stick Cooking Spray



Coffee Rub I used in this recipe
Line a baking sheet with aluminum foil and coat with non-stick cooking spray
Preheat oven at 400F
Single layer the fish on the baking sheet and rub it with Extra Virgin Olive Oil
Sprinkle salt, pepper and coffee rub on top
When the rice boils, put fish into the oven to cook 15-20 minutes and serve (the reason I do that because this will allow everything serves about the same time)

---
Serve This Spinach Wild Rice With: 

---

You May Also Be Interested In:

Return from Coffee Rub Tilapia Spinach Wild Rice Recipe page to Seafood Recipes page 

Return to Easy Dinner Ideas Homepage