Lemon Chicken

Quick, Easy and Healthy
Nothing Is Easier Than This
15-Minute Broiler Lemon Chicken
This lemon chicken is super quick, easy and healthy. If you always look for chicken recipes, this is a keeper for sure.

4 pounds of chicken breasts may sound a bit too much. But I can tell you this. You will be surprised that the chicken will be gone in no time. Don't expect that there will be any leftover.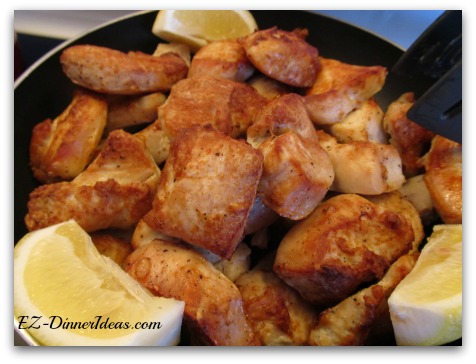 Prep Time: 10 Minutes   Cook Time: 15 Minutes   Serving: 4
Lemon Chicken Ingredients and Instructions

Ingredients
4 pounds Skinless Boneless Chicken breasts (cut into about 1" x 4" size)
1 Lemon (Juiced)
2 tablespoon EVOO
1 teaspoon Salt
¼ teaspoon Black Pepper
1 Lemon (cut into wedges)
Non-stick cooking spray

Combine everything, except cooking spray and lemon wedges, in a mixing bowl and let the meat marinade overnight
Move the top rack about 5" under the broiler
Preheat broiler
Line aluminum foil on 2 roasting pans for easy clean up later
Lightly coat the pans with non-stick cooking spray
Single layer the chicken on the pan
Allow about 1/4" space around each piece, don't crowd the pans
Put the pan under the broiler for 15 minutes or until golden brown
Let rest about 3 minutes
Serve with lemon wedges and salt on the side
CHEF NOTES:
If the rack can't fit 2 roasting pans at the same time, you definitely need to cook the chicken in batches. You can keep the first batch warm in the oven warmer or transfer to another pan to keep the meat warm on the stove top.

15 minutes should cook through the chicken if you follow the direction. However, different oven has different personality, so as the broiler. The chicken is cooked through does not mean that it is brown all the way through either. If that's the case, leave the chicken under the broiler for 5 - 10 more minutes. Add 5 minutes at a time. This will prevent the chicken from burning.

---
Serve This With: 

---

You May Also Be Interested In:

---
Home > Chicken Recipes > Lemon Chicken