Fine Dining Finger Food

It's Tomato Bread
It's Spanish Pan con Tomate
It's All About Deliciousness!!!
This fine dining finger food is awesome for a party.  It is also great to be a side dish with homemade dinner.  (Scroll down to the bottom of the page where you will find a list of recipes pair very well with this tomato bread recipe.)  The Spanish style crispy tomato bread is marvelous with some juicy tomatoes on top.  Every bite feels like a flavor explosion.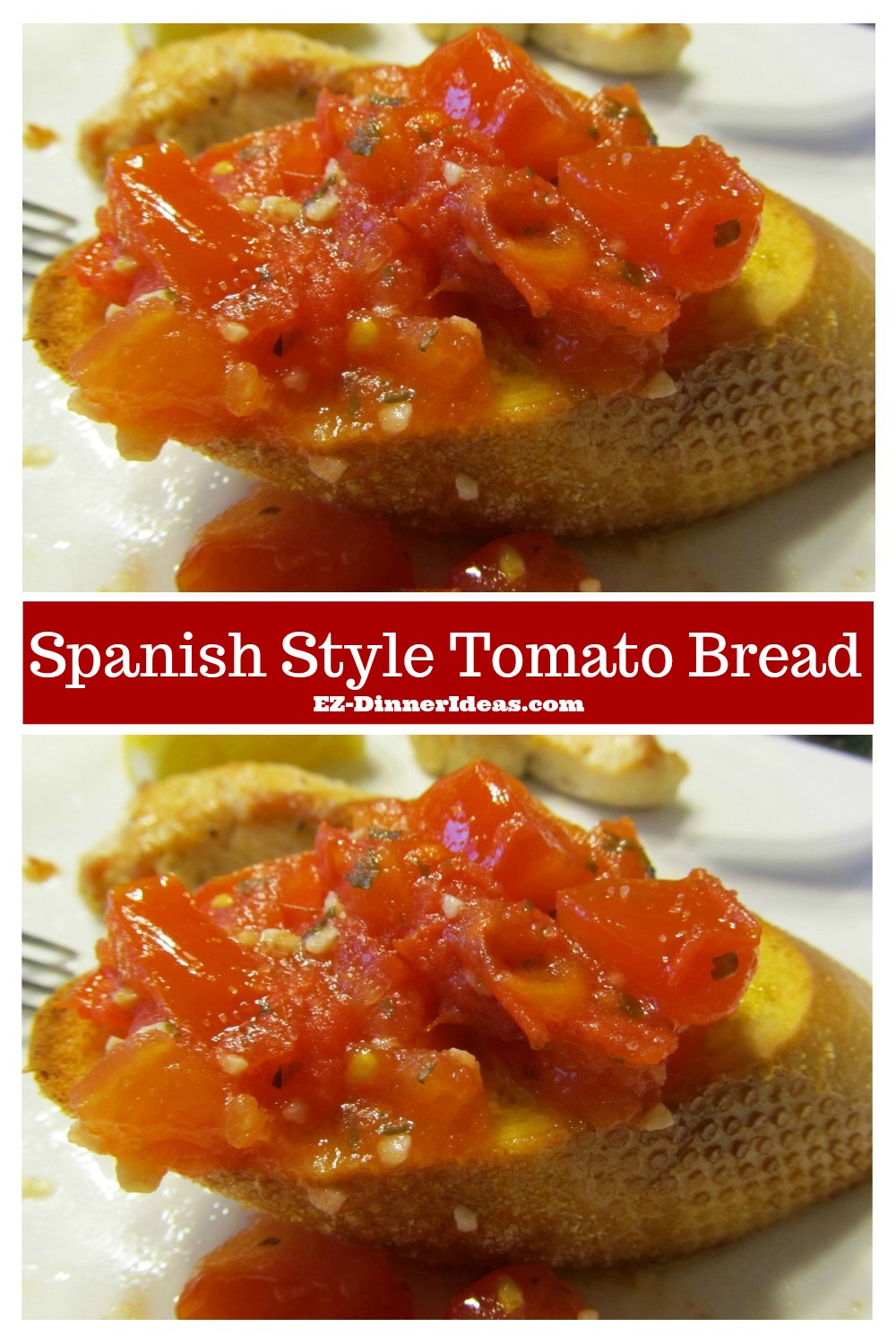 Total Time: 15 Minutes
Prep Time: 10 Minutes  
Active Cook Time: 5 Minutes  
Inactive Cook Time: 5 Minutes  
Serving: 4-6


This tomato bread recipe was inspired by a dish I had many years ago in a Spanish restaurant in Hong Kong. It is very similar to the Spanish Pan on Tomate recipe.


CHEF NOTES
You could replace fresh tomatoes with canned diced tomatoes.  Of course, there will be a big difference between fresh and canned tomatoes in this fine dining finger food recipe.  If you choose to use canned tomatoes, drain juice very well so it won't be too watery.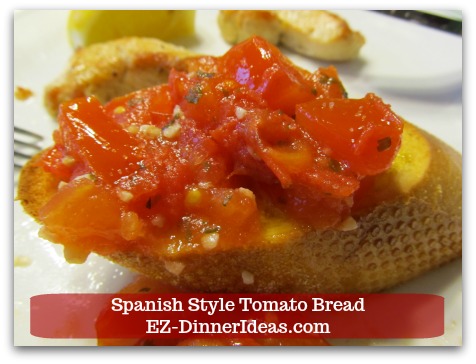 Fine Dining Finger Food Recipe and Instructions
Ingredients
1 loaf baguette (slice about 1" thick)
5 Vine tomatoes (seeded and dice)
1 cup Extra Virgin Olive Oil
1 Clove Minced Garlic
½ teaspoon Dried Parsley
1 pinch of salt

Preheat oven at 450F.
Single layer baguette on a baking sheet.
Toast baguette in the oven for 5 minutes.
Preheat extra virgin olive oil in a medium skillet at medium heat.
Add garlic and let it infuse the oil about a minute.
Don't burn the garlic (If the oil is too hot, take the skillet away from the heat source).
Add tomatoes and salt.
Cook about 2-3 minutes.
Add parsley.
Quick stir and serve with baguette.
---

Recipe Ingredients and Tools

---
Serve This With: 

---

You May Also Be Interested In:

---
Home > Easy Side Dish Recipes > Fine Dining Finger Food | Spanish Style Tomato Bread