Cut and Drop
To Slow Cooker
On The Switch
Beef and Vegetable Stew
This beef and vegetable stew was my life saver. I didn't exaggerate it. I always cook my next week lunch during the weekend.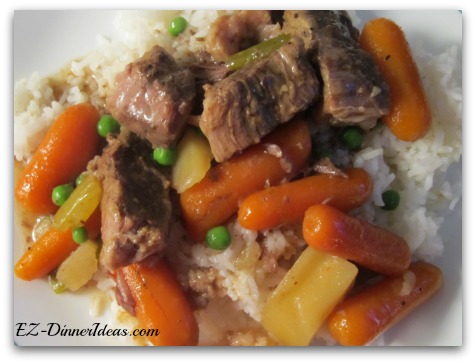 Prep Time: 15 Minutes   Inactive Cook Time: 4 Hours on High
(or 8 Hours on Low)  Serving: 6-8
In my opinion, bringing my lunch is a BIG money and time saver.  Instead of lining up to place your order, you can do so many different things during your lunch, such as walking and doing errands. 
Besides, it saves at least $25 a week which you can put towards your grocery.  If you don't mind eating overnight food and you can heat up your lunch in the microwave at work, I highly recommend you to bring your lunch.

Anyway, how did the slow cooker save me? My range was fried in a power outage. While I was waiting for the delivery of my new "baby", the slow cooker helped me to complete the task.
Ingredients

3.5-4 pounds (1.5-1.8kg) Bottom Round Roast (trim fat if necessary; cut into 1"/2.5cm size)
2 pounds (907g) Baby Carrots
2 pounds(907g) Russet Potatoes (peeled and cut into bite size)
6 stalks Celery (cut into big chunks)
1 box (32 oz / 907g) Beef Stock
1 Cup (237g) Frozen Green Peas
1/3 cup (79g) Corn Starch
1/3 cup (79g) Water
1/2 teaspoon Black Pepper
Salt (hold until before serving)

Rub grounded black pepper evenly on the beef
Put the ingredients into the slow cooker in this order: potatoes, celery, beef, carrots and beef stock
Cook 4 hours on high or 8 hours on low
30 minutes before serving:
a) cook the rice or pasta if you decide to serve it together with this beef and vegetable stew (optional)
b) Turn slow cooker to high heat if your setting is low
15 minutes before serving, take out about 2-3 cups (473-710g) of liquid from the slow cooker and transfer to a medium sauce pan and bring it to a running boil
(You may need to take out the vegetables and beef with a slotted spoon before you can get to the liquid. Once the liquid is out, put the vegetables and beef back into the slow cooker)
In a mixing bowl, combine corn starch and water (make sure to mix it very well)
Pour the slurry into the boiling sauce and stir until thick
Transfer the gravy back into the slow cooker and add green peas
Stir to combine with the stew
Let it sit for 5 minutes
Adjust seasoning and serve
Tips
Add a few tablespoons of curry powder to make it an Asian recipe. The best of all, it would be another easy dinner idea for next time.
---
Serve This With: 

---

You May Also Be Interested In:

Return from Beef and Vegetable Stew Recipe page to Soup Recipes page

Return to Easy Dinner Ideas Homepage