Venison Stew Recipe
Chinese Fusion Tikka Masala Stew Got Chinese, Asian, Something New and Cozy that You Have It All In One Dish.
This venison stew recipe has some Chinese and Asian flares in it. It is soooo good that you will be surprised how addicting this stew is.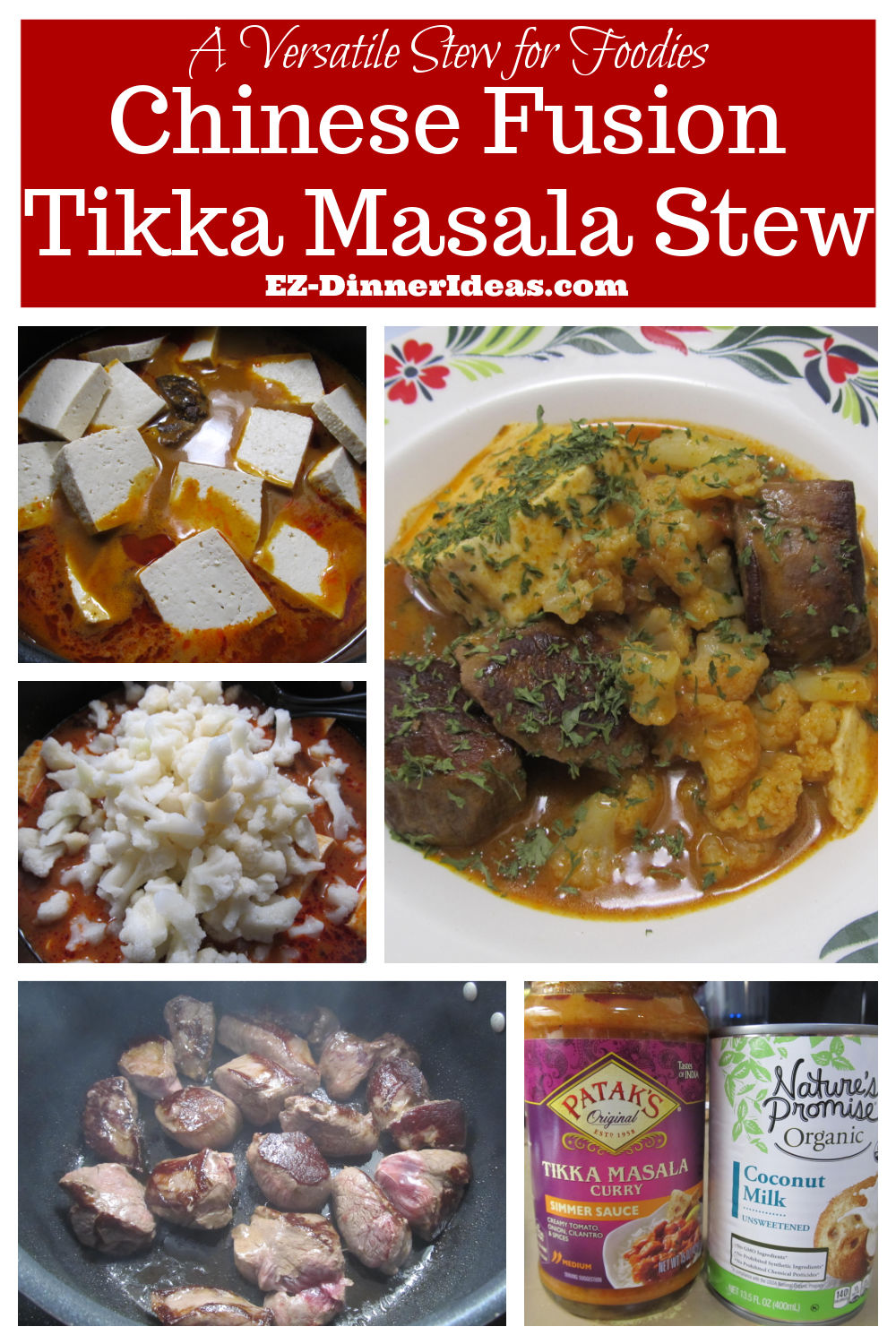 Total Time: 3 Hours 15 Minutes
Prep Time: 5-8 Minutes  
Active Cook Time: 15 Minutes  
Inactive Cook Time: 3 Hours  
Serving: 4-6


I have never thought that I would create a recipe with venison. But my only son got his first deer in the winter of 2021. There was a lot of meat which came at the perfect time because of the inflation. I love that the meat is very lean. But the meat is a bit gamey. I know that I must use something very strong and spicy to cover that gamey smell and flavor. As soon as I got the stew meat on hand, I kept my eyes open.
While I was walking down an aisle in the local store one day, I thought that I may want to give Tikka Masala sauce a try. Little did I expect that BIG, great surprise from the first bite, I want to keep getting more and more of this venison stew. I hope that you will fall in love at the first sight of this recipe just like I did.
CHEF NOTES
No flour is needed in this venison stew recipe because the tofu and all the simmering will bring the stew consistency to perfection.
You can replace venison with other stew meat of your choice to make this delicious stew recipe. Also, depending on the kind of stew meat you select, it may not require as much oil as venison.
It's great to pair it with steamed white rice or mashed potatoes. But I think that it is as good as is.
If you use any cookware, other than stainless steel, you will realize that the cookware smells like curry sauce even after cleaning it. I highly recommend you to put in a teaspoon of baking soda in the water while cleaning. It will get rid of the smell without ruining your pot.
---

Recipe Ingredients and Tools

---
Venison Stew Recipe and Directions

Ingredients
1-1 1/4 lbs Venison Stew Meat (or any kind of stew meat of your preference)
1 jar (15oz) Tikka Masala Sauce
1/2 jar Water
1 can (14oz) Unsweetened Coconut Milk
1 lb Frozen Cauliflower
1 lb Extra Firm Tofu (drained)
2 tbsp Extra Virgin Olive Oil
Dry Parsley (optional;for garnish only)
Salt and pepper to taste
Directions
On the day before serving, drain tofu and transfer it to a paper towel-lined container. Put tofu on top of paper towel and seal the container. Chill it overnight. This step is to dry up the tofu as much as you can so that it can soak up the sauce. Remember to do this step the night before. (If you plan to skip tofu, start cooking from next step onwards.)
In a mixing bowl, combine meat and oil together. Massage the meat to tenderize it. Also, let each piece coat entirely with oil.
Preheat a deep skillet or Dutch oven at high heat, add oil coated meat into the skillet and brown. About 1-2 minutes each side.
Stir in sauce and use the same jar and fill half of it with water. Cover it with lid and shake to get all the good stuff before pouring it into the Dutch oven.
Let it simmer for an hour.
Stir in coconut milk and simmer for another 1.5 hours.
The tofu should be super firm. When you use a finger to press it, it doesn't feel spongy anymore. Slice tofu into a 1/2" thick square.
Turn up the heat to high and add tofu gently into the stew. Stir to combine before adding cauliflower in. Cover and cook at medium heat for about 15 minutes until vegetables are cooked.
Salt and pepper to taste and garnish with parsley. Enjoy as is or serve it along with rice or mashed potatoes.
---
Venison Stew Recipe Steps with Photos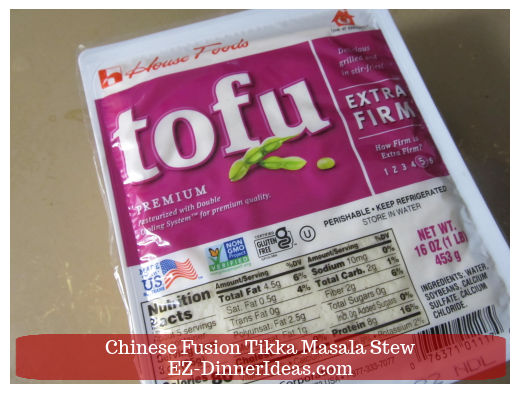 Do this the night before serving. Strain extra firm tofu.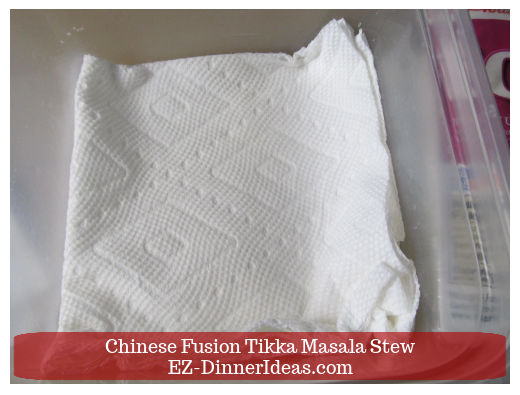 Line paper towel in a food container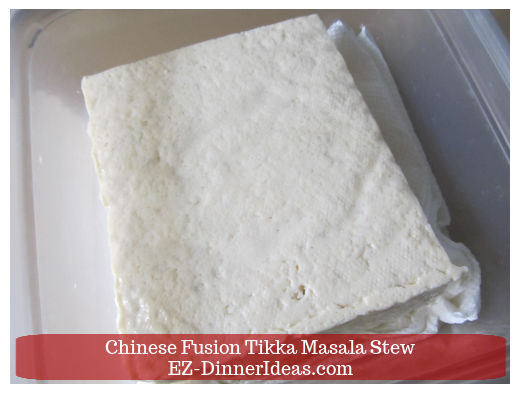 Transfer tofu to this container and cover. Chill in the fridge overnight.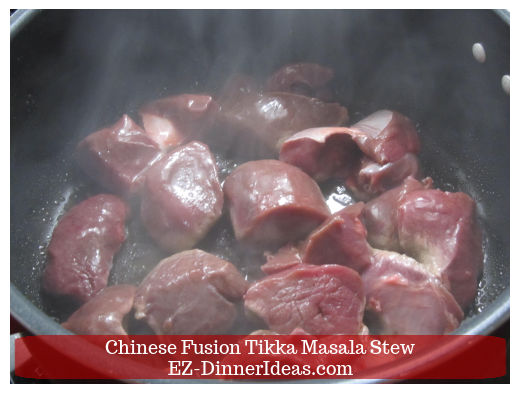 Brown stew meat in a deep skillet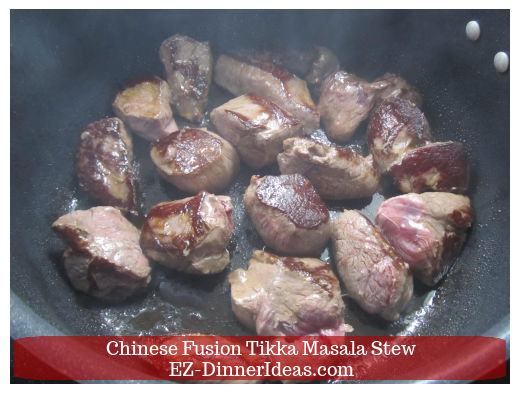 About 1-2 minutes each side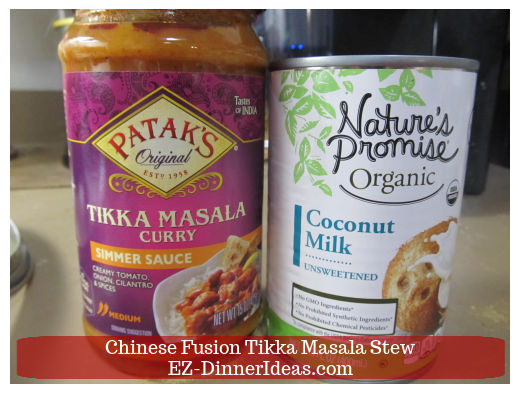 2 major ingredients of this recipe, i.e. Tikka Masala Sauce and Coconut Milk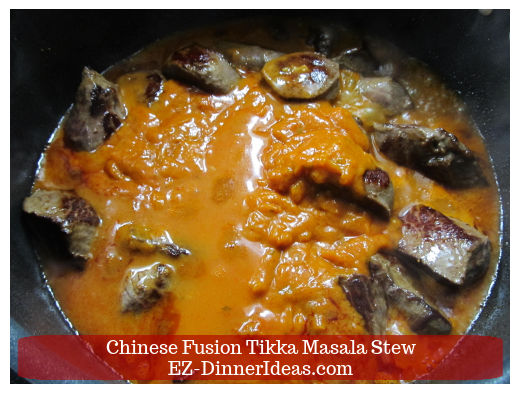 Add Tikka Masala Sauce into the skillet/Dutch oven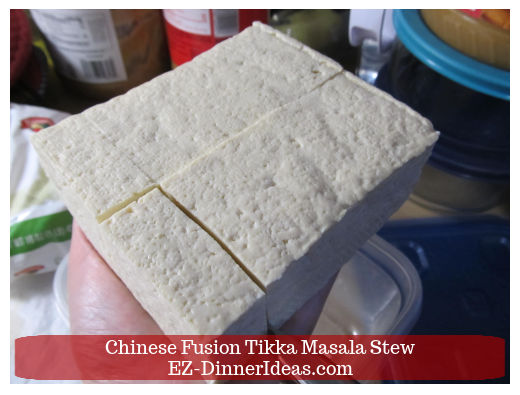 About 2.5 hours of simmering later, get tofu ready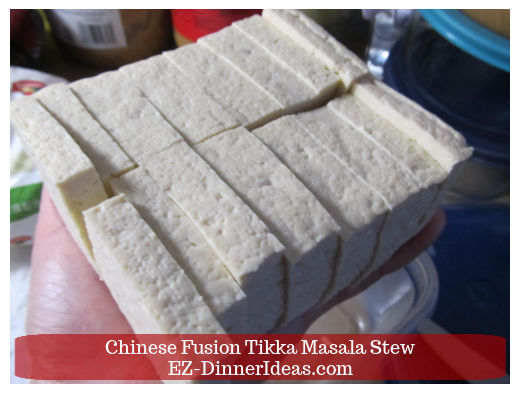 Cut in the middle first, then slice about 1/2" thick for the rest of it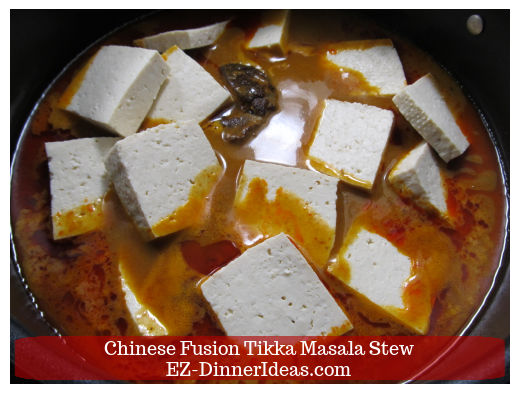 Add tofu into the stew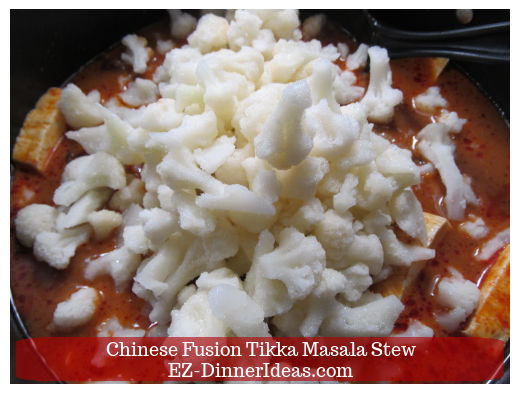 Then, add frozen cauliflower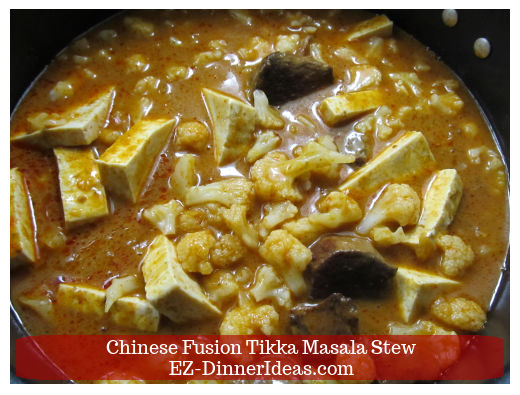 Cook everything for another 15 minutes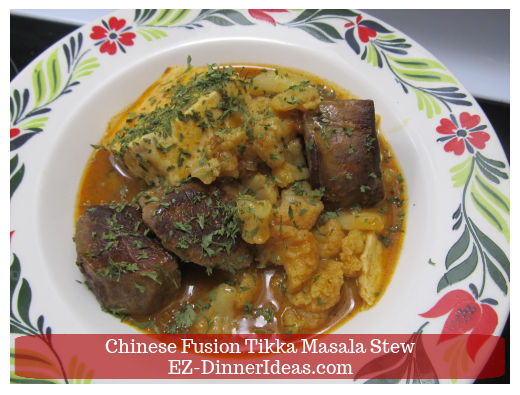 Garnish with parsley (optional)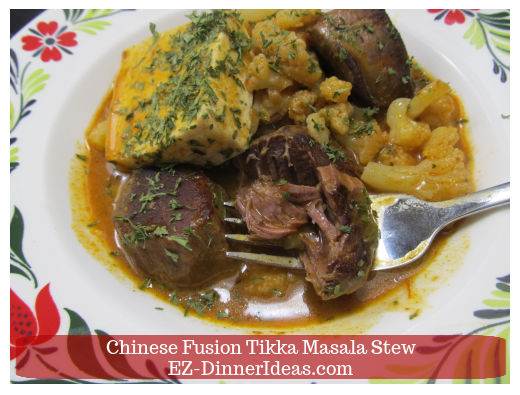 Look at how tender the meat is. ENJOY!
---
Serve This With: 

---

You May Also Be Interested In:

---
Home > One Pot Dinner Recipes > Venison Stew Recipe | Chinese Fusion Tikka Masala Stew