Peppers Sausage
Easiest and Best-est Pepper & Sausage Recipe Ever NO Active Cook Time, But Feed A Crowd of 8+ People
This peppers sausage recipe must be the easiest and most professional looking dish ever.  There is NO active cook time.  But it can easily feed a crowd of 8-10 people.  It may sound too good to be true.  But I can't tell you how many times I make it over and over within a short period of time.  It never fails.  People love it to the last bite.  It can be your low carb meal.  It can also be your next party dinner entree.  Check this out.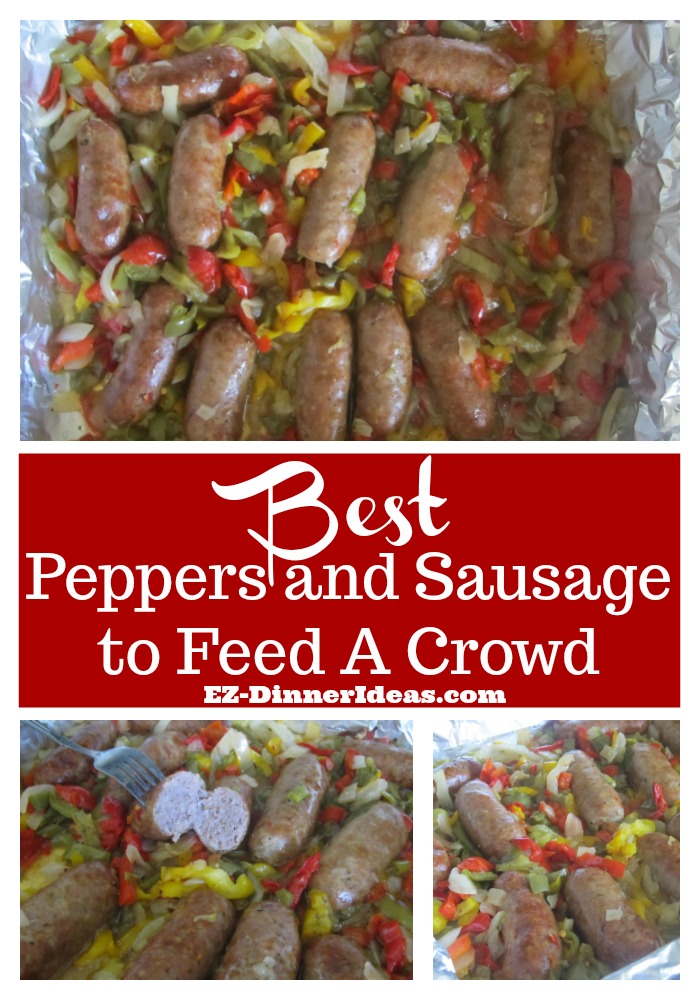 Total Time: 2 Hours 10 Minutes
Prep Time: ZERO  
Inactive Cook Time: 2 Hours 10 Minutes
Serving: 8-10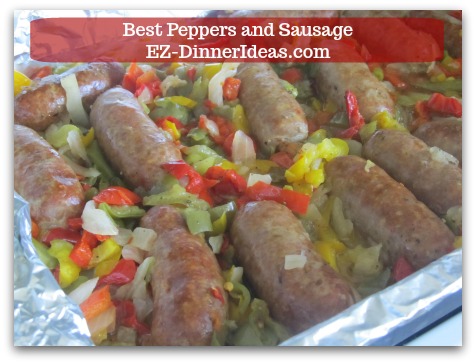 Although there are many sausage and pepper recipes on the internet, majority of them are for dinner for four.  For a portion to feed a big crowd, there are not that many. 
The main reason to create this recipe is because I have a huge extended family.  There are tons of different big family gatherings with 12+ people attending.  And peppers sausage seems like a must dish for someone to bring every time.

Here are the situations I found that always happen:

1) Homemade recipe with sausages dumped into slow cooker without browning.  Honestly, there is a huge taste setback.  Yeah, I had done that before.  It just didn't taste great at all.  I would rather not serving it if slow cooker is the only way to go.

2) Somebody paid big money to order this dish from a caterer.

Because of all those reasons, I decided to find a solution.  The whole recipe has been playing in my head for a few weeks and it was great that it turned out to be a success in one shot.  Believe me, there were some of my recipes took several trials before I nailed it.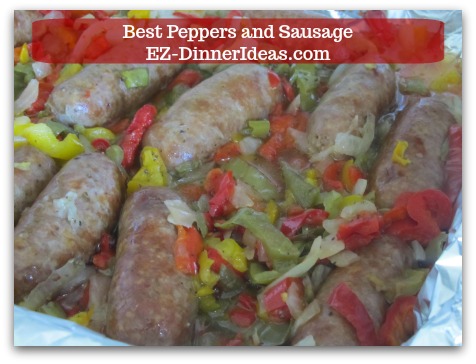 CHEF NOTES
Use disposable aluminum roasting pan if you need to travel with this dish or need to make a much bigger portion of it.  There are roasting pan out there a bit bigger than a regular reusable roasting pan which can fit into your oven perfectly.
You can double this recipe.  It will only a bit longer to turn each sausage over after browning the first side.  Other than that, the cook time and temperature are the same.
On that note, after browning the first side of the sausages, the broiler may not as hot in the beginning.  So, your second round of browning may take longer.

Serve this with sub rolls which will allow you to feed 12-14 people.  I made this portion for myself once to fulfill my low carb Keto diet need.  I don't eat with any rolls.  But if your friends and family enjoying this dish with you, serve rolls, pasta, mashed potatoes or cauliflower rice on the side. 

Do you see how vibrant the colors of the peppers are?  Here is a cooking secret from my mom.  When you cover the pan with foil later during the cooking process, leave some breathing room.  See the picture below, there is a little gap there. If your foil is bigger than the opening of the pan, use a skewer or toothpick to poke a few holes on top of the foil.  This will work, too.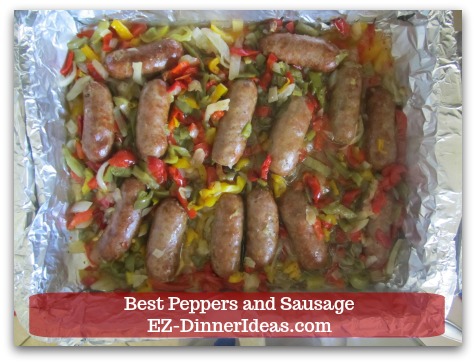 Peppers Sausage Recipe and Instructions

Ingredients
3 bags (16 oz) Frozen Pepper and Onion Strips (a.k.a. Stir-fry Mix; not thawed)
1 pack (14-16 pieces) Raw Sweet Italian Sausage Links
A pinch Red Pepper Flakes
Salt and Pepper to taste (hold until the very last minute)
Line a roasting pan with aluminum foil or use a disposable turkey size foil pan.
Single layer raw sausage links on the pan with a little space between sausages.
Cook each side under the broiler for 3-5 minutes each side.  Turn it over to the other side and broil another 3-5 minutes again until the entire sausage is browned.  (I always brown two sides, the top and the bottom, only.)
Add all frozen vegetables on top with red pepper flakes. (hold salt and pepper until the end)
Cover with a piece of foil on top. (Do not seal tight, but allow a little bit of gap to breathe.  This will keep the vegetables in vibrant color.)
Cook at 350F for 2 hours until sausages are cooked through.  (I personally think that there is no need for salt and pepper.  It is totally up to you.)
Serve with peppers sausage with subs or just eat it as is.  Enjoy!
Peppers Sausage Steps with Photos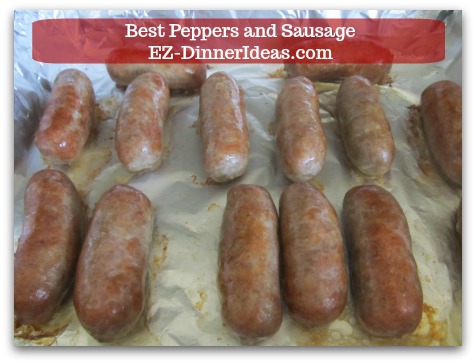 Turn over to the other side and broil for another 3-5 minutes again until the entire sausage is browned.
---

Recipe Ingredients and Tools

---
Serve This With: 

Cauliflower Rice
Italian Bakery Rolls
---

You May Also Be Interested In:

---
Home > Pork Recipes > Peppers Sausage | Best Peppers and Sausage to Feed A Crowd