Sausage Kale Recipe

Sautéed Sausage Kale Cranberries
A Beautiful Low Carb Keto Dish
Loving this sausage kale recipe is an understatement .  Since this recipe was created, I have it once in every other week.  For a person loves food adventures so much, a repeat doesn't happen very often.  But when it comes to this dish, it seems like I can't help it.


Total Time: 20 Minutes
Prep Time: ZERO  
Active Cook Time: 20 Minutes  
Serving: 4



CHEF NOTES
I use pre-washed chopped kale.  It makes cooking this dish much faster.  This could be a low carb Keto recipe.  For families with members on diet and not on diet, I highly recommend to put dried cranberries aside and let each of your family member to decide if they want to add the dried fruit.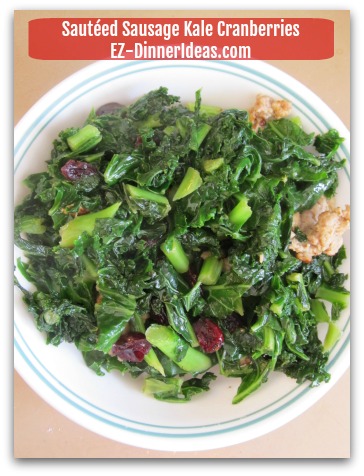 Sausage Kale Recipe Ingredients and Instructions

Ingredients
1 lb in bulk Sweet Italian Sausage
2 lb Pre-washed Kale Green
1/4 cup Extra Virgin Olive Oil (divided)
1/4 cup Dried Cranberries (optional)
1 tbsp Toasted Almond (optional)
Salt and pepper to taste

Preheat a deep, big non-stick skillet at high heat
Add sausage and use spatula to cut it into bite size and brown for about 5-8 minutes; turn down to medium heat
Turn meat over and brown for another 3 minutes (Sausage may not be thoroughly cooked at this time.  When this dish is ready to serve, the meat will be perfectly cooked.)
Add 1 tbsp extra virgin olive oil, one at a time, stir in 1/4 bag of kale.  When half of the vegetables are wilted,  repeat this step again until all vegetables are in the skillet
Salt and pepper to taste
Add dried cranberries and toasted almond(optional)
Serve immediately and enjoy!

Sausage Kale Recipe Steps with Photos
---

Recipe Ingredients and Tools

---

You May Also Be Interested In:

---
Home > Pork Recipes > Sausage Kale Recipe | Sauteed with Cranberries