Low Carb Cauliflower Rice

One-Pot Sausage Gravy Cauliflower Rice
Turns Traditional Comfort Food to A Guilt-Free Dinner
Low carb cauliflower rice replaced biscuit which is always used in a traditional comfort food recipe with vegetables.  You can eat as much as you want and feel great about yourself after a fulfilling dinner.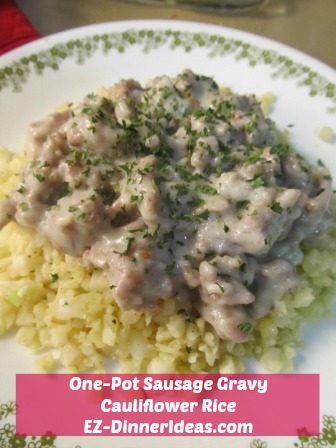 Total Time: 15-20 Minutes
Prep Time: ZERO  
Active Cook Time: 15-20 Minutes  
Serving: 4


This is my first recipe with cauliflower rice.  Since cauliflower was not my favorite vegetable, I was a bit anxious at first.  But then, once that anxiety was over, I was totally fine.
Unlike One-Pot Chinese Salt and Pepper Shrimp Cauliflower Rice, this one uses fresh pre-packaged Cauliflower rice.  Some called them as "Cauliflower Pearls" which I think that is the most appropriate name because of their size. (Click here to find out the differences between pre-packaged fresh and frozen cauliflower rice)

I did say that anxiety was one of the pushes to put this recipe together.  The other reason how this came along because I was thinking of comfort food. 
One of my favorite comfort food is sausage gravy.  But the majority of my family is not a big fan of it.  I myself like purely just sausage gravy without biscuits.  (I know, I know it sounds like we are a group of weird people.)  Anyway, that was how this low carb cauliflower rice recipe fell into place.  It just gives traditional comfort food a healthy twist.
Bet my late father-in-law would go crazy for this dish
Low Carb Cauliflower Rice Recipe and Instructions

Some call it Cauliflower rice. Some call them Cauliflower pearls. How would you call it?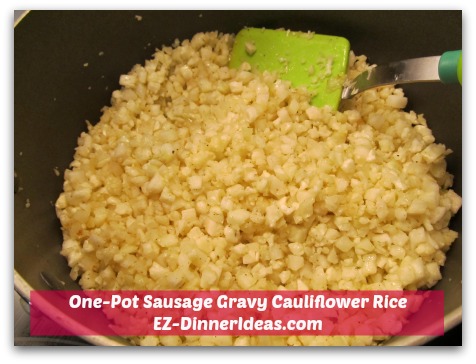 Sautee cauliflower rice in a medium sauce pan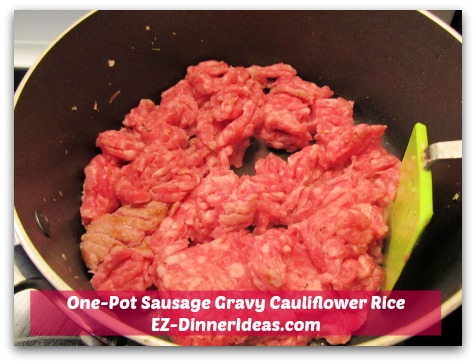 Brown sausage in the same pan
ENJOY!
1 bag (16 oz) Pre-Shredded Fresh Cauliflower Pearls or Rice
1 lb Italian Sweet Sausage (bulk)
1 tbsp + 1 tsp Extra Virgin Olive Oil
1/2 tsp Garlic Salt
1 tsp Black Pepper (divided)
2 heaping tbsp Flour
1-1 1/2 cup Milk
Dried Parsley Flakes (for garnish only)

Preheat 1 tbsp extra virgin olive oil in a medium sauce pan at high heat
Stir in cauliflower pearls
Add garlic salt and 1/2 tsp black pepper
Stir regularly and cook for 5-8 minutes until tender
Transfer to a serving plate and tent a foil on top to keep it warm
In the same pan, heat 1 tsp extra virgin olive oil and add sausage
Use spatula to break sausage into pieces, add the other 1/2 tsp black pepper and brown for about 8 minutes
Stir in flour and let it cook for about a minute to get rid of the raw flour taste
Stir in milk until thick
Transfer on top of cauliflower rice, garnish with parsley and serve immediately
---

You May Also Be Interested In:

---
Home > Quick and Easy Dinner Recipes > One-Pot Sausage Gravy Cauliflower Rice