One Pot Chinese Salt And Pepper Shrimp Cauliflower Rice
Makes This Traditional Chinese Dish
More Attractive
One Pot Chinese Salt And Pepper Shrimp Cauliflower Rice...that's right.  Cauliflower rice instead of steamed white rice.  Everybody is crazy for cauliflower rice.  I must admit that cauliflower is not on top of my favorite vegetable list.  It is not because I don't like it.  It is just not my favorite.  But the adventurous me must try cauliflower rice, right?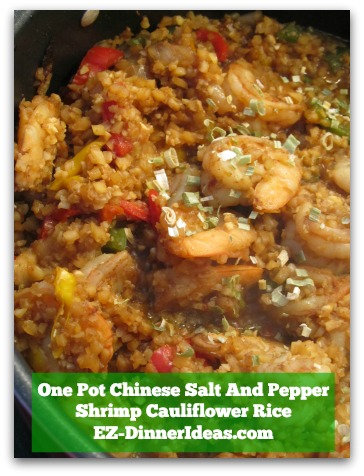 Prep Time: 15-20 Minutes   Cook Time: 15-20 Minutes   Serving: 4
Thinking of cauliflower, it always reminds me of my late father-in-law.  There were times and again that he expressed cauliflower was his all time favorite vegetable.  Well, back then, I created several cauliflower recipes because of his frequent visits.  Will definitely share with you more cauliflower recipes in the near future.

But let's dive into cauliflower rice.  Yes, you definitely can make your own in which you have more control, especially the grain size.

If you are super busy and juggling between job and personal life, pre-packaged cauliflower rice will help you to save a lot of time.
Difference Between Pre-Packaged
Fresh And Frozen Cauliflower Rice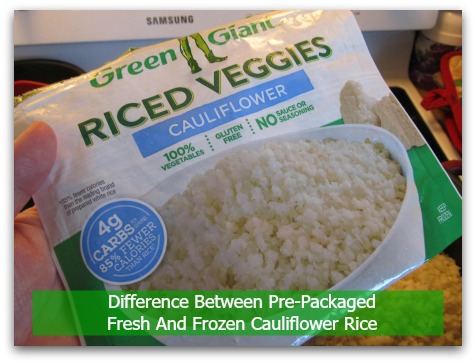 Name

I looked into different brands.  The fresh one comes into one size which is much bigger than a typical rice grain.  Some are called "cauliflower pearls", which I think that is the most appropriate name.  Some still claims it as cauliflower rice.


Price

Of course, you get more out of the fresh ones because the frozen one's size is 10% bigger due to its expansion in the freezing process. 

Cauliflower rice you make from scratch is the cheapest.  Like a lot of things in the market, the more convenient it is, the more it costs.  You need to decide which is on your utmost priority list.  Time or money?


Shelf Life

Frozen cauliflower rice definitely has a longer shelf life.  It is very convenient that you can go into your freezer and grab it whenever you need it.


Texture

Since the fresh ones tend to be bigger, it has a little bit of crunch.  Given if you plan to cook either fresh and frozen ones for the same duration of time.


Cook Time

Because the size of the fresh one is bigger, it definitely takes longer to cook until it meets the tenderness of frozen ones


Moisture Level

Frozen vegetables are convenient.  However, once they are thawed, they release a lot of moisture.  If I compare a 16-oz fresh and 12-oz frozen cauliflower rice, guess which one is more watery?  Ding...ding...ding...ding...ding...the 12-oz frozen one is the winner.


Brand

I tried a different brand of frozen cauliflower rice lately.  The grain size is slightly different.  If you combine 2 to 3 bags together and cook at the same time, that slight change of grain size makes a HUGE difference on cook time.

As mentioned earlier, you can make your own.  But it does take time to cut up the florets.  Not to mention that you have to ground it up in a food processor which is one more thing you need to wash.
More Tips On
One Pot Chinese Salt And Pepper Shrimp
Cauliflower Rice

Traditional Chinese salt and pepper shrimp is deep-fried.  I want to keep the entire recipe healthy.  Therefore, I only use the same seasoning, but stir fry. 
Since cauliflower is so blah in taste, I am so happy with the flavor the salt and pepper bring over.  You will love it so much that you are going to make this over and over again. 
If you prefer to have chicken instead of shrimp, please feel free to replace it.  Beware that it could take longer to cook through the meat if you make that replacement.

One Pot Chinese Salt And Pepper Shrimp
Cauliflower Rice Recipe

2 lb Frozen Shrimp (16-20 counts; thawed, peeled and deveined)
1 lb Frozen Stir-Fry mix (onion and peppers)
2-12 oz Frozen Cauliflower Rice
3 cloves Garlic (minced)
1 heaping tsp Grated ginger
1 tsp Chinese 5 Spice Powder
1 Thai Dried Chili or a pinch of Red Pepper Flakes
1/2 tsp White Pepper
2 tbsp Superior Light Soy Sauce
1 tbsp Superior Dark Soy Sauce
2 tbsp Canola Oil (divided)
Salt and pepper to taste
Scallion (optional; diced and for garnish only)

Preheat a soup pot or Dutch oven at high heat with 1 tbsp Canola Oil
Add shrimp, 5 spice powder, dried chili or red pepper flakes and white pepper; cook about 6 minutes
Stir twice in between so every shrimp cook evenly
Transfer shrimp to a plate (shrimp is not thoroughly cooked at this time.  But it will have the chance later to complete its cooking process)
In the same pot, add another 1 tbsp Canola Oil, stir-fry mix, garlic, ginger and cauliflower rice
Cook until all vegetables thawed out
Stir in Soy sauces and put shrimp back in
Cook for 5 minutes uncovered
Salt and pepper to taste, garnish with scallion (optional) and serve
(If it is too watery, combine 1 tbsp corn starch and 1 tsp water in a separate mixing bowl.  Stir in the slurry into cauliflower rice until sauce is thickened)
My Amazon Picks

You May Also Be Interested In: