Unstuffed Peppers Skillet
Unstuffed Peppers Skillet with Cauliflower Rice in Low-Carb Style
A One-Pot Meal You Are Going to Add on Your Rotation
Unstuffed peppers skillet is not only a one-pot meal, but also low-carb. This sounds like a traditional recipe got turned upside down. But you are going to love it and have it on repeat.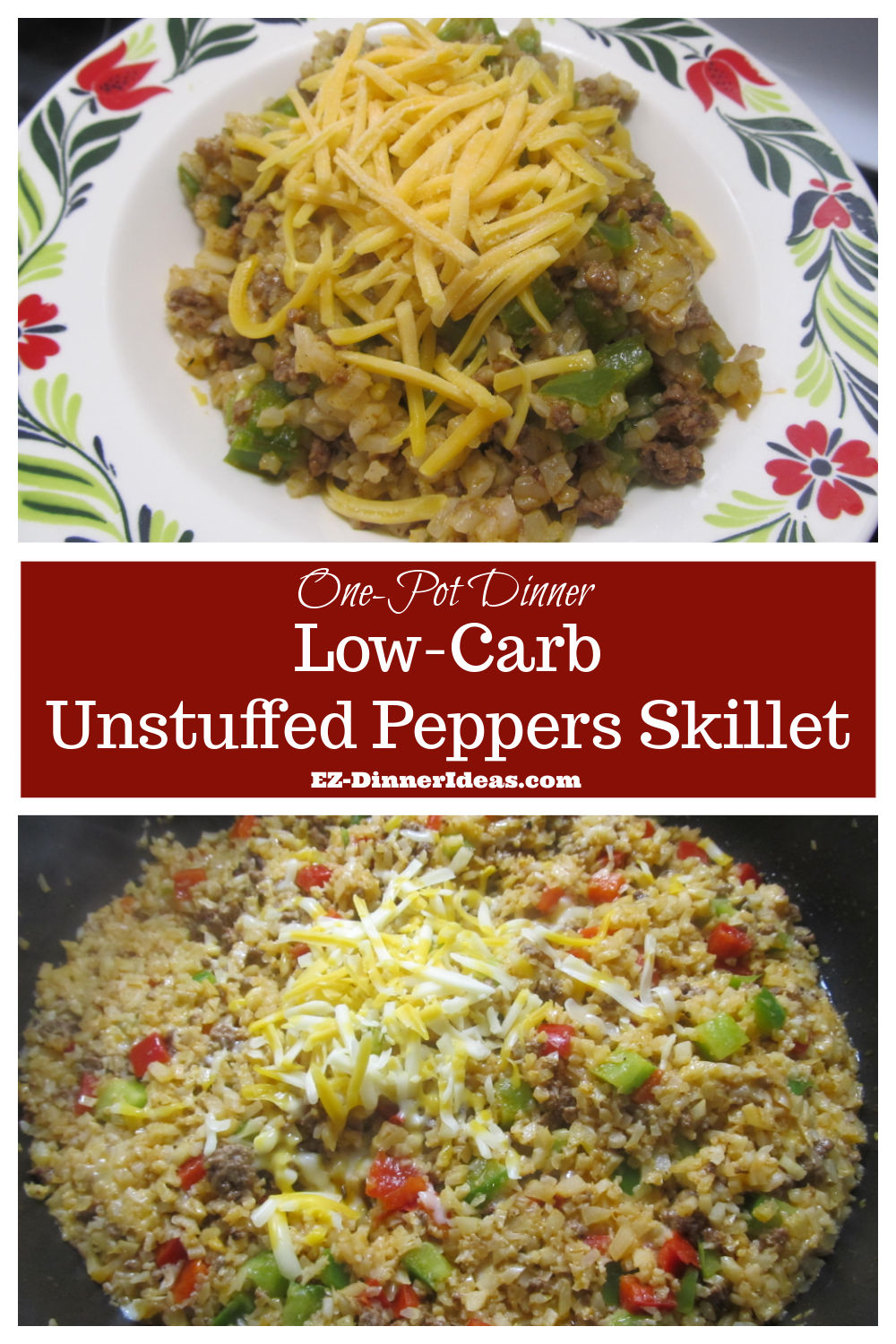 Total Time: 30 Minutes - 35 Minutes
Prep Time: 10 Minutes  
Active Cook Time: 20-25 Minutes  
Serving: 6-8


If you have never had or cooked stuffed peppers before, I am sure that you, at least, heard about it. This recipe was inspired by that exact one. But it skips some complicated work. This may become your next one-pot meal.
Since there is tomato paste in the recipe, it is low-carb, not Keto-friendly, meal. In my opinion, it's still better than the one filled with plenty of carbs, such as rice.
You may have been using a very traditional stuffed pepper recipe. By all means, use the one you used to cook with but try out the cauliflower rice version.  Or, use this recipe I am going to share to make it unstuffed. Then, it will skip all the hard work, but still get a delicious one-pot dinner.
CHEF NOTES
I normally would use frozen diced peppers. But the day when I made it, bell peppers were on sale. There was no way to beat that price for fresh ingredient. For those busy bees, like me, do feel free to replace it with some pre-diced peppers or the frozen ones.
The more color, the merrier. The first time when I made this dish, the other color bell peppers didn't look great. As a result, I only got the green ones. When I made it the second time, thankfully, the green and red peppers looked wonderful.  I was able to use 2 different colors of peppers for that time. So, be open to use different colors of bell peppers. It is more for the appeal when you see the final result of your meal. It makes it more beautiful. For little kids, it makes it more appetizing to them.

The Quickest and Easiest Way to Core Bell Peppers
How to core a bell pepper with the minimal hassel?
First, you want to have a very sharp knife. The blade of the knife should be as long as the length of a pepper because you will need that much to slice through it. Instead of standing the pepper straight up and on top of a cutting board like you always see in most grocery stores, you will lean it horizontally. Use your sharp knife to cut horizontally around the center of its stem. The core, stem and most of the seeds will be intact once the whole pepper is cut through. Then, you will cut the flesh of the pepper in big pieces, remove and discard the membrane. After that, you can dice with your knife or use an onion chopper to do the job for you.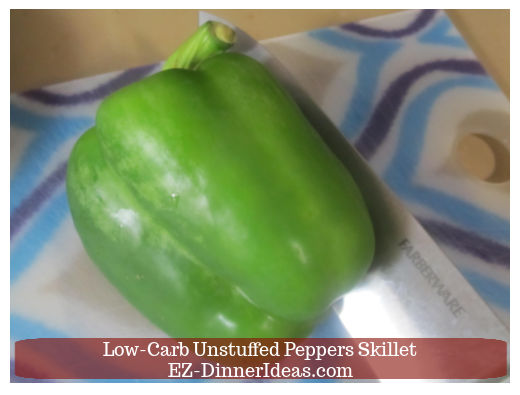 Lay pepper horizontally on a cutting board and use a sharp knife to cut across.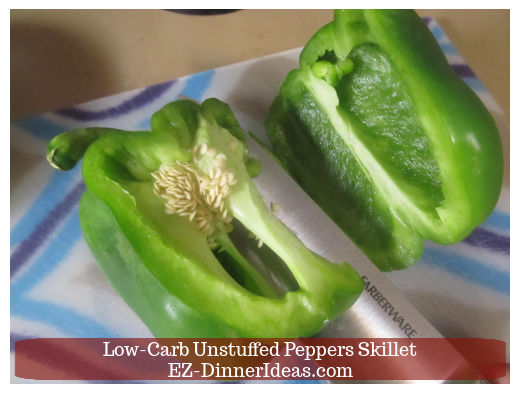 Once cutting starts, use your knife to continue to cut around the core.
As you see here, the core is intact. You will only cut and discard the membrane of the bell pepper.
---
---

Recipe Ingredients and Tools

---

Unstuffed Peppers Skillet Recipe and Directions
Ingredients
1lb 85% Lean Ground Beef
2tbsp Tomato Paste
2 Green Pepper (cored, discard membrane and dice)
2.5lbs Frozen Cauliflower Rice
2 cups Pre-shredded Yellow Cheddar Cheese
1/2 tsp Italian Seasoning
Salt and pepper to taste
Extra Virgin Olive Oil, if needed
Directions

Preheat a non-stick deep skillet on high heat.
Add ground beef in and use spatula to break it into pieces. Let it brown and stir around twice in between. (cook about 5-8 minutes)
Push ground beef aside and leave the middle open. Add tomato paste in the open spot and stir around before combining it with ground beef.
Stir in frozen cauliflower rice.
Cover it with lid and let it cook until the steam is pushing the lid open.
Stir around again. Stir in diced bell pepper and leave it uncovered to continue to cook for about 3-5 minutes more.
Stir regularly in between.
Add extra virgin olive oil (about 1 tbsp at a time) if the bottom of the skillet is getting dry.
Add Italian seasoning, salt and pepper to taste.
Stir in 3/4 of shredded cheese. Stir to combine until cheese is all melted and look stringy.
Garnish with the rest of the cheese and enjoy immediately!
Want More Keto/Low-Carb Recipes?!
This ebook will teach you to cook authentic Chinese food in a healthy way. It will also show you how to get the beautiful colors, texture and taste you get from your favorite Chinese restaurants.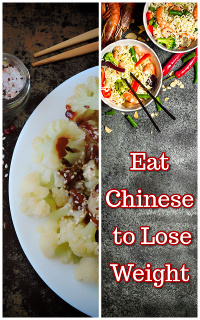 ---
Unstuffed Peppers Skillet Steps with Photos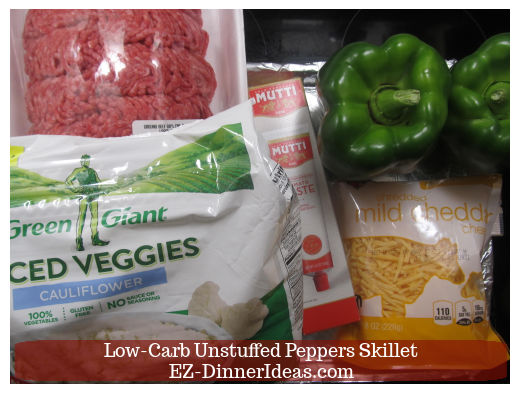 5 basic ingredients of Low-Carb Unstuffed Peppers Skillet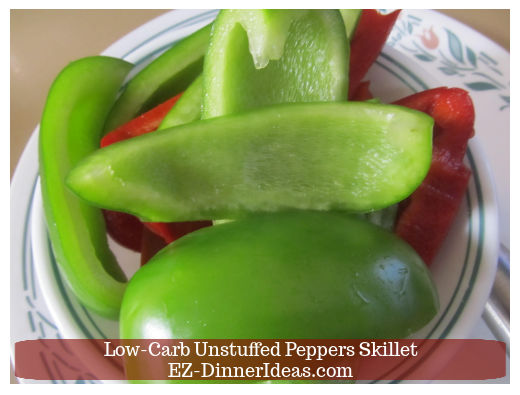 Seeds and membrane were discarded. Bell peppers are ready for dicing.
Use an "onion chopper" to make dicing much quicker.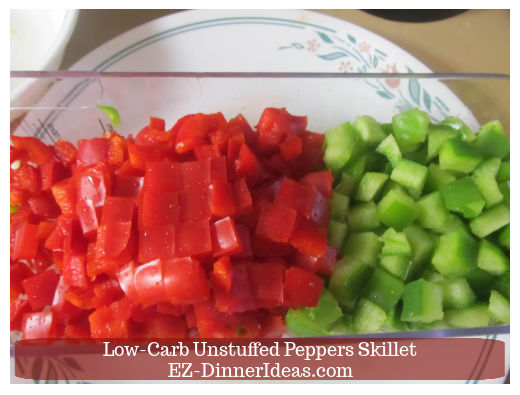 Diced bell peppers.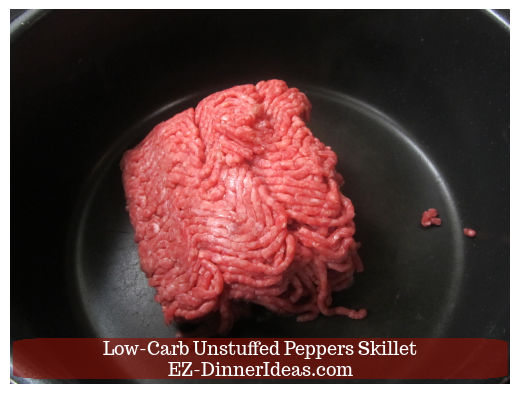 Add ground beef in a preheated skillet.
Use spatula to cut ground beef into pieces and brown.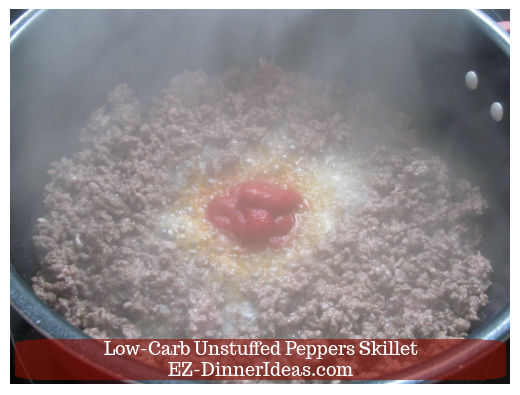 Add tomato paste into the brown meat.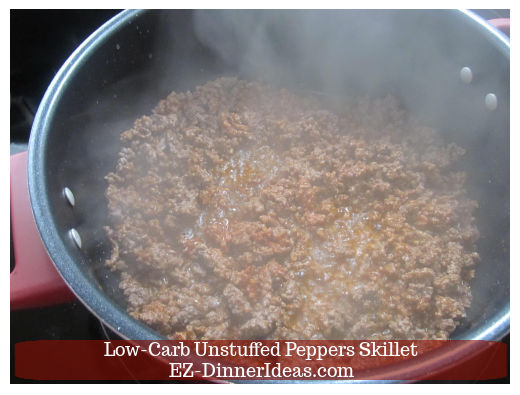 Stir to combine tomato paste and ground beef together.
Add frozen cauliflower into meat mixture.
Stir to combine and continue to cook.
Add diced peppers.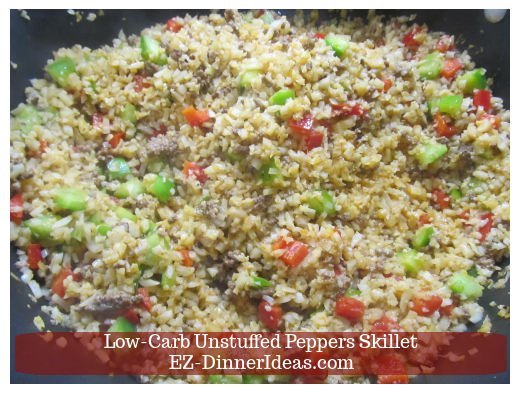 Stir to combine and cook for another 3-5 minutes.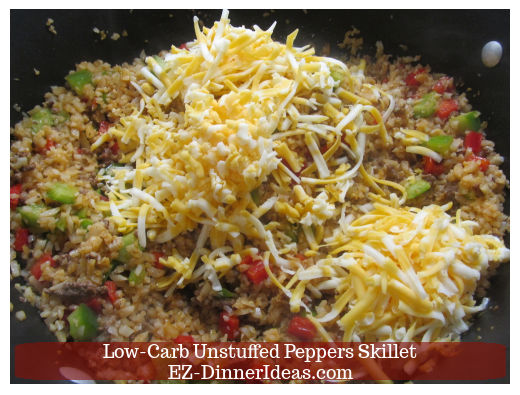 Stir in 3/4 of shredded cheese.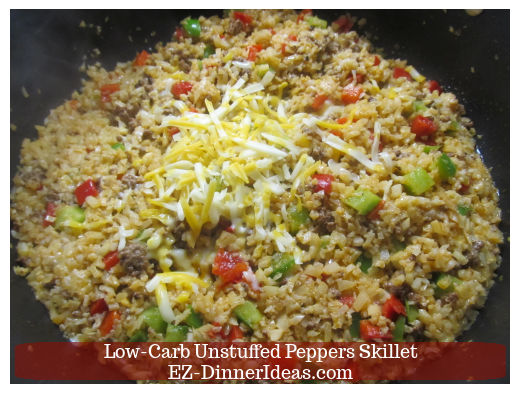 Top it with the remaining shredded cheese.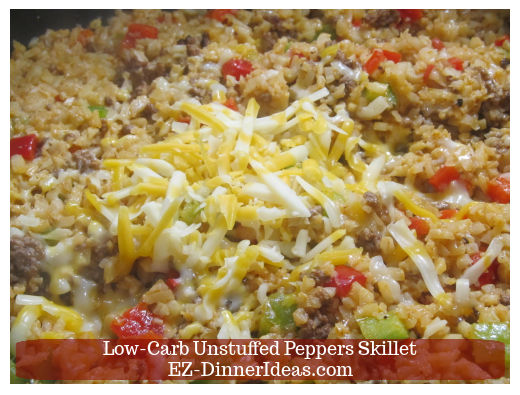 Low-Carb Unstuffed Peppers Skillet is ready for dinner.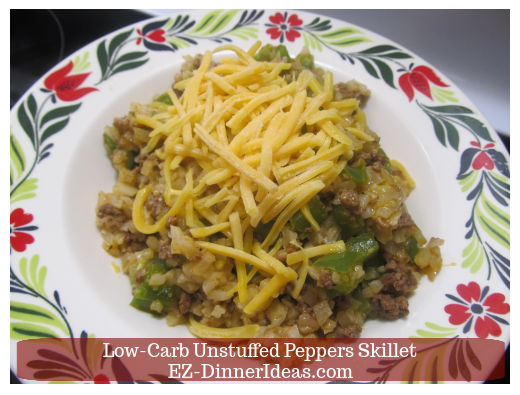 ENJOY!
---

You May Also Be Interested In:

---
Home > Beef Recipes > Unstuffed Peppers Skillet with Cauliflower Rice in Low-Carb Style