Parmesan Cauliflower Risotto
You Won't Believe It Is
Cauliflower...
Parmesan Cauliflower Risotto....what made me to create this recipe?  Well, people have sweet tooth.  I have a carb tummy.  I love noodles, rice and pasta.  I feel something is missing if I don't have some on a daily basis.  

However, there is a downfall.  Not only it is bad to your health by over consumption, but also carb makes me tired.  How bad is it?  In 30 minutes right after eating any carb, I want to go to sleep or dose off unconsciously.  Pretty bad, huh?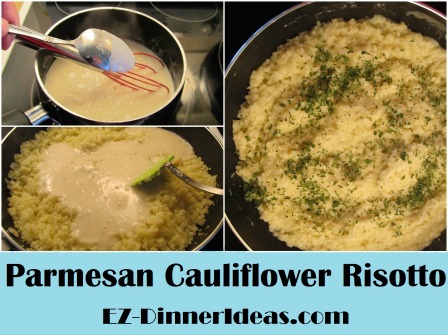 Prep Time: ZERO   Cook Time: 20 Minutes   Serving: 3-4

So, any quick fix?  Not really, in my opinion, other than cutting it down or totally skip it.

But I learned my lesson through experience, skipping it completely will come back and haunt me.  It will be even worse.  Balance is the key of success.

Anyway, this recipe is part of my solution that I talked about.  Enjoy!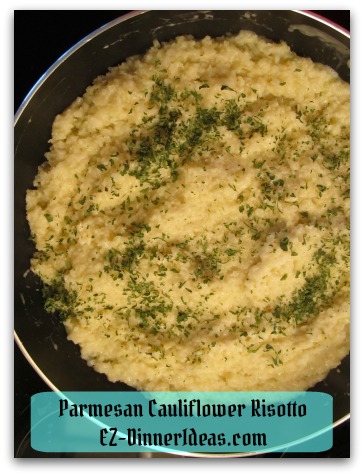 Parmesan Cauliflower Risotto Recipe

Ingredients
3 bags (12 oz each) Frozen Cauliflower Rice
3 tbsp Butter
3 (heaping) tbsp All Purpose Flour
2 1/2 cup Whole Milk
1/4 Cup Grated Parmesan Cheese (extra for topping later, optional)
2 tbsp Dried Parsley (for garnish)
2 tbsp Extra Virgin Olive Oil
Salt and pepper to taste

Add frozen cauliflower rice and Extra Virgin olive oil in a big deep skillet and cook at high heat for about 5 minutes covered with splatter screen (this will keep the heat inside the skillet and allow the water vapor from cauliflower rice to evaporate at the same time)
Stir regularly to ensure every grain thawed
Once it is thawed, turn heat to medium low to low and continue to cook for next 10-12 minutes uncovered; stir regularly
While it is cooking, in a medium sauce pan, combine butter and flour together
Whisk to combine and cook roux for about 1 minute
Add milk and whisk until sauce is smooth and thick
Stir in Parmesan Cheese, salt and pepper to taste
Sauce should be thick to coat the back of a spoon
Pour sauce on top of cauliflower rice and fold all ingredients together; salt and pepper to taste
Top with more Parmesan cheese (optional)
Garnish with dried parsley flakes and serve immediately

Recipe Ingredients and Tools

---
Serve This With: 

---

You May Also Be Interested In:

Home > Vegetarian Recipes > Parmesan Cauliflower Risotto