Fried Rice Recipe Easy

Traditional Cauliflower Fried Rice
Everything Is Traditional,
But The Rice
Fried rice recipe easy always has eggs and rice.  We are going to use the traditional method and most traditional ingredients with only one exception.  We use frozen cauliflower rice to replace the regular rice.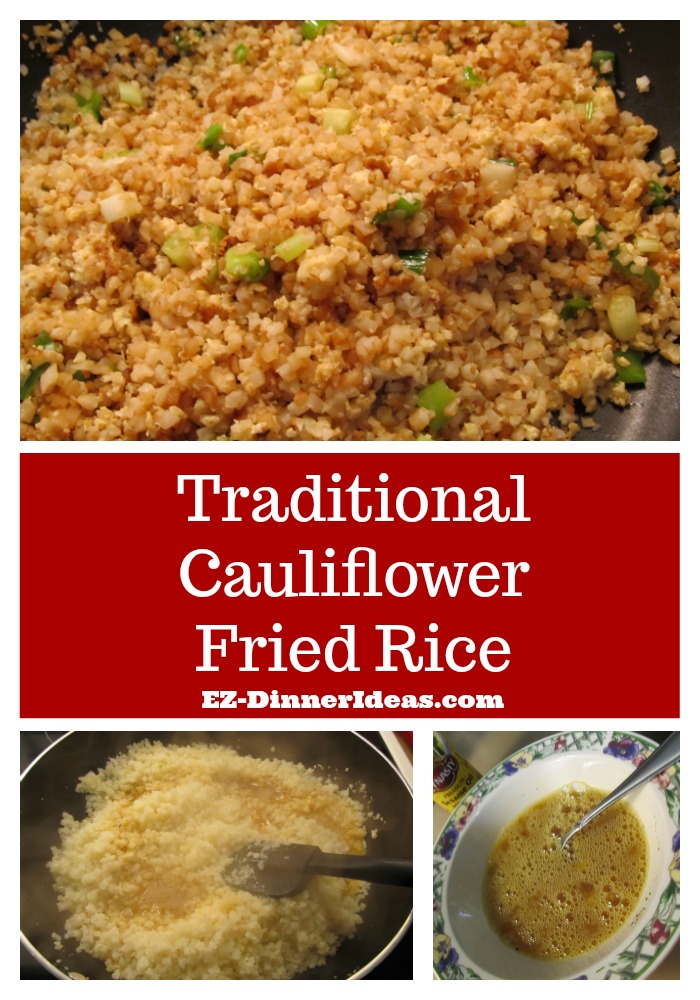 Total Time: 20 Minutes
Prep Time: ZERO   
Cook Time: 20 Minutes  
Serving: 2-4


Traditional Cauliflower Fried Rice, never in my imagination that I had ever thought of replacing rice in this traditional and famous Chinese recipe with a different ingredient.
But what made me to change my mind?  It was not because of the trend that everybody makes so many things with cauliflower, but carbs makes me tired.  I need my energy to be on top of the game everyday.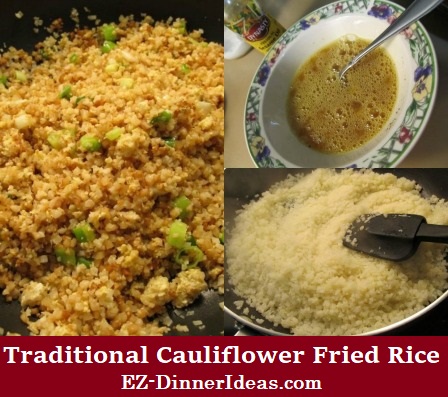 Ask my 8-year-old, "What is your mom's favorite food?"  "Rice, pasta and noodles". Yep, I love carbs.  Rice, noodles and pasta are my all time favorite.  However, as I get older, I get tired easily after eating carbs.  With a full-time job, a kid with a very packed schedule and try to run my own business, I can't sleep my time away.  So, any solution?  Well, with a lot of reluctance, I finally gave in to try this recipe.

But why did I call "traditional"?  Because I use traditional Chinese fried rice cooking method and seasonings to cook it.  Everything in this recipe is traditional, except the rice.  I didn't use as much oil as the traditional dish either. 
Stick to everything traditional will guarantee that I will NOT sacrifice the taste and texture just because I changed the main ingredient to cauliflower rice.

Viola!  Little did I expect that it came out exactly how the traditional Chinese fried rice tastes.  Even the texture, too.  I am super happy.

Fried Rice Recipe Easy CHEF NOTES
You will see the traditional Chinese fried rice and American Chinese take-out presentations here.  All you need to do is to add the Superior dark soy sauce at the end to give the American-Chinese look.

Please feel free to double, triple or even quadruple the quantity.  The rule of thumb is 1 bag of frozen cauliflower rice vs 1 egg.  So, if you use 4 bags of frozen cauliflower rice, add 4 eggs. 

The traditional recipe is the base of many Chinese dishes. We also serve it as a side dish.  So, treat this recipe as the traditional one which will open up a lot of options for you.

Ok, I know you are itching to ask me this question, "Do I still crave for my carbs fix?"  Not as much.  However, I must admit that a traditional Chinese recipe always makes me feel like home.  Enjoy!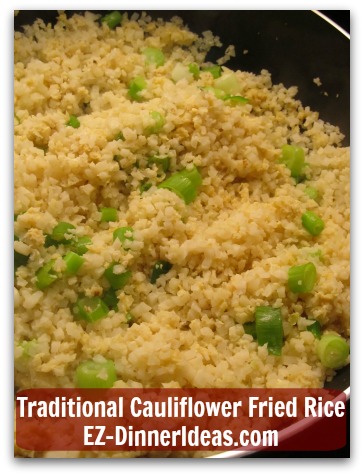 If you don't pay close attention to the look of the rice grains, who knows this made out of cauliflower?
This ebook will teach you to cook authentic Chinese food in a healthy way. It will also show you how to get the beautiful colors, texture and taste you get from your favorite Chinese restaurants.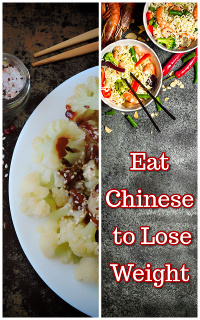 Fried Rice Recipe Easy Recipe and Directions

Ingredients
2 bags (12 oz each) Frozen Cauliflower Rice
2 Scallion (chopped)
2 Eggs (beaten)
1 tsp Superior Light Soy Sauce
1 tsp Superior Dark Soy Sauce (optional)
2 tsp Sesame Oil
Salt and pepper to taste

Directions
Cook frozen cauliflower rice in a non-stick big skillet at high heat for about 5-8 minutes until thawed and warm; stir regularly
Combine eggs, light soy sauce, salt and pepper in a separate bowl and put aside
Stir in sesame oil
Add in egg mixture and stir immediately to coat the "rice" grains until egg solidified
Salt and pepper to taste
Add superior dark soy sauce to give an American-Chinese take-out look; 1/2 tsp at a time until it reaches to desired coloring
Add scallion to garnish and serve immediately
---
Fried Rice Recipe Easy Steps with Photos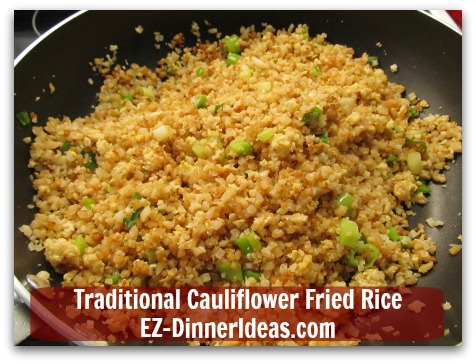 Oh, wait....if you want to have American-Chinese take-out look, add dark soy sauce (a.k.a. Superior Dark Soy Sauce)
---

Recipe Ingredients and Tools

---
Serve This With: 

---

You May Also Be Interested In:

---
Home > Asian Recipes > Fried Rice Recipe Easy | Traditional Cauliflower Fried Rice