Mixed Vegetable Fried Rice
Chinese Family-Style Vegetable Fried Rice
Bring A Traditional Chinese Family Dish To Your Table
This mixed vegetable fried rice is a very traditional and popular Chinese family dish.  Yes, it is still very common today.  It is super easy, one-pot, colorful and having almost every important nutrient in it.  It is too good to not to make this dish at home.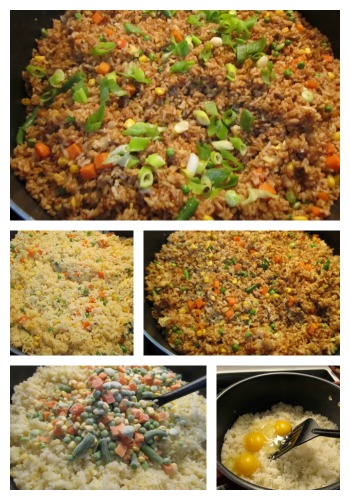 Total Time: 20-25 Minutes
Prep Time: ZERO  
Cook Time: 20-25 Minutes  
Serving: 6-8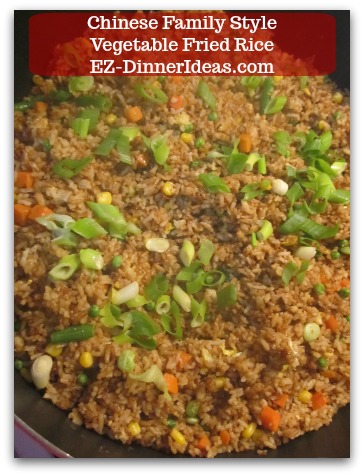 Mixed Vegetable Fried Rice Recipe and Instructions

Ingredients
1lb Frozen Mixed Vegetables (not thawed)
6 Cups Cooked Steamed White Rice (find out more how to cook a pot of perfectly steamed white rice)
6 Eggs
1/4 cup Canola Oil (May need more)
2 tsp Light Soy Sauce
1 tbsp Dark Soy Sauce
1 tsp Sesame Oil
Salt and pepper to taste
2 Scallion (optional; chopped)
Refer to perfectly steamed white rice for the techniques and adjust the quantity of rice for your need.
Preheat a big skillet at medium high heat with canola oil
Add cooked rice and cover to let rice to warm up; stir a few times in between to break up the rice clusters until rice grains are bouncing on the skillet.  Lower heat and add more oil (1 tbsp at a time), if necessary.  About 10 minutes. (refer to Best Fried Rice Recipes to find out the tips and techniques)
Add eggs and stir aggressively to break up eggs to coat rice until egg is set.  Every grain of rice should be golden in color.  About another 3 minutes.
Stir in frozen vegetables until they are warmed through, about 2 minutes.
Stir in light soy sauce.
Stir in dark soy sauce until rice reaches to your desired brown color.
Salt and pepper to taste.
Turn off heat and stir in sesame oil.
Garnish with scallion (optional) and enjoy immediately.
Mixed Vegetable Fried Rice Steps with Photos
---

Recipe Ingredients and Tools

---
Serve This With: 

---

You May Also Be Interested In:

---
Home > Asian Recipes > Mixed Vegetable Fried Rice | Chinese Family Style Vegetable Fried Rice