Turkey Fried Rice

Turkey Pot Pie Fried Rice
Asian Fusion Easy Family Meal On The Table In 30 Minutes
Turkey fried rice is a recipe by combining two authentic recipes from different cultures.  The 2 main ingredients are leftover.  Nothing goes to waste but create a mouthwatering dinner for your family to enjoy.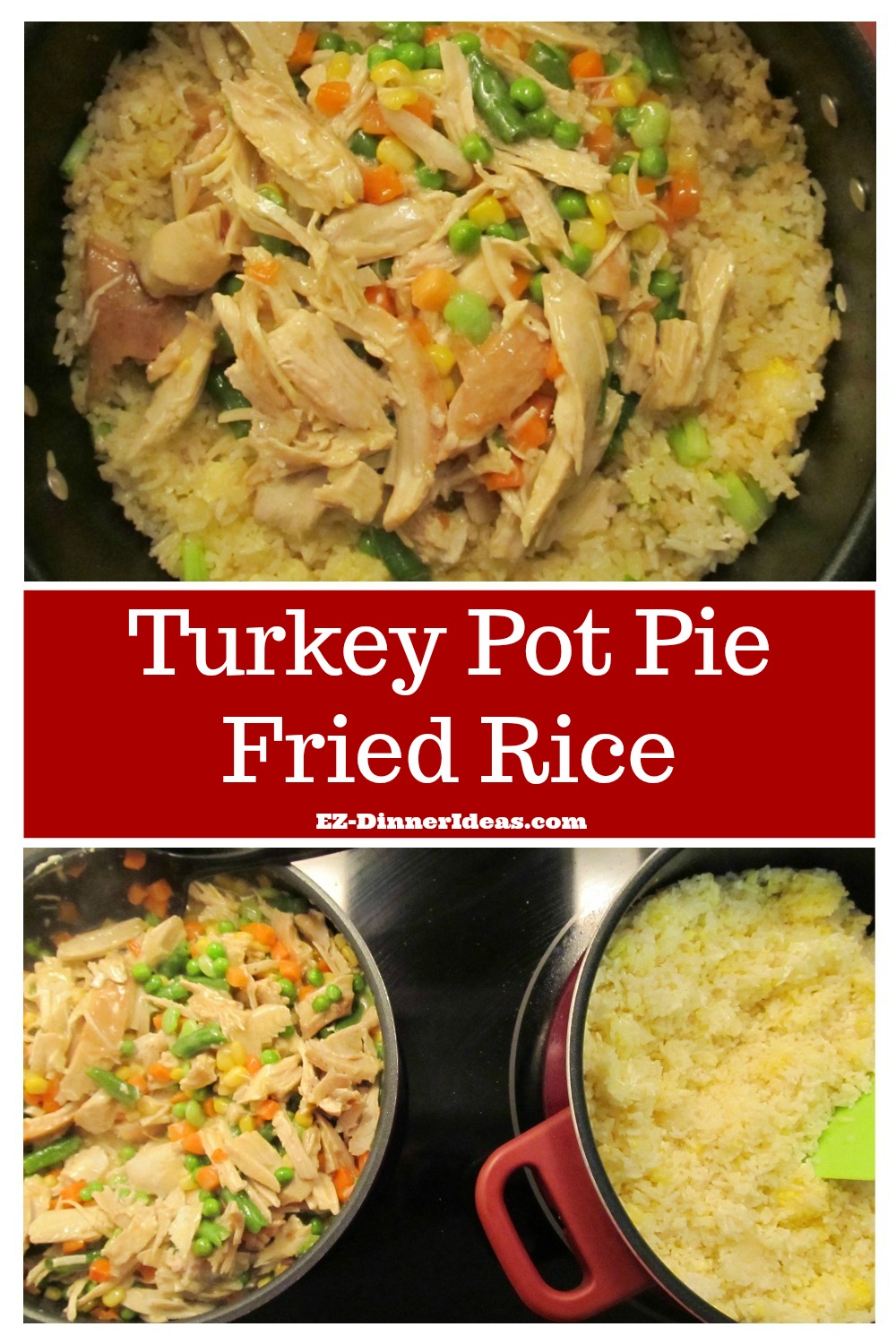 Total Time: 40 Minutes
Prep Time: 10 Minutes  
Active Cook Time: 30 Minutes  
Serving: 4-6


Turkey fried rice is definitely a recipe of east meets west.  Or Asian fusion.  However you want to call this recipe.  Normally, you serve chicken or turkey pot pie with biscuit or the pie.  Why don't we switch it up and kick up the notch, right?

This recipe is inspired by a type of fried rice served in Hong Kong.  There are many restaurants, including mom-and-pop fast food joints, like to serve dishes with fried rice as the base.

Then, it will top with something with sauces.  One of the best examples is "Ying Yang" fried rice.  Two sauces on top of the fried rice.  One is the red sweet and sour sauce that you are very familiar with.  The other one is a white shrimp sauce.  It looks like Alfredo sauce.  But it is much lighter in texture and calories wise.

And I am telling you....when the rice absorbs the sauce, each bite is like in heaven.  Nothing better than use up your leftover with this twist, huh?  That was how this recipe created.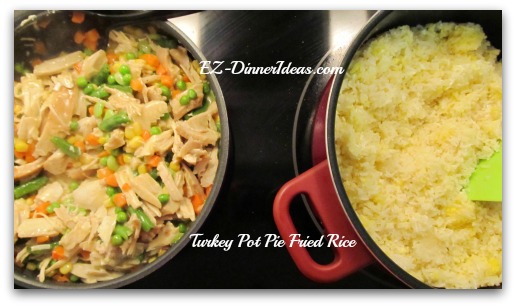 CHEF NOTES
Heads up....you will have a big pot of fried rice and a skillet of turkey and vegetables in gravy cooking at the same time.  You will switch from one to the other back and forth during the cooking process.
No, you will not be overwhelmed.  And it is absolutely doable.  You will realize that the pot of rice will need less attention at the beginning while you need to be more focus on the skillet of turkey and vegetables. 

Then, your focus will switch when the overnight cooked rice need more attention while the skillet of turkey is almost done and need very little work.
And I have 100% confidence in you that you will get this delicious family meal on the table in 30 minutes.
When I made this turkey fried rice, I had all the leftover which was so easy to have everything ready.  Please feel free to use some store-bought help, such as rotisserie chicken, gravy in the jar and so forth.  Yes, we do want to provide a healthy family meal.  But it is the matter of having everybody sitting on the same table to have quality time.
To learn more about the tips to make the best fried rice, click on this link.
This ebook will teach you to cook authentic Chinese food in a healthy way. It will also show you how to get the beautiful colors, texture and taste you get from your favorite Chinese restaurants.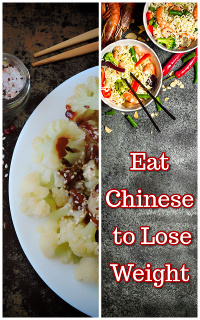 Turkey Fried Rice Recipe and Directions

Ingredients
4-6 cups overnight cooked steamed white rice
1 pound frozen mixed vegetables (frozen, not thawed)
3 eggs
3-4 cups shredded cooked turkey/chicken
2-3 cups gravy leftover
4-6 scallions (chopped)
Salt and pepper to taste
1/2 cup canola oil (divided)
1 splash of superior light soy sauce
1/4 teaspoon Sesame Oil (optional)

Directions
Preheat a Dutch oven or big pot at medium high heat with 1/4 cup oil; add rice in and cover; stir occasionally until rice is broken down into grains.  Takes about 10-15 minutes
At the same time, preheat a big skillet at high heat with 2 teaspoon oil and add frozen mixed vegetables in; stirring regularly until vegetables are thawed. 
Add gravy into the vegetables and turn heat down to medium until the gravy starts bubbling
Then, stir in the cooked turkey until the meat is warm through
While you are working on the turkey, switch it back to the rice and stir it regularly and help it to break down into grains.  Add more oil is needed
When the grain is hot enough to bounce in the pot, add eggs on top and salt and pepper to taste

Keep stirring until the eggs coat the rice well and looks golden in color and stir in soy sauce
Turn off the heat and add sesame oil and scallions
Stir to combine and top the fried rice with turkey and gravy and enjoy
---

You May Also Be Interested In:

---
Home > Asian Recipes > Turkey Fried Rice | Turkey Pot Pie Fried Rice