Oh, Yeah!
You Can Make
Sweet and Sour Pork
At Home
Sweet and sour pork is southern Chinese dish.  It is not American Chinese dish.  If you look into other southeastern Asian recipes, they always cook with fruit and some kind of sweet and sour sauces.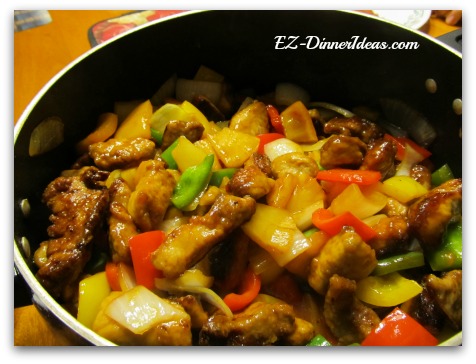 Prep Time: 20 Minutes   Cook Time: 20 Minutes   Serving: 6-8
In southern China, the weather over there is hot & humid.  For instance, Hong Kong, where I came from, has long summer and short winter.

The average winter temperature is about 60°F (20°C) and summer temperature is always 100°F (30°C).  To make people having appetite, we cook this kind of dishes.  
Traditionally, we deep fry the pork.  But I think you may appreciate a cooking method which is much healthier.  In addition, I add more vegetables than normal sweet and sour pork.  Enjoy!

CHEF NOTES
Feel free to replace the pork with chicken.  If so, I highly recommend the dark meat.  If you insist to use chicken breast, cut down the quantity of the meat marinade into half.  Then, the meat will not be too salty.

Sweet and Sour Pork Recipe and Instructions
Ingredients

4 Bell Pepper (preferably 4 different colors; seeded and discard membranes; cut in bite size)
1 pound Boneless Country Style Ribs (cut in bite size)
I Can (8oz) Pineapple Chunk (drained; Del Monte and Dole brands have a product in 100% pineapple juice if you are conscious about the sugar in-take)
1 Medium Size Yellow Onion (cut in bite size)
1 heaping tablespoon Flour
3 tablespoon Canola Oil

Seasonings
(For meat marinade only)
¼ teaspoon White Pepper (or freshly ground black pepper)
½ teaspoon Salt
¼ teaspoon Sugar
1 teaspoon Superior Lite Soy Sauce
1 splash Superior Dark Soy Sauce (optional; it just gives the color to the meat)

(For Sauce only)
1 Cup Ketchup
2 tablespoon Brown Sugar

Marinate the meat, at least 4 hours, with all the marinade seasonings
Before cooking, add flour and mix well to give a thin crispy coating (The flour will also act as a thickening agent for the sauce later)

Preheat a Dutch oven at medium high heat with canola oil
Cook the meat about 2-3 minutes on each side (Make sure there is room between each piece of meat.  It may need to separate into 2-3 batches.  If so, take out the cooked meat and put it into a plate and cover with aluminum foil to keep it warm.)
Transfer all the cooked pork to a plate
Turn up the heat to high and add peppers and onion
Cook about 5 minutes until crisp tender or desired doneness
Stirring regularly
Add pineapple chunks, ketchup and brown sugar
Adjust seasoning and add meat back into the Dutch oven
Quick toss to coat and serve with steamed rice on the side
Sweet and Sour Shrimps
Instead of
Sweet and Sour Pork


That's right.  You can switch pork to shrimps to make it sweet and sour shrimps.  It will be another very easy healthy dinner.  The prep time may take longer if you need to devine and shell the shrimps.  Here is what you can do with the ingredient list:

Ingredients
Everything stays the same as above
1 pound Medium Shrimps (26-30 count; shelled and devined)
Eliminate the boneless country spare ribs and flour

Seasonings
Eliminate the meat marinade
The rest stays the same as above


Instead of cooking the meat in step 4 as above, cook shrimps about 2-3 minutes per side
As soon as the shrimps turn pink, take them out asap.  Don't cook all the way through
Shrimps will be cooked again when you toss them back in in step 11


You May Also Be Interested In:

Home > Pork Recipes > Sweet and Sour Pork