Sweet and Sour Shrimp Recipe
Sweet and Sour Shrimp Recipe
Crazily Easy Chinese Dish for Feeding A Big Family with Low Budget

This sweet and sour shrimp recipe will make you to cook Chinese all the time at home.


Total Time: 20 Minutes
(Both active and inactive time go simultaneously.)
Prep Time: ZERO  
Active Cook Time: 20 Minutes  
Inactive Cook Time: 20 Minutes  
Serving: 6-8


As much as I love to use natural ingredients for any dishes on the table, scrambling to get everything ready on a busy day could be a challenge.  

While I was writing this recipe, it was still in the middle of April 2021.  Many offices are still on locked down mode and many people like I do still are working from home.  My little one has been very lucky that he was at school in person since Sep 2020.  Running back and forth from school to home office ended up spending 2 extra hours on the road and still need to make up 2 extra hours for work every day.  You can imagine the extra time and stress because of this change.  So, cooking comfort food like this sweet and sour shrimp recipe for dinner is perfect.  But I didn't want to go through all the prep work.  That was how this recipe was created.

CHEF NOTES
You can replace it with popcorn chicken if you are not a fan of seafood.  

I purposefully baked the popcorn shrimp 2-3 minutes more to get it extra crunchy which gives a better texture after mixing with the sauce.

Yes, you can cut this recipe into halves.  I cooked this for a big family dinner.

When it comes to store-bought sweet and sour sauce, you may need to adjust the sweetness by adding more sugar or a small splash of vinegar, depending on the brand and your preference.  If you like to make this recipe from scratch, click here.
---

Recipe Ingredients and Tools

---
Sweet and Sour Shrimp Recipe and Directions

Ingredients
1.5 lbs Store-bought Frozen Popcorn Shrimp
3 lbs Frozen Stir-Fry Mix (bell peppers and onion mix)
1 jar (11-13oz) Store-bought Sweet and Sour Sauce
1 can (20oz) Pineapple Chunks (separate from juice and save it for use later)
2 tbsp Extra Virgin Olive Oil
Sugar, salt and pepper to taste
Steamed white rice served it on the side

Directions
If you choose to serve white rice on the side, start cooking it first.  (If you select to use some quick cooking rice, it will need to adjust accordingly.)
Bake popcorn shrimp according to package directions.
While waiting both rice and shrimp cooking, preheat a big deep skillet at high heat with 2 tbsp extra virgin olive oil.
Add frozen vegetables into skillet and cover with lid; stir occasionally so that the vegetables are cooked evenly (about 8-10 minutes).
Add pineapple and sweet and sour sauce.
Add about 2 tbsp reserved pineapple syrup into the sweet and sour sauce jar to rinse out the rest of the sauce to stir into the vegetable mixture.
Let the mixture cook in low boil; uncovered (about 3-5 minutes)

Add sugar, salt and pepper to taste at this time.
If the sauce is too watery, combine 1 tbsp corn starch and water to make slurry, then stir into the vegetable sauce mixture.
Stir in the crispy popcorn shrimp and enjoy immediately with rice.
This ebook will teach you to cook authentic Chinese food in a healthy way. It will also show you how to get the beautiful colors, texture and taste you get from your favorite Chinese restaurants.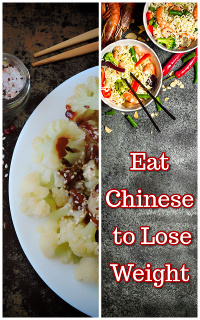 ---
Sweet and Sour Shrimp Recipe Steps with Photos
4 easy store-bought ingredients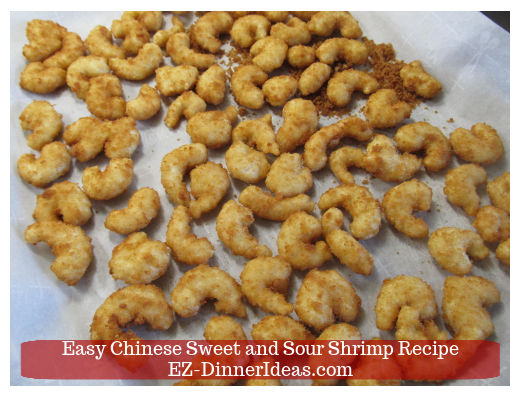 Bake popcorn shrimp according to package instructions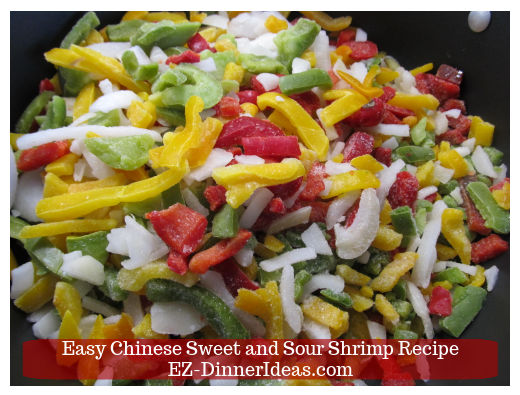 Cook frozen vegetables in a deep skillet
Stir regularly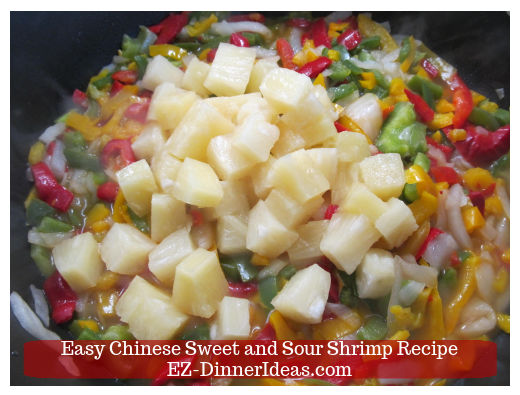 Add pineapples into the cooked vegetables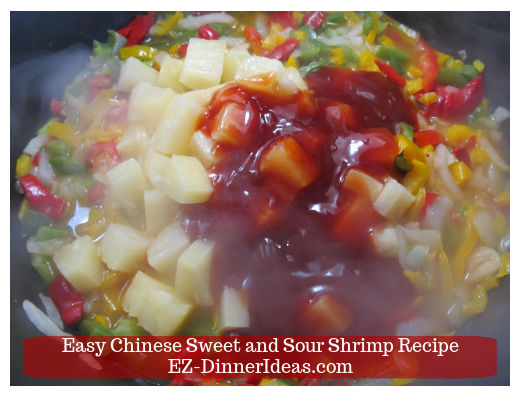 Add sweet and sour sauce
Stir to combine everything together
Stir in popcorn shrimp
It's great to serve as is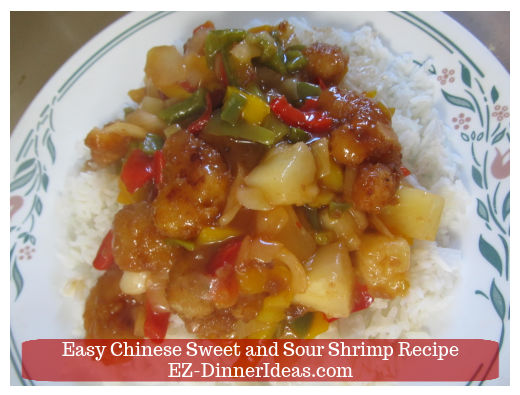 ENJOY sweet and sour shrimp with steamed rice
---

You May Also Be Interested In:

---
Home > Seafood Recipes > Easy Chinese Sweet and Sour Shrimp Recipe