Hongkong Stir-Fry Beef Spaghetti
Hongkong Stir-Fry Beef Spaghetti
A One Dish Pasta Meal From Asia
This Hongkong stir-fry beef spaghetti recipe is my father's all-time favorite.  He got to have it at least once a week.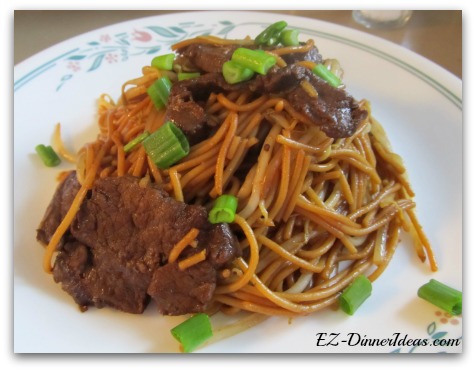 Prep Time: 10 Minutes   Cook Time: 25 Minutes   Serving: 4
I love this recipe so much that I make it all the time.  There was a time that I tried to substitute the regular spaghetti with the whole grain one.  (Well…Like many people, I have to watch my weight, too.)  It doesn't taste the same.  But if you
just want to fulfill your craving that is a pretty good alternative.

Also, I double the quantity on the bean sprout.  If you like this vegetable, feel free to do so.  You can find it in the produce aisle, usually next to the pre-washed vegetables.  If you had never tried it before, only consider to double the
quantity after your first trial.

Fresh bean sprout is not only a main ingredient of this delicious Asian recipe, but also adds a crunch into this Hongkong stir-fry beef spaghetti recipe.  If you use the one in the can, it does NOT bring the same effect.  If you cannot find the fresh ones, this will be a reasonable replacement.  Just to make sure to drain and rinse well. 

For the beef part, please feel free to buy whatever is on sale.  But do remember to pick the meat with the grain in the marble pattern.  The meat will cook like a snap.  Flank steak is another great alternative.
This ebook will teach you to cook authentic Chinese food in a healthy way. It will also show you how to get the beautiful colors, texture and taste you get from your favorite Chinese restaurants.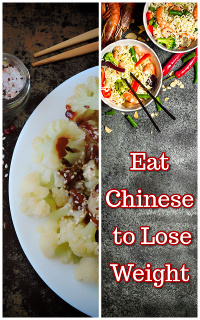 Hongkong Stir-Fry Beef Spaghetti Recipe

Ingredients
1 pound Spaghetti
1 Bag (10 ounces; some brands have smaller sizes) Pre-washed Fresh Bean Sprout
8 ounces Beef Shoulder (thinly sliced at an angle against the grain)
2 Scallion (chopped; optional – for garnish only)

Seasonings
(For Beef Marinade Only)
1 teaspoon Superior Lite Soy Sauce (most brands in the regular grocery stores are this category.  Just do not mix up with the Japanese kind which will give you different flavor)
½ teaspoon Superior Dark Soy Sauce (a.k.a. Black Soy Sauce)
3 tablespoon Light Cooking Oil (such as peanut oil, canola oil or vegetable oil)

(For Pasta Only)
A pot of water
1 teaspoon Salt
1 tablespoon Light Cooking Oil

(For Sauce Only)
¼ cup Oyster Sauce
1 teaspoon Superior Lite Soy Sauce
½ teaspoon Superior Dark Soy Sauce
½ teaspoon Salt
The brand of these 2 jars of soy sauces has a very long history.  You mostly can find it in the Chinese store. 

The dark soy sauce adds the color to the dish while light soy sauce adds the flavor.

There are other brands of soy sauces in your grocery store and called "General purpose soy sauce".

The quality varies by batches.  A batch looks like the dark soy sauce.  Then, another batch looks like light soy sauce.

If you can't find the soy sauces like these 2 jars for this recipe, the regular kind in the local store is fine.

Directions
Marinate meat with soy sauces
Toss to coat
Add oil and toss again
Put it aside in room temperature
Bring a pot of water to boil
Add 1 teaspoon salt, 1 tablespoon oil and spaghetti
Quick stir and let it cook until al dente and drain
Using the same pot that you used for cooking the spaghetti and preheat at high heat
Add beef and the marinade
Single layer the meat and let it brown about a minute each side
Add all the sauce seasonings in and mix
Toss in spaghetti and coat well with sauce
Add bean sprout
Quick toss to warm through and start to wilt; serve immediately
Tips
If you like hot and spicy stuff, serve it with chili oil or Tabasco.

The soy sauces and oyster sauce are available in the Asian aisle.  Black soy sauce may not be available in your grocery store.  If you skip it, it is absolutely ok.  It just gives a very nice brown color to this one dish meal, Hongkong stir-fry beef spaghetti.
---

You May Also Be Interested In:

---
Return from Hongkong Stir-Fry Beef Spaghetti Recipe page to Beef Recipes page

Return to Easy Dinner Ideas Homepage