Asian Cabbage Salad Recipe

Cabbage Mandarin Orange Salad With
Honey Garlic Dressing is A Beautiful, Super Healthy and Tasty Asian Food

This Asian cabbage salad recipe is super versatile.  The dressing can stand in the heat during summer.  Or, it can blend in with other Asian themed dinner at home.  It's super refreshing!

Total Time: 20 Minutes
Prep Time: 20 Minutes  
Active Cook Time: ZERO  
Inactive Cook Time: ZERO  
Serving: 4-6


I must say that this ingredient can sustain its great texture through and through.  This recipe is an expansion of the Chinese pickle part.  It is so colorful and beautiful.

CHEF NOTES

Using the mandolin allows to cut the cabbage super thin which makes it easy to absorb the dressing and eat.

But please be careful when you handle this kitchen tool.  It is super sharp. 

Also, when you slice the cabbage quarter on it, have the cut side of the vegetables facing you instead of the blade.  It is easier to slice through.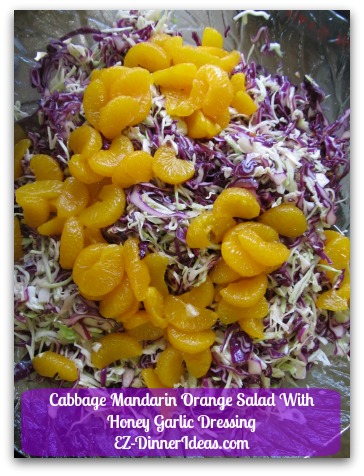 ---

Recipe Ingredients and Tools

---

Asian Cabbage Salad Recipe and Directions

Ingredients
1 small Green Cabbage (about 1lb / 454g)
1 small Red Cabbage (about 1lb / 454g)
1 Can (14oz / 396g) Mandarin Oranges (drained)
Dressing
1 Minced Garlic
1 teaspoon Grated Ginger
1/4 cup (2oz / 50g)Honey
2 teaspoons Superior Light Soy Sauce
2 teaspoon Rice Vinegar
2 tablespoon Extra Virgin Olive Oil
Salt and Pepper to taste

Directions

In a small mixing bowl, whisk to combine all dressing ingredients together and put aside
Cut cabbages into quarters and leave core intact with the wedges (The core is your handle)
Hold cabbage quarter at the core and slice on mandolin (please be careful and watch your fingers)
Face cut side of cabbage away from the blade of mandolin
Transfer slice cabbage to a big salad bowl (it may look a lot and overflowing.  Once the dressing is in, the quantity is perfect)
Add dressing and toss to coat and chill in fridge overnight
Add mandarin oranges and serve
Asian Cabbage Salad Recipe Steps with Photos
---

You May Also Be Interested In:

---
Home > Asian Recipes > Asian Cabbage Salad Recipe with Mandarin Orange and Honey Garlic Dressing