Chinese Pork Rib Recipe

1-2-3-4-5 Spare Ribs
Sticky And Mouth-Watering Ribs
Ready In An Hour
This Chinese pork rib recipe is my mom's recipe.  Even the name of the recipe is hers, too.  Why did she call it 1-2-3-4-5 Spare Ribs?  Well, she named it by the number of measuring spoonful of seasonings.  Pretty cool, huh?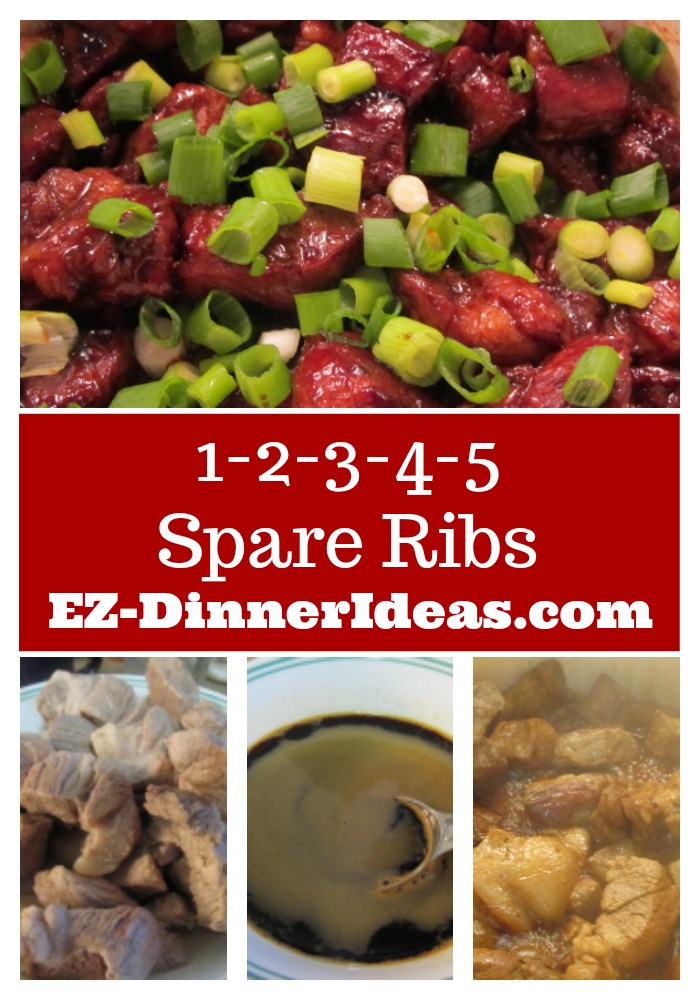 Total Time: 45-53 Hours
Prep Time: 5-8 Minutes  
Active Cook Time: 40-45 Minutes  
Serving: 4-6


I have seen my mom cook this Chinese pork rib recipe countless time in the past and enjoyed it every time when she served it.  This is one of those recipes that I don't memorize very well.  I always rely on referring back to the recipe itself to put it together.  But when it comes to the sauce, my mom always likes to rattle it off that I had a hard time to catch up with her.

Right after moving to the States, I was well prepared one time.  I got my pen and paper ready even before I asked her that same question, "What do you put into the sauce, mom?" 

As soon as I wrote it down and repeated it one more time for her to re-confirm, I almost wanted to pump my fist in the air and screamed out loud, "YES!  I finally got it."  Of course, I didn't do it.  My mom is a very traditional person.  She would tell me that it is not very lady-like. 

Right after getting off the phone, I started making my mom's Chinese pork rib recipe immediately.  But what has been frustrating me all these years was that it just didn't come out right.  The sauce is perfect.  But the meat is not cooked enough or too dry.

I don't give up easily.  So, I finally sat myself down and asked myself, "What did I do wrong?"  Well, the answer didn't come quickly.  It took a while though. 

One day, my light bulb finally came on.  Mom always has the butcher to cut up bone-in pork ribs in bite size.  It is very common over there because that is the way how Hong Kong or Chinese people eat ribs. 

On the other hand, American like the meaty country style ribs.  People like to hold on to that big meaty rib and devour it and lick their fingers clean after that. It is the culture.  But what does it do with this recipe?

Bone-in or not, it is not common to cut up the ribs here in the States.  So after several trials, I finally nailed it.  I used boneless country style ribs and cut into a little bit bigger than bite size. 

Man...the night I had this for dinner.  Not only was I so proud of myself, but also I felt like being back home enjoying it with mom many years ago.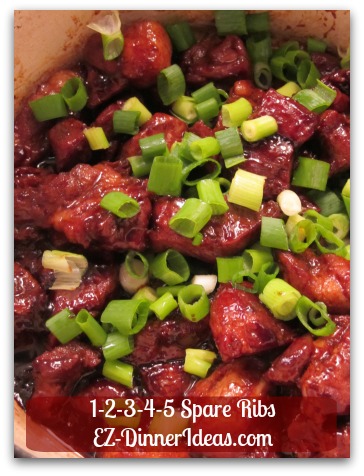 CHEF NOTES

I find that if I add that 1 tsp of salt into the boiling water with the meat, the sauce is less salty.  You may think otherwise.  You still have a chance to salt and pepper to taste the dish before serving.

Occasionally, there may still some bones in the ribs when you bought them back home.  What should you do?  Use a sharp serrated knife or steak knife to cut around the bone.  The meat will come out easily.

Chinese Superior Dark Soy Sauce is your key ingredient here in this recipe to give that nice, dark brown color of the meat.
Chinese Pork Rib Recipe Steps with Photos

Chinese Pork Rib Recipe
Ingredients and Instructions

Ingredients
2.5-3 lb Boneless Country Style Ribs (about 1.5" cube)
1 tsp Salt
2 tbsp Superior Dark Soy Sauce
3 tbsp Rice Vinegar
4 tbsp Sugar
5 tbsp Water
2 Scallion (chopped; for garnish only)
(I got those numbers in bold so that you can see where my mom got the name of 1-2-3-4-5 spare ribs from.)

1 tbsp Corn Starch
1 tsp water
2 tbsp Extra Virgin Olive Oil
1/2 Soup Pot of Water

Bring 1/2 soup pot of water to a boil
Add 1 tsp Salt and country style ribs
Stir to ensure all meat is submerged into the water
When water is rolling boil again, use slotted spoon to take meat out
Discard water and use the same pot and preheat at medium high heat with extra virgin olive oil
Add meat back into the pot and lightly brown it, about 2 minutes per side
In a separate mixing bowl, combine soy sauce, rice vinegar, sugar and 5tbsp water
Stir in sauce mixture and toss to coat meat
Cover and simmer at medium low heat to cook 20 minutes, stir occasionally
In a separate bowl, combine corn starch and 1 tsp water to make slurry
Stir in slurry into the meat
Salt and pepper to taste
Garnish with chopped scallions
Serve with rice and enjoy
---

Recipe Ingredients and Tools

---
Serve This With: 

---

You May Also Be Interested In:

---
Home > Pork Recipes > Chinese Pork Rib Recipe