Once You Learned This
Simply Sauteed Broccoli Recipe
Pair It Up With Other Ingredients
You will love this simply sauteed broccoli recipe if you are crazy for this vegetable.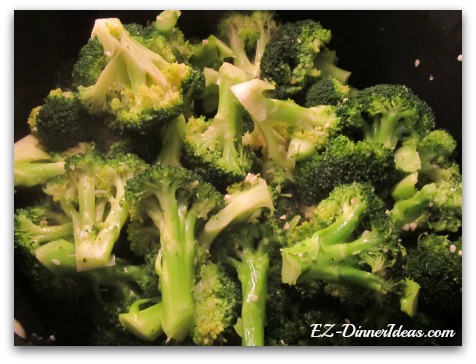 Prep Time: 10 Minutes   Cook Time: 7-10 Minutes   Serving: 4-6
Friends and family always ask me how to cook the broccoli to crisp tender and the vegetable still looks bright green. The tricks are:

1) Do not let the vegetables covered under the lid for too long
2) Look at the cut side of the stem.  When the edge is translucent and the middle of it is still white, it is time to get the vegetables off the heat.

This method is like half sauteed and half steam the broccoli without a wok. Once you learn this skill, you will be on auto-pilot the next time.

When broccoli is on sale, I love to buy it in big quantity. This recipe will take care of cooking the big quantity of broccoli like a snap.

Besides, this vegetable is so versatile. It can pair with many different ingredients. If you have the New Year resolution to eat healthy and/or lose weight, this simply sauteed broccoli will be a great starter.


CHEF NOTES
If you only cook about a pound of broccoli, cut down the water to 1/4 cup, so as the other seasonings.

Simply Sauteed Broccoli Recipe and Instructions

Ingredients
2-3 pounds Broccoli Crowns (cut into florets)
1/2 teaspoon Salt
1 pinch Black Pepper
1 tablespoon Extra Virgin Olive Oil
1 cup Water
1-2 Cloves Garlic (minced)

Put broccoli into a big soup pot or Dutch oven (mine is 6 quart)
Add these ingredients in the following order: salt, pepper, extra virgin olive oil and water
Cover the pot with the lid
Turn on the heat to medium high to high heat
Let it cook for about 4-7 minutes
When the water boils and the steam is pushing the lid
Add garlic and stir well (broccoli should be crisp tender by now)
Turn down to medium heat and cook for another 1-2 minutes if necessary or until desired crisp tenderness
Simply Sauteed Broccoli with Chicken Sausage
You can expand this simple side dish recipe to be a full blown easy healthy dinner.  It takes about the same time while the broccoli is cooking.  Just pair the vegetables with chicken sausage.
The nice thing is that most chicken sausage available in the grocery store uses all natural ingredients with various flavors for you to choose from.  It is cooked.  You only need to brown it up. 
My personal favorite brand is Al Fresco.

Ingredients
2 packages (12 ounce each) Chicken Sausage (2 sausage for each person)
1 tablespoon Extra Virgin Olive Oil

While broccoli is cooking, preheat a big skillet at medium high heat
Add extra virgin olive oil and sausage (I highly recommend you to cover the skillet with splatter screen for easy clean up later)
Turn the sausage about every 2-3 minutes until it is all browned

---
Serve This With: 

---

You May Also Be Interested In:

Return from Simply Sauteed Broccoli Recipe page to Vegetarian Recipes page

Return to Easy Dinner Ideas Homepage