Barbecue Pork Rib Recipe
Chinese Hoisin Glazed Ribs Are Crazily Easy and Delicious.  You Will Make All Over Again
This barbecue pork rib recipe takes Chinese ribs up another notch.  It is super low maintenance and anybody can make it at home.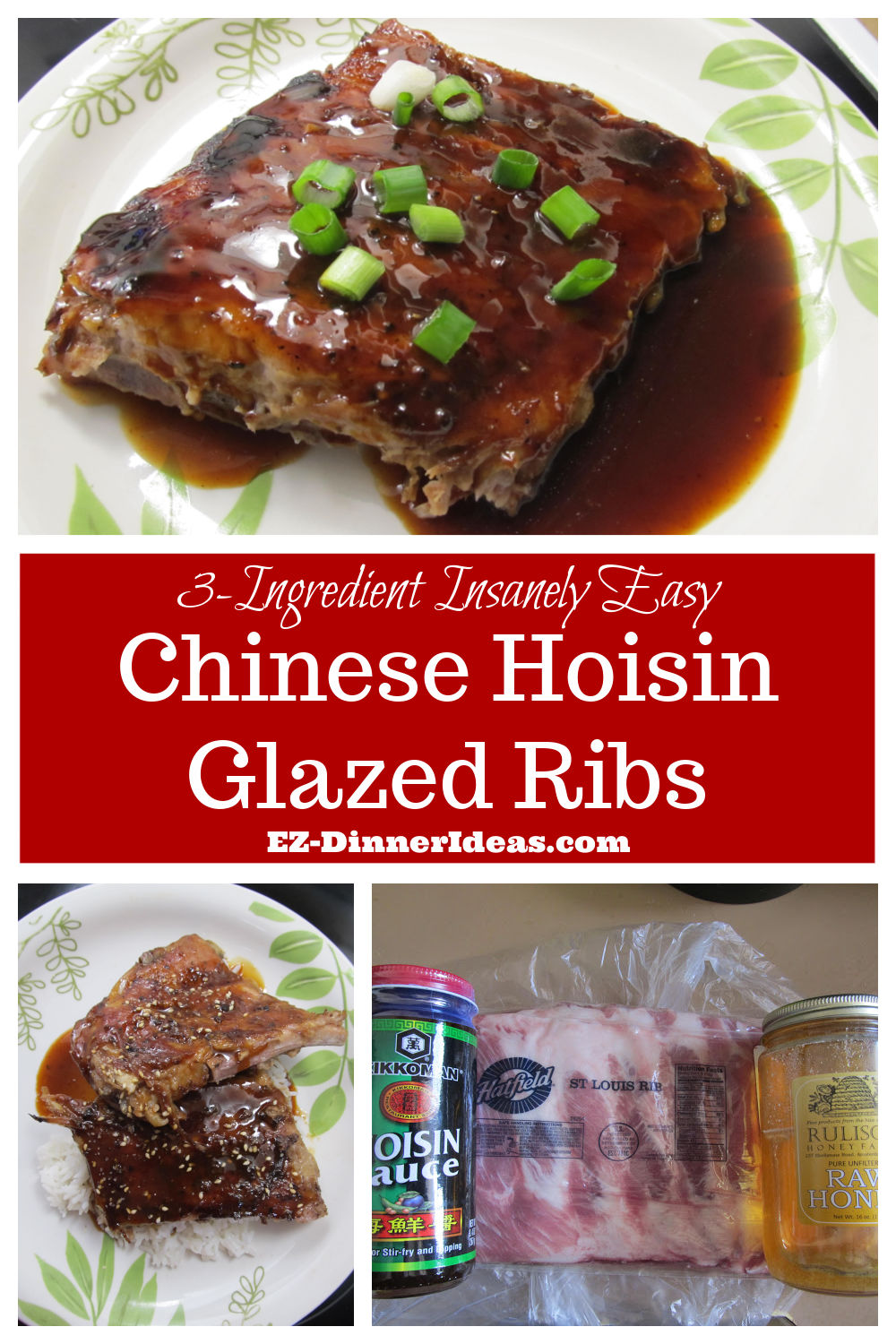 Total Time: 3 Hours 10 Minutes - 3 Hours 40 Minutes
Prep Time: 10 Minutes  
Active Cook Time: 30 Minutes  
Inactive Cook Time: 3-3.5 Hours  
Serving: 4-6


This was the first recipe we worked on in the first class of 7th grade home economics.  The original recipe used country style or spare ribs.  It was the kind of ribs with a lot of meat.  Even though the result met our teacher's expectations back then, I didn't like it at all.  In my opinion, there was too much meat to get the flavor in.  And it was very chewy.

I don't know why I still remember it.  This recipe has been in my mind for so long that I had wanted to make a better version for many, many years.  One day, I decided to re-do this barbecue pork rib recipe in a much better way.  And there we go.  I did it.  It was so awesome that I couldn't resist to make it again.  When I did the second time, I served it in our family dinner night and it was another big hit.

CHEF NOTES
I use St.Louis ribs because it is a cheaper cut and it holds up pretty well.  Country style ribs have too much meat to cook through.  As much as I love baby back ribs, a rack of ribs not falling apart on me would make a huge difference when it is served on a Chinese dining table.  You will understand as you get into the recipe.

Serving with rice is to stick to the original recipe.  Also, the sauce works better to have something simple to go along.

This glaze is perfect for burger.  If you have any sauce leftover, you know where it should go.

It may look like there is very little seasoning on the ribs and the glaze is watery.  The Hoisin sauce has very intense flavor.  So, a thick sauce will be too overpowering.  Believe me, don't let the look of the sauce to fool you.  You will be wowed by this Chinese barbecue pork rib recipe.

You can cook 2 racks of ribs about the same size and weight together in the oven.  Make sure that there is plenty of space between the racks of ribs.  It will ensure everything cook evenly without doubling the cook time.  The rest of the ingredient quantity stays the same.  There will be plenty of barbecue sauce for 2 racks.  You may want to double the rice serving though.
---

Recipe Ingredients and Tools

---
Barbecue Pork Rib Recipe and Instructions

Ingredients
2.5-3lbs (1.13-1.36kg) St. Louis Ribs
1 jar (8-9oz / 226-255g) Chinese Hoisin Sauce
1 jar (8-9oz / 226-255g) Water (use the jar that you just emptied out the Hoisin sauce and fill it up with water.  Cover it with lid and shake.  It will rinse out the sauce in the jar.  Nothing goes to waste.)
1/4 cup (50.4g) Honey
Salt and pepper to taste
1 cup (237g) Long Grain White Rice + 1.5 cups (302g) of Water

Line a baking sheet with aluminum foil and preheat oven at 325F (163C).
Lay a piece of foil that is big enough to wrap the rack of ribs later.  But for now, we use it as your work station.
Lay ribs on foil bone side up and peel membrane and discard.
Salt and pepper both sides of the ribs.
Wrap ribs tightly with foil.  If there is a part of meat left uncovered, wrap the entire ribs with one more piece of foil again.  Transfer to foil lined baking sheet and bake for 3-3.5 hours.
30 minutes before the ribs out of the oven, cook white rice and make glaze.
In a medium saucepan, combine Hoisin sauce, water, honey and a pinch of each of salt and pepper together and cook it at low heat.  
The sauce should be very thin.  It is just enough to coat the back of a spoon.  The flavor is very intense.
Unwrap ribs from foil and spoon sauce on top of ribs (just enough to cover the meat) and broil for 1-2 minutes.
Cut ribs along with its bones and transfer to serving plate, garnish with scallion and/or sesame seeds (both optional) serve with steamed white rice and enjoy!
---
Barbecue Pork Rib Recipe Steps with Photos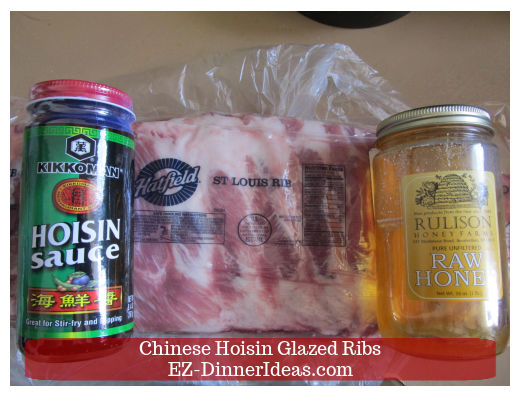 3 easy ingredients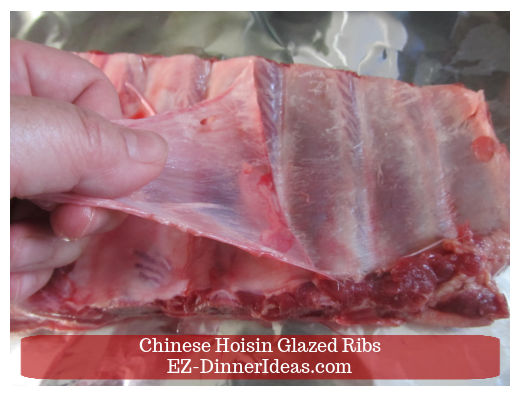 Peel and discard membrane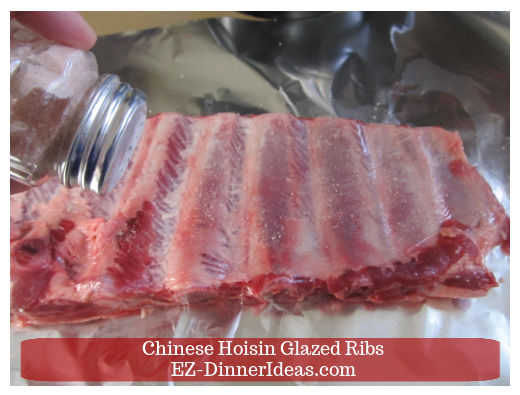 Add salt on meat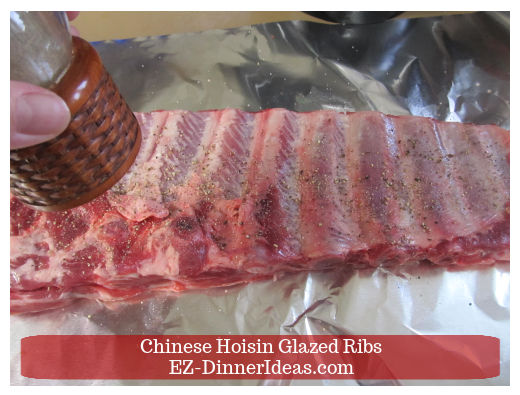 Add pepper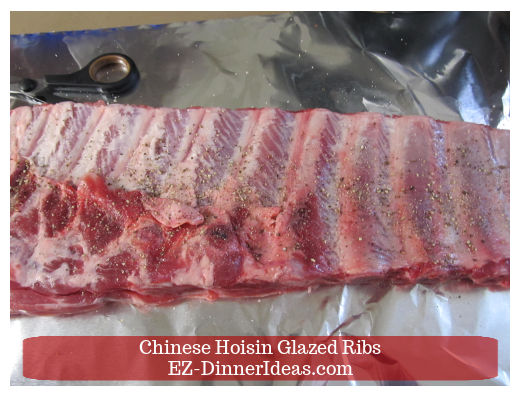 One side is all seasoned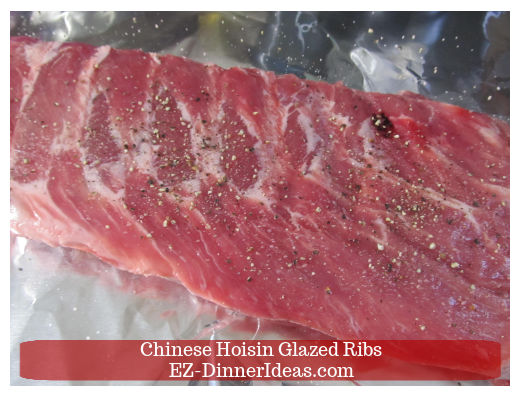 Season the other side, too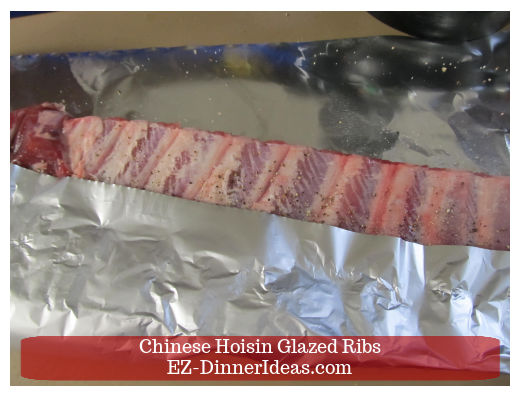 Wrap meat with foil tightly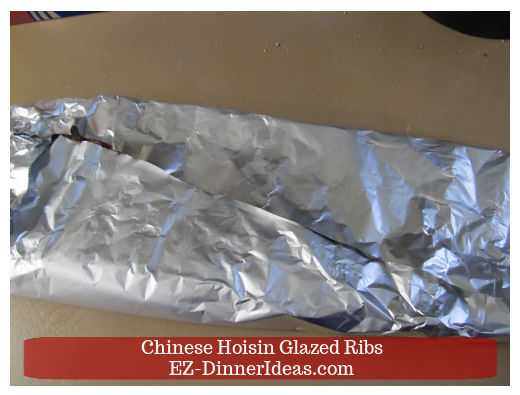 There is still a small gap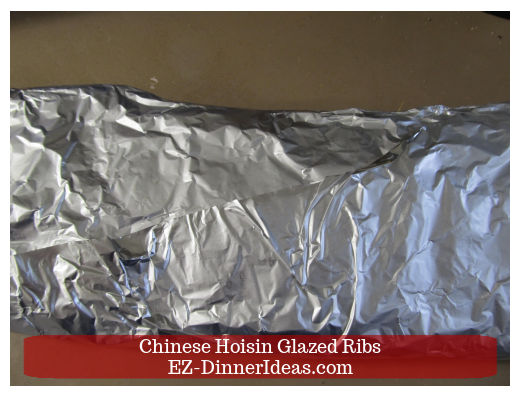 Wrap another layer of foil to seal it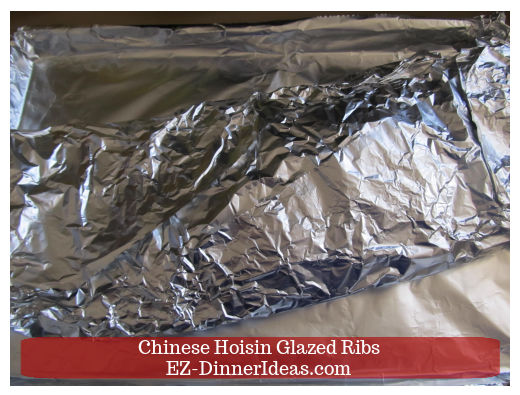 Transfer to baking sheet and bake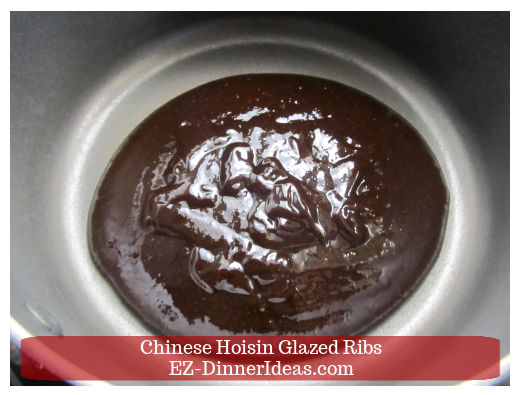 Make sauce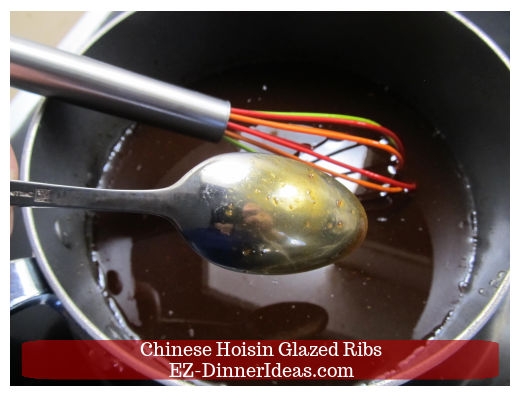 Sauce is thick enough to coat the back of the spoon, not too thick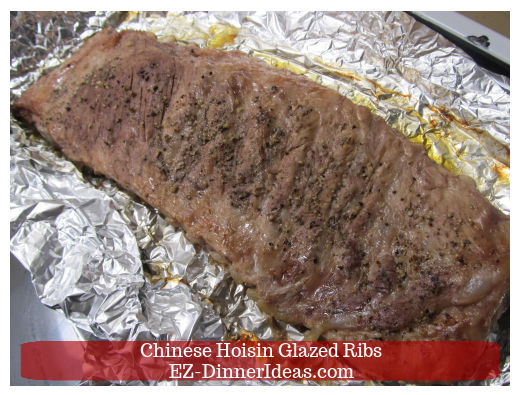 Unwrap foil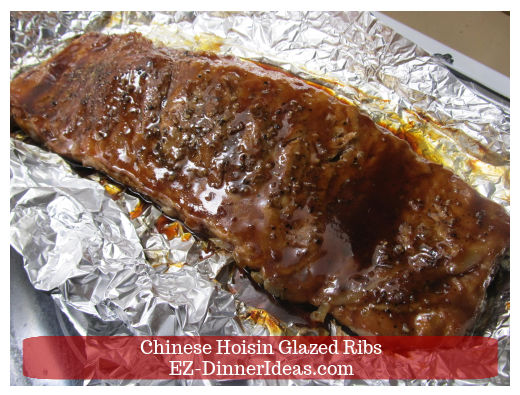 Add sauce to glaze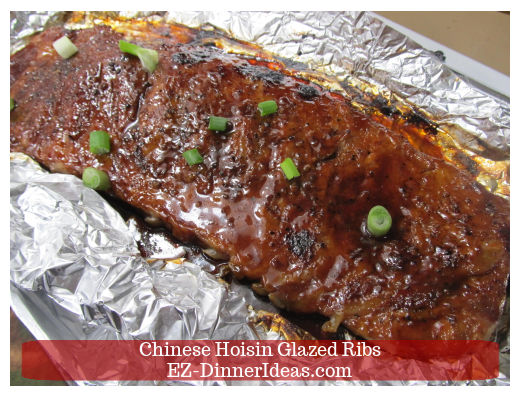 Broil and garnish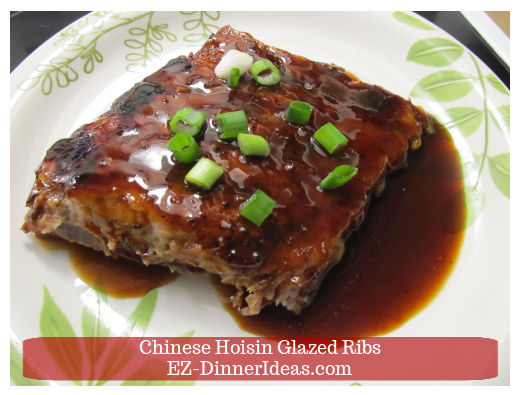 Enjoy as is
---
Serve This With: 

---

You May Also Be Interested In:

---
Home > Pork Recipes > Barbecue Pork Rib Recipe | Chinese Hoisin Glazed Ribs