Chinese Salt and Pepper Pork Ribs
Asian Flair of Heat and Spice
Chinese salt and pepper pork ribs...This is one of the signature dishes from my mom.  In fact, it was also the very first dish my mom taught me how to cook.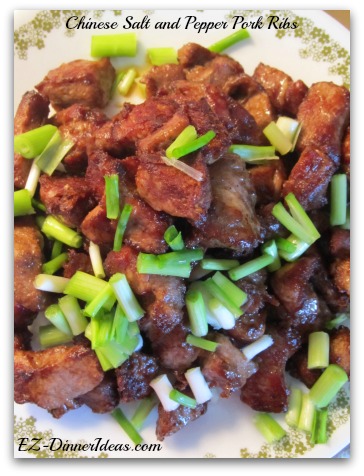 Prep Time: 10-15 Minutes  Cook Time: 16-20 Minutes  Serving: 4-6
Originally, it was an elementary school assignment.  We were asked to cook a dish and bring back to school the next day.  This dish was supposed to serve warm.  Back then, there was no microwave yet, not until a few years later. 

With 4 kids, even having some domestic help and waking up 5am every morning and going to bed after midnight every day, my mom just didn't have enough time to warm it up in the morning.  Anyway, I still brought it back to school.  Man, oh man....it was like hitting a jackpot.  Everybody in my class loved it, even though it was cold. 

I studied in Hong Kong.  Other than the school assignment like this, parents are only allowed to send food to school for everybody for Christmas party.

Since this Chinese salt and pepper pork ribs, my mom sent at least a plate of food to school almost every Christmas to feed 30+ kids in the class.  My mom became the celebrity at our schools because of her food.  People always asked for encore.

Every Christmas, our friends at school would ask if my mom was going to send in any food.  Wings is one of her signature dishes as well.
CHEF NOTES
Also great served this in noodle bowl, such as rice noodles or Chinese bean threads.
A Little Bit of Twist From The Original
Chinese Salt and Pepper Pork Ribs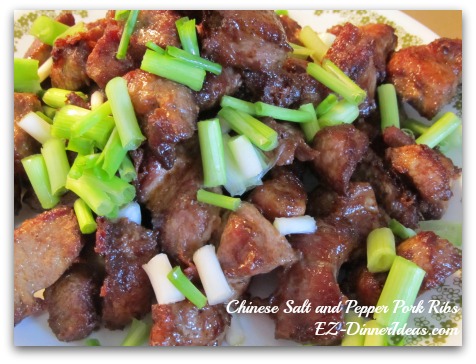 Traditionally, my mom deep fried the boneless ribs and they were golden brown.  To some westerners, they may not brown enough.  So, I added the dark soy sauce in the marinade to do the browning process ahead of time.

The cooking method is more like half deep-fry and half sear.  Everybody, including myself, watches his/her diet.  Staying away from deep-fried food is a plus and less guilty, right?

Also, I added 5 Spice Powder to add more flavors in it.



Frontier Five Spice Powder
Ingredients


1.5-2 lbs (680-907g) Boneless Country Style Ribs (trim fat and cut into bite size; about 1-1.5" / 2.5-3.8cm around)
1 teaspoon Salt
1/2 teaspoon Pepper (preferably White Pepper)
1/2 teaspoon Garlic powder
1/2 teaspoon 5 Spice Powder
1 teaspoon Superior Lite Soy Sauce
1 teaspoon Superior Dark Soy Sauce
4-5 Chinese Red Dried Chili
1 heaping tablespoon Corn Starch
2 heaping tablespoon All Purpose Flour
3 Scallion (chopped for garnish)
1/4 cup (1.7oz / 50g) Canola Oil



Whole Dried Chili Pepper
Once it is opened, store it in the fridge which will last forever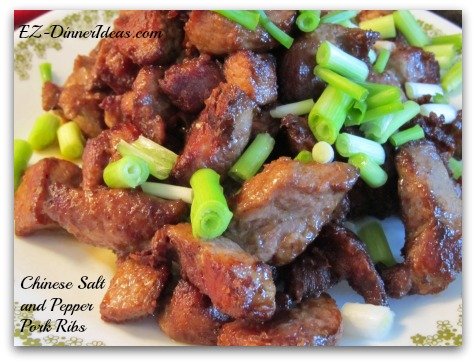 Except scallion, oil and dried chili, mix everything together in a big mixing bowl
In a deep pot or Dutch oven, heat 1/4 cup (1.7oz / 50g) oil at high heat
Add Chinese dried red chili to infuse the oil about 1 minute, just make sure that it is not burned
If you don't want too much heat, take out the chili from oil and discard.  Otherwise, leave them in the oil
Separate the meat into 2 batches to cook
Single layer the meat in the pot and cover with splatter screen
Turn meat over the other side, 4-5 minutes each side, until crispy and cooked through
Transfer to a paper towel lined plate
Continue to cook the rest of the meat
Garnish with scallion and served with steamed white rice
---

Recipe Ingredients and Tools

---
Serve This With: 

---

You May Also Be Interested In:

---
Home > Asian Recipes > Chinese Salt and Pepper Pork Ribs