Easy Mashed Cauliflower with Garlic
Slow Cooker Mashed Cheesy Cauliflower An Amazingly Easy, Healthy and Delicious Recipe

This easy mashed cauliflower with garlic is so easy and healthy that you will totally replace mashed potatoes from now on.  It is not as time-consuming as making a traditional mashed potato dish.  No peeling and no cutting.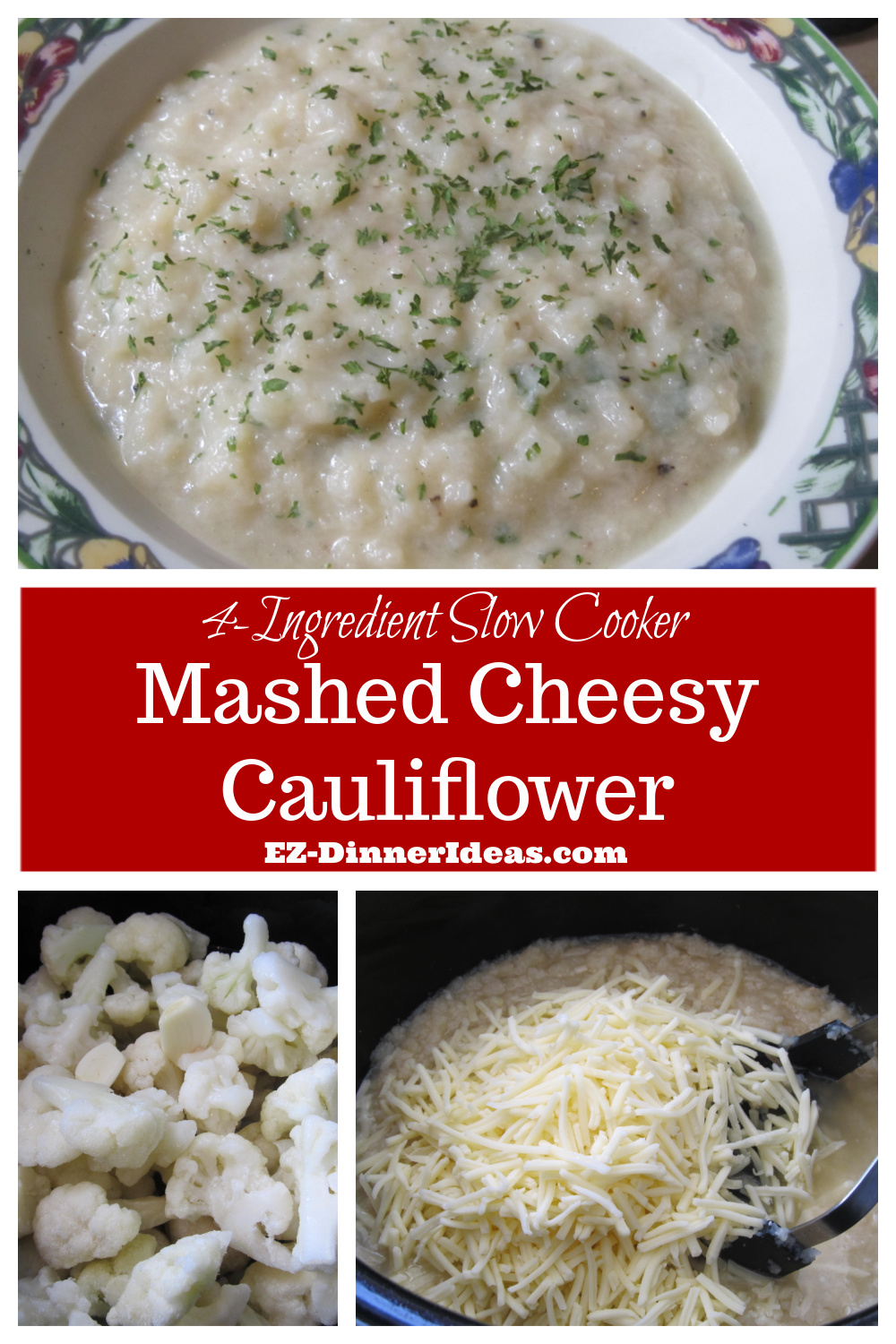 Total Time: 3 Hours
Prep Time: ZERO  
Inactive Cook Time: 3 Hours  
Serving: 4-6


I have been buying ready-to-bake frozen mashed cauliflower for many months.  Although it takes long cooking time, at least 45 minutes, I like the fact that it is convenient and I only need to pop it into the oven whenever I need to.

One day, I was talking to our niece about the coming up holiday dinner.  She was thinking to serve mashed cauliflower for my husband and I because of our keto diet.  We ended up not having any mashed cauliflower that dinner because we figured that we would get off our keto diet train that day.  But the conversation sparked my interest to create my own mashed cauliflower from scratch.  As a result, this recipe was born.

CHEF NOTES
Yes, you can double or triple this easy mashed cauliflower with garlic recipe.  Once it cooks down, it only takes up about 1/6 of my 6-quart slow cooker.

If you are not a garlic fan, feel free to skip this ingredient.  The broth still gives it plenty of flavors.

You can also replace it with vegetable broth.

If there is any leftover, use no-stick cooking spray to coat a food container before transferring the mashed cauliflower into it.  This will make cleaning your dishes much easier.


Easy Mashed Cauliflower with Garlic Recipe and Instructions

Ingredients
2-lb Frozen Cauliflower Florets/ Cuts
1 can (14oz) Chicken Broth
2 cups (8oz) Pre-shredded Sharp Cheddar Cheese (I love Cabot Vermont Seriously Sharp blend)
2 small cloves Garlic (or 1tsp Garlic Powder)
1 tbsp Dry Parsley Flakes (more for garnish)
Salt and pepper to taste
No-stick Cooking Spray

Coat a slow cooker insert generously with no-stick cooking spray.
Add frozen cauliflower, chicken broth and fresh garlic into the slow cooker and cover.  Cook on high heat for 3 hours or 6 hours on low heat until potato masher can easily cut through the vegetables.
Mash until it reaches desired texture and consistency.
Stir in cheese until it is all melted and blend in; salt and pepper to taste.
Add parsley flakes to garnish and enjoy immediately.

Easy Mashed Cauliflower with Garlic Steps with Photos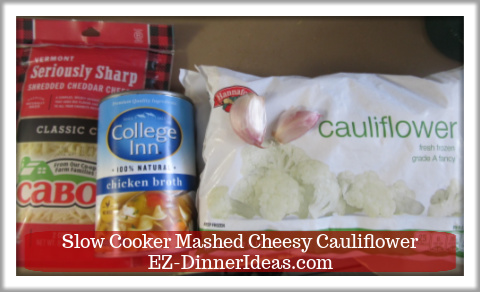 4 ingredients; your only work is to open the package, dump into the crock pot and turn it on. (Ok, maybe peel the garlic, too.)
---

Recipe Ingredients and Tools

---
Serve This With: 

This recipe is perfect for pairing with any dish.

---

You May Also Be Interested In:

---
Home > Easy Side Dish Recipes > Easy Mashed Cauliflower with Garlic | Slow Cooker Mashed Cheesy Cauliflower