Perfectly Blanched Green Beans
Frozen Or Fresh
A Cooking Skill You Must Know
A dish of perfectly blanched green beans is always great when you need something the last minute.  And I mean it.  (Funny thing is....bringing the water to a boil most likely takes most of the time.)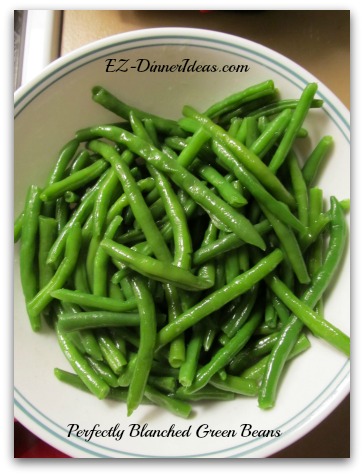 Prep Time: ZERO   Cook Time: 15 Minutes   Serving: 4

I always have a pound or two of frozen green beans in the freezer.  When there are guests at our house to have dinner and find out at the last moment that there is not enough to feed the crowd, this is always my go-to recipe. 


Frozen vs Fresh
Everything tastes better when it is fresh.  So is the green beans.  But if you have tight schedule of everything in your daily life,like me, frozen green beans are definitely a big time saver. 
Because you need to remove the ends for the fresh ones.  Besides, the frozen ones have longer shelf life.

However, this recipe is perfect for either frozen or fresh.  I will explain to you along the way what you need to do.  Enjoy!
Ingredients
1 pound Frozen cut green beans
1 teaspoon Salt
1 tablespoon Canola oil
1 pot of water
Dressing
Drizzle of Extra Virgin Olive Oil
Salt and Pepper to taste


Bring a pot of water in a medium sauce pan to boil
Add salt, oil and green beans
Cover with the lid for 5 minutes to help the water comes to a boil sooner (if you cook fresh green beans, skip this step)
When water boils again, let it boil for another 3-5 minutes uncovered till crisp tender
Drizzle Extra Virgin Olive Oil, salt and pepper to taste and serve immediately

"Twisted" Perfectly Blanched Green Beans

This recipe is very versatile.  You can add different dressing to go with the theme of your dinner party.  So, give this dish a twist.  Here are some suggestions for you in the dressing:

Asian
1 splash of superior light soy sauce
Drizzle of sesame oil
Sprinkle white sesame seeds (optional)
Combine all ingredients together and dress the green beans after the vegetables are cooked. Sprinkle white sesame seeds on top and serve.

Classic Lemon

1 teaspoon Lemon zest
1 tablespoon lemon juice
Drizzle of Extra Virgin Olive Oil
1 teaspoon Dijon mustard
Combine all ingredients together and dress the green beans after the vegetables are cooked
---
Serve This With: 

---

You May Also Be Interested In:

Return from Perfectly Blanched Green Beans Recipe page to Side Dish Recipes page

Return to Easy Dinner Ideas Homepage