Green Bean Casserole Pasta
Bring In the Holiday Atmosphere
Any Time You Want
Needless to say this green bean casserole pasta recipe was inspired by the famous holiday dish.  Who said that you can only have green bean casserole in Thanksgiving?  The best of all, this dish made you eat more green beans.  That means more vegetables and fiber.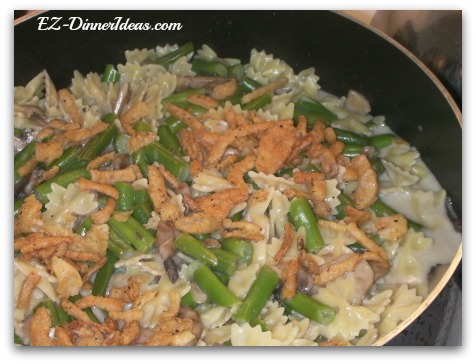 Prep Time: 5 Minutes   Cook Time:35 Minutes   Serving: 4-6
If you have leftover from the holiday dinner, depending on the quantity you have on hand, you can generally add 1 can (15oz) cream of mushroom soup and toss it with the pasta and serve.  Otherwise, this is the way how I always prepare this delicious vegetarian pasta recipe.
Ingredients
2 pounds Frozen Cut Green Beans
1 pound Bow Tie Pasta (or any kinds of short pasta)
2 Cans (15oz each) Cream of Mushroom Soup
1 Handful (about ½ Cup) French Fried Onions

Seasonings
1 Pot of Water (reserve 2 cups of pasta water)
1 teaspoon Salt
1 tablespoon Canola Oil
Bring a pot of water to a boil
Add salt, oil and green beans
When water starts boiling again, use a slotted spoon to transfer the green beans to a bowl and set aside
Add pasta
Quick stir and let it cook
Under cook the pasta about 2-3 minutes; reserve 2 cups of pasta water and drain
Use the same pot to cook at medium to medium high heat
Combine cream of mushroom soup and 1 cup of pasta water; stir regularly
When the soup boils, toss in green beans
Cook vegetables until crisp tender; about 5 minutes
Stir in pasta
The soup base should be thick enough to stick on the pasta, but easy to stir in the pot
If not, add more pasta water (about 1/3 cup at a time)
Cook about 3-5 minutes to allow the pasta to absorb the flavor; stir regularly
Sprinkle the French fried onions on top and serve immediately
Tips
Add a couple cans of sliced mushrooms to bump up the vegetables of this easy dinner meal.  Just to make sure to drain the liquid from the can.

You can also serve the French fried onion on the side to let your family or guests to add as much or as little as they want.

A healthy alternative of French fried onion is toasted slivered almonds.

You May Also Be Interested In:

Return from Green Bean Casserole Pasta Recipe page to Pasta Recipes page

Return to Easy Dinner Ideas Homepage