Cook Quick and Easy
Cream of Mushroom California Blend Vegetables
2 Ingredients; 15 Minutes
Wow! Dinner Is Ready

Cook quick and easy for dinner?  Or a side dish?  I truly believe that this cream of mushroom California blend vegetables can fit for either.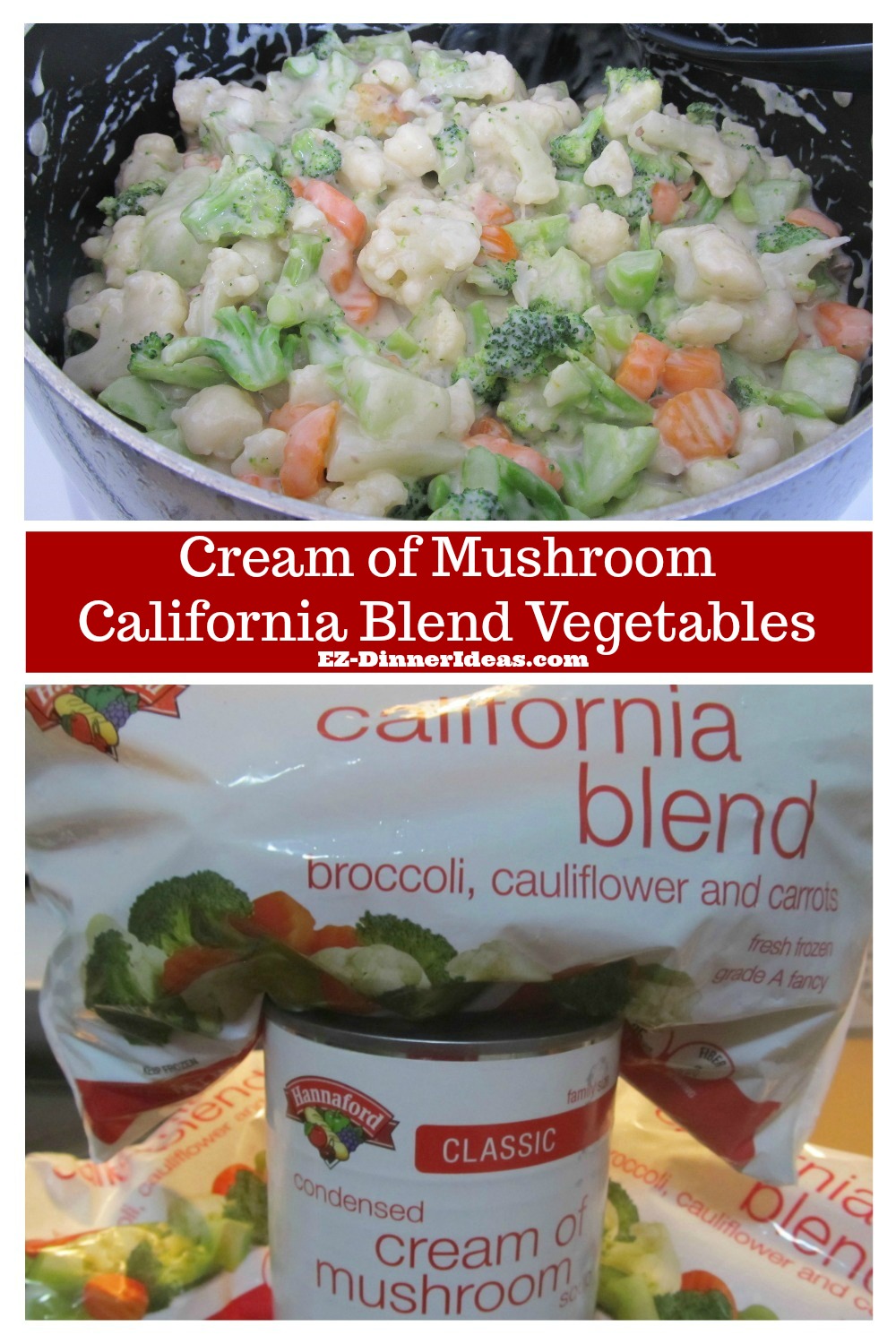 Total Time: 15 Minutes
Prep Time: ZERO  
Active Cook Time: 15 Minutes  
Serving: 3-4


I always have cream of mushroom and frozen California blend vegetables in the house.  They are 2 of my favorite ingredients.  So, why not mash them up together and make something yummy, right?


CHEF NOTES
I love cream of mushroom.  Plus, it has less carb.  You can use other canned soup flavors, such as cream of broccoli, cream of chicken, bacon cheddar and so forth.  Your options are endless.
Canned cream of mushroom has different sizes.  It depends on the brand you choose.  The brand I picked most likely is the biggest size in the market.  Reduce the amount of water based on the quantity of cream of mushroom you add.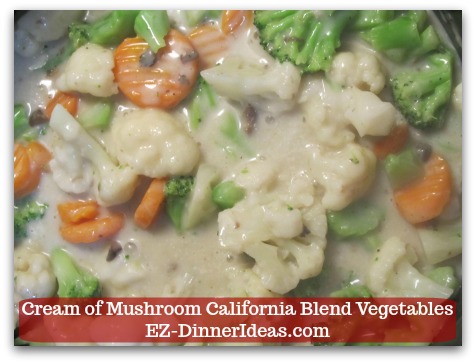 Cook Quick and Easy Recipe and Instructions

Ingredients
1 can (26oz / 737g) Cream of mushroom soup
3 bags (1lb / 454g each) California blend vegetables (frozen)
1/2 cup (4oz / 101g) Water
Salt and pepper to taste

Add mushroom and water into a soup pot or a deep skillet; bring mixture to a boil.
Stir in all frozen vegetables into the pot and cover to cook for 12 minutes until crisp tender; stir twice in between.
Salt and pepper to taste.
Serve immediately as is or along with white rice, pasta or mashed potatoes.
Cook Quick and Easy Steps with Photos

Recipe Ingredients and Tools

---
Serve This With: 

---

You May Also Be Interested In:

---
Home > Easy Side Dish Recipes > Cook Quick and Easy | Cream of Mushroom California Blend Vegetables