One-Pot Pantry Cream Of Mushroom Pasta
Yep, One-Pot Dinner
Everything From Your Pantry
One-pot pantry cream of mushroom pasta...This recipe may look and sound like my another cream of mushroom chicken spaghetti.  But the difference is that you only transfer the food items from your pantry to the pot.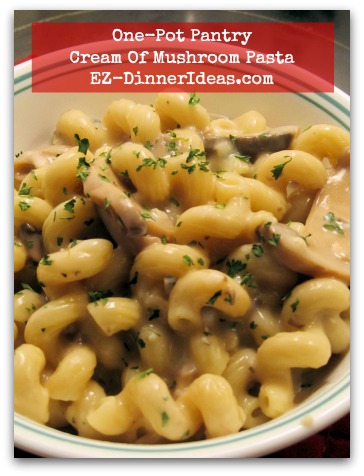 Total Time: 18-20 Minutes
Prep Time: ZERO  
Active Cook Time: 18-20 Minutes  
Serving: 4


What made me to make this recipe?  Well, we had a very exhausting weekend.  (You know how it is.  Weekends seem never long enough.). Anyway, it was a lot of running around during the weekend.  Nobody had enough sleep.  Right after that, we had a few days of super long work days. 

You know how comfort food makes you feel like when you have days like that.  And I didn't want to stand in front of the kitchen counter to do all the chopping or standing in front of the stove top to babysit.  So, that was how this recipe came out of my mind.
CHEF NOTES

Feel free to replace it with whole grain or vegetable based pasta.

Hold the salt until last.  Only add it if necessary.
One-Pot Pantry Cream Of Mushroom Pasta Recipe and Instructions

Ingredients
2 cups Chicken Broth
2 cups Water
1 can (22.6-24oz) Cream of Mushroom Soup
1 can (8 oz) Mushroom Slices (drained)
1 box (12-16 oz) Short Pasta
1 tsp Garlic Powder
1/4 cup Grated Parmesan
2 tbsp Dried Parsley
Salt and pepper to taste

Combine the first 5 ingredients (chicken broth, water, cream of mushroom soup and mushroom slices) in a big soup pot or Dutch oven
Bring mixture to a boil and stir regularly in between
Stir in pasta
Lower heat to simmer and cover with lid and cook for 14 minutes until sauce is thickened and absorbed; pasta al dente
Add garlic powder, Parmesan and parsley
Stir to combine
Salt and pepper to taste and enjoy

One-Pot Pantry Cream Of Mushroom Pasta Steps with Photos
---

Recipe Ingredients and Tools

---

You May Also Be Interested In:

Home > Pasta Recipes > One-Pot Pantry Cream Of Mushroom Pasta