Your Mushroom Stroganoff
Vegetarian and Healthier Version of
Beef Stroganoff
This mushroom stroganoff is like a vegetarian version of beef stroganoff. Instead of egg noodles, I use white fiber pasta and replace beef with portobello mushrooms.  A super quick, easy healthy dinner....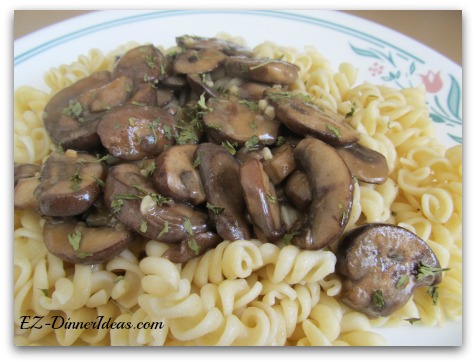 Prep Time: 5 Minutes   Cook Time:15 Minutes   Serving: 3-4
Like, Share & Comment
If you like any recipes on this website, please like, share and comment.  This will help other people like you to find them here.  Thank you very much for your support!

Ingredients
1 box (12 ounces) quick cooking pasta, such as mini penne (I used Barilla white fiber brand)
1 pound pre-sliced portobello mushrooms
2 cups beef broth (feel free to use vegetable broth)
2 teaspoon Worcestershire Sauce
2 tablespoon Butter
2 tablespoon Flour
2 tablespoon Extra Virgin Olive Oil
Dried Parsley Flakes (optional; for garnish only)
(For pasta only)

1 Pot of Water
1 teaspoon Salt
1 tablespoon Canola Oil
Bring a pot of water to a boil
Add salt, oil and pasta
Quick stir and let it cook
Drain when it is al dente
While pasta is cooking, preheat another sauce pan at high heat
Add extra virgin olive oil and mushrooms
Keep stirring until they turn brown and wilted; about 5-8 minutes
Add flour and butter
Stir until it is well mixed

Let the roux and mushrooms cook about a minute
Add beef broth and Worcestershire Sauce
Keep stirring until the sauce is smooth and thickened; no lump left
Taste and adjust seasoning
Transfer pasta to serving plates
Top it with the mushroom sauce
Garnish with dried parsley flakes
You May Also Be Interested In:

Return from Mushroom Stroganoff Recipe page to Pasta Recipes page

Return to Easy Dinner Ideas Homepage